Caramel Popcorn
As an Amazon Associate and member of other affiliate programs, I earn from qualifying purchases.
This Caramel Popcorn is a favorite of our fam's!! This is one of those recipes that is passed down from generation to generation! This Caramel Popcorn is baked in the oven to add a tasty crunch, no pulling out your teeth with this one!!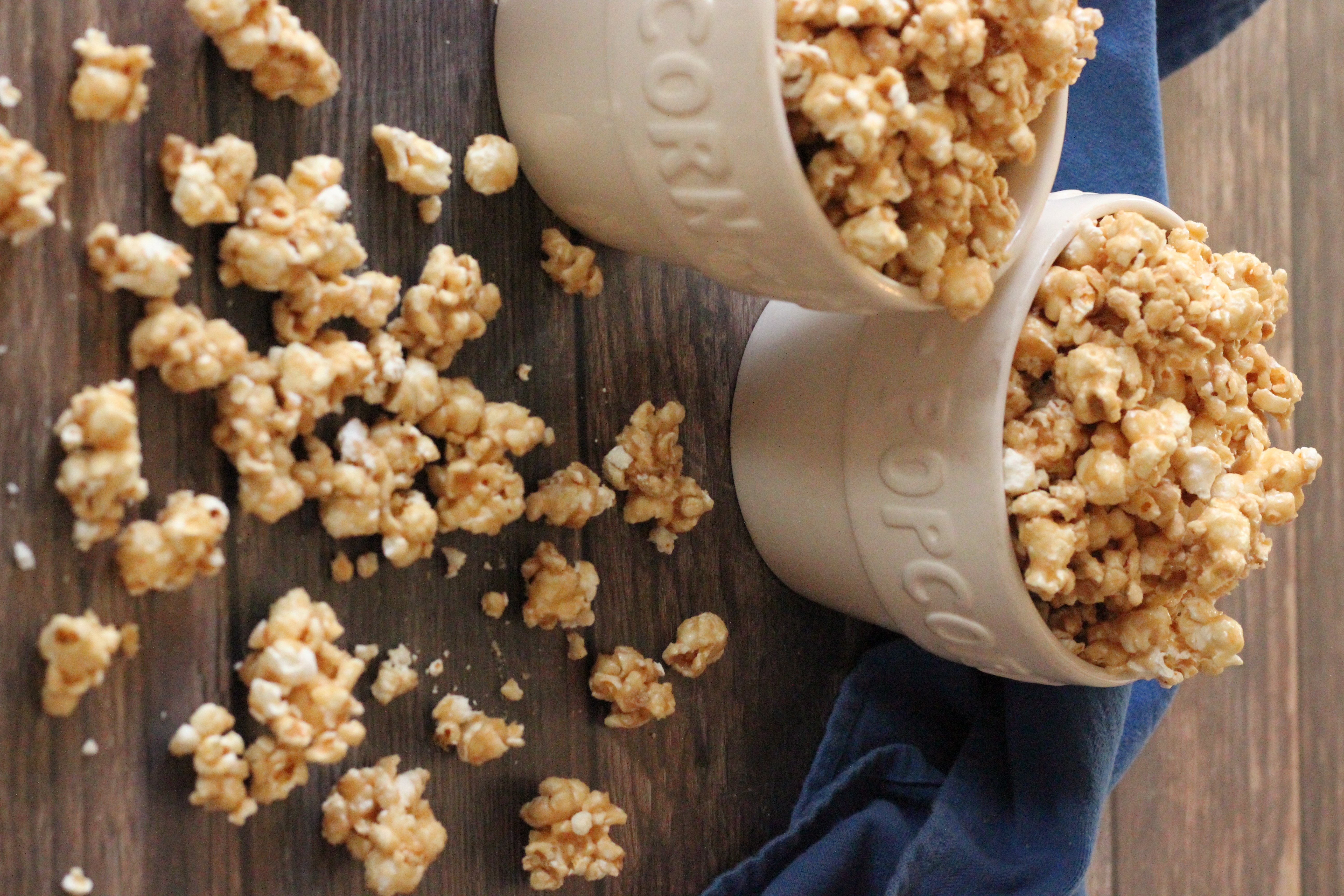 Homemade Caramel Popcorn
This is one of those treats that makes people feel spoiled!! It seems like you worked really hard to make this, but in reality, it is so simple to make. There are few things better than homemade popcorn.
This batch makes 4 quarts of homemade caramel popcorn. Start by popping some popcorn. You can do this however works for you, air popper, microwave or even on the stovetop!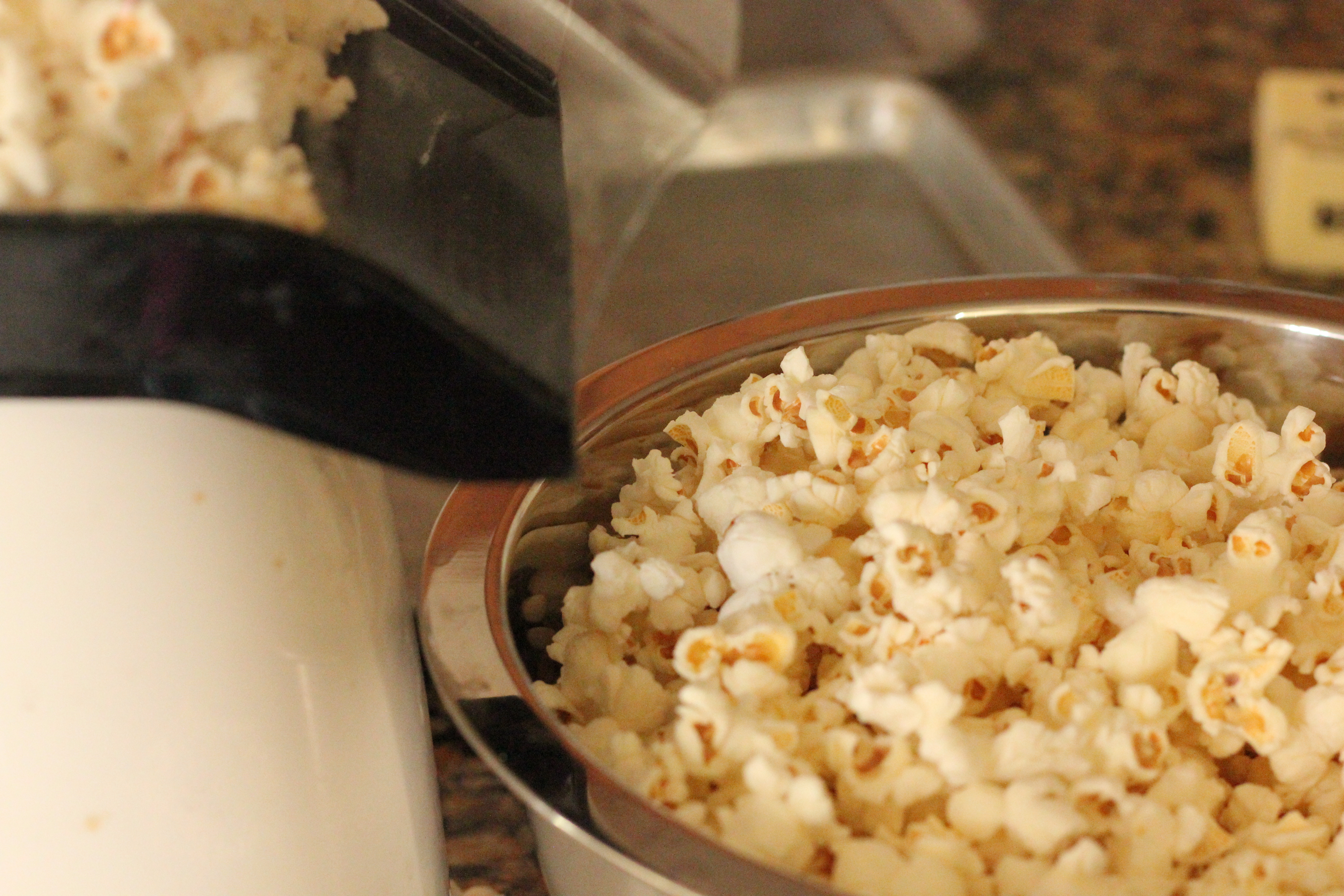 How to Make Caramel Popcorn?
This recipe starts with a few simple ingredients…sugar, brown sugar, butter and corn syrup, you know it's going to be good!! These all hop in a hot pot together and boil for 5-6 minutes until it reaches 250 F.
Before your popcorn takes a bath in the caramel mixture, make sure you remove any unpopped kernels from the popcorn, we don't want any broken teeth!! The easiest way I have found to do this is to poor the popcorn onto the baking sheets which makes it super easy to find the kernels.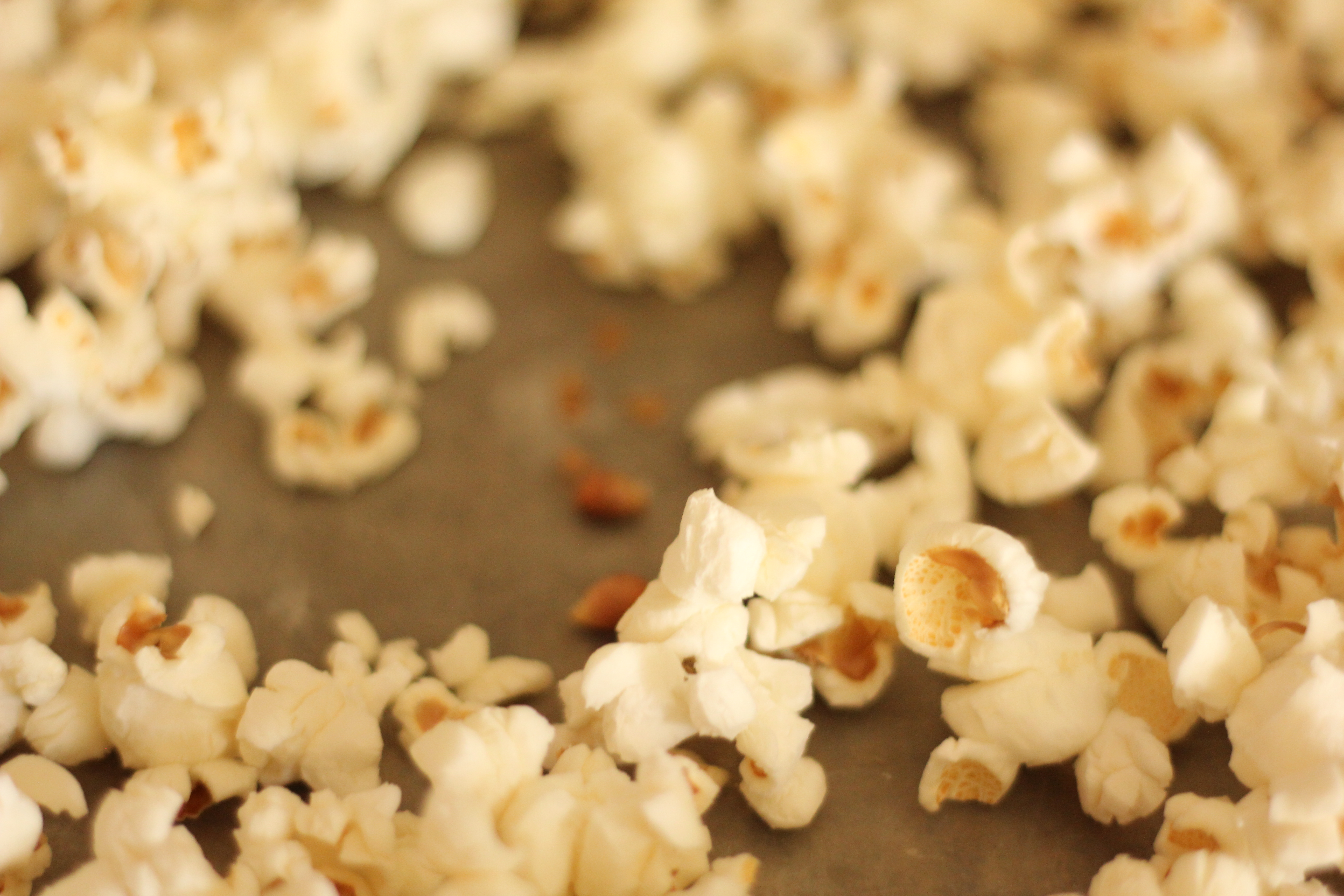 Ingredients Needed for Caramel Popcorn
Butter
Brown and White Sugars
Light Corn Syrup
Vanilla
Baking Soda
Baking Powder
Salt
Cream of Tartar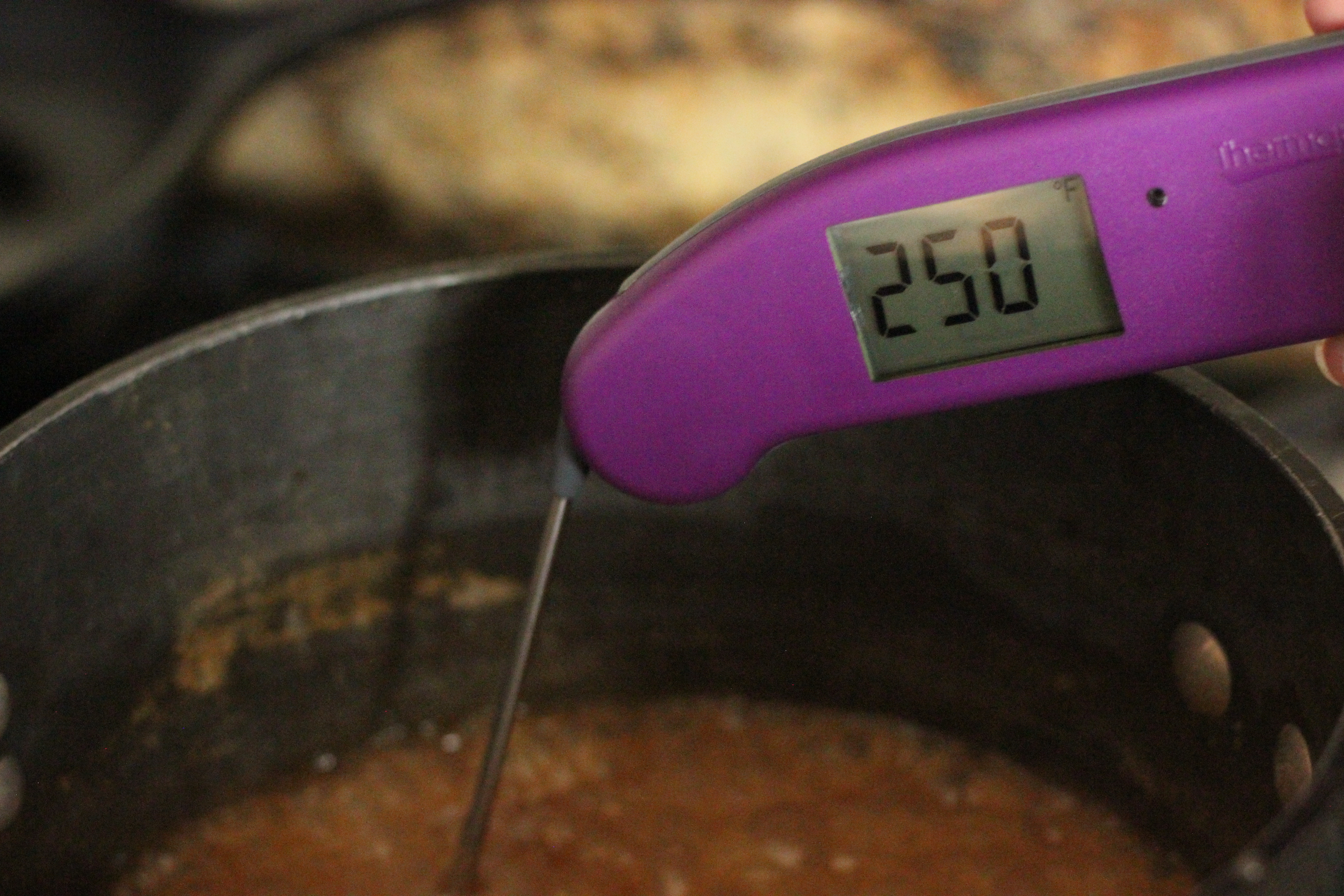 Making Caramel Popcorn
The sugars and butter boil in a heavy pot until the caramel reaches a hard ball stage, I bring it up to 250 F. I know sometimes making caramel can be pretty intimidating, making sure you don't over cook it and end up with caramel rocks. Don't stress, this recipe is super easy and you will master this in no time!!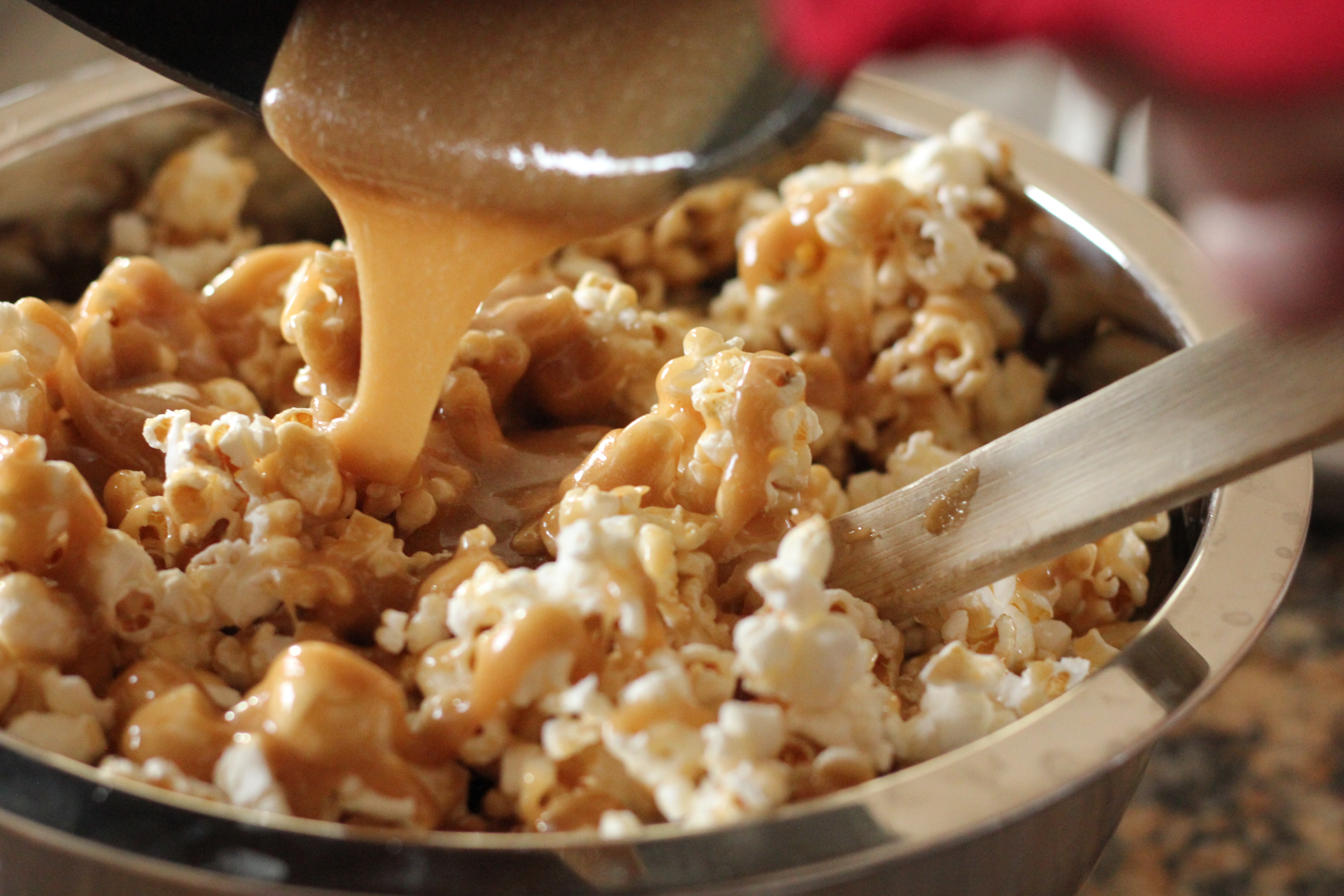 Caramel Popcorn
Using a large metal bowl, carefully pour the caramel over the popped corn and stir to cover all of it. This can be a tricky and hard part, so do this carefully and wear oven mitts. That caramel is like molten lava!!!
Once you have covered the popcorn in that delicious caramel sauce, spread it out on greased baking sheet and place in the oven at 200 F for 1 hour. The caramel will become a soft, crunchy delicious caramelly treat!!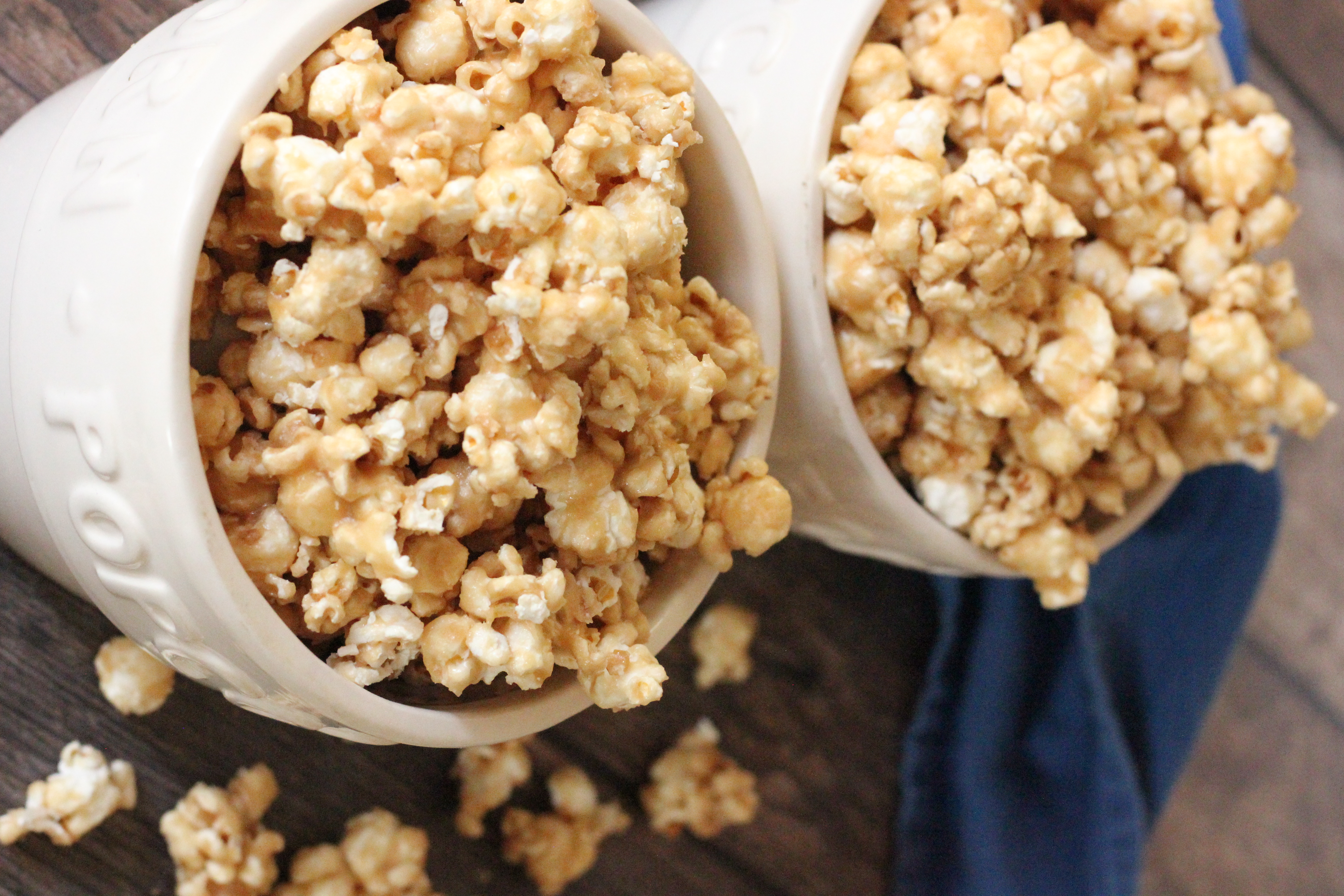 Homemade Caramel Popcorn Recipe
Homemade Caramel Popcorn
This homemade caramel popcorn won't pull your teeth out! It is baked in the oven to make a perfect, delicious crunch!!
Ingredients
16

cups

Popped Popcorn

1

Cup

Butter

1

Cup

White Sugar

1

Cup

Light Brown Sugar

1

Cup

Light Corn Syrup

1

tsp

Vanilla

1/8

tsp

Baking Soda

1/4

tsp

Cream of Tartar

1/2

tsp

Salt
Instructions
Pop 16 cups of popcorn. Spread out on baking sheets to remove any unpopped kernels, then return to large bowl.

Preheat oven to 200º F and grease the 2 baking sheets.

In a large pot combine butter, sugars and corn syrup. Bring to a boil on medium high heat and stir until sugars have dissolved. Turn down heat and continue to boil for 5-6 minutes, until caramel reaches a hard ball stage or 250 F. You can test the caramel by dripping a little into a bowl filled with ice cold water. If the caramel forms a hard ball, you are good to go!

Turn off heat and add in remaining ingredients and stir until well combined. Caramel will bubble up when the baking soda is added.

Pour finished caramel over popped popcorn in a large bowl and stir quickly to cover all of the popcorn. Pour out caramel popcorn onto 2 greased baking sheets and spread out evenly. Bake in 200º F oven for 1 hour.

Remove the popcorn from the oven and break up any large pieces. Store in an airtight container to keep fresh.
Nutrition
Serving:
0
g
|
Calories:
322
kcal
|
Carbohydrates:
49
g
|
Protein:
1
g
|
Fat:
15
g
|
Saturated Fat:
9
g
|
Polyunsaturated Fat:
1
g
|
Monounsaturated Fat:
4
g
|
Trans Fat:
1
g
|
Cholesterol:
31
mg
|
Sodium:
274
mg
|
Potassium:
78
mg
|
Fiber:
1
g
|
Sugar:
42
g
|
Vitamin A:
374
IU
|
Calcium:
20
mg
|
Iron:
0.3
mg