Breakfast Hash
As an Amazon Associate and member of other affiliate programs, I earn from qualifying purchases.
Breakfast Hash is loaded with eggs, BACON, potatoes, onions, pepper and covered in melted cheese!! This is the perfect breakfast to get the fam out the door full and ready to tackle another crazy day!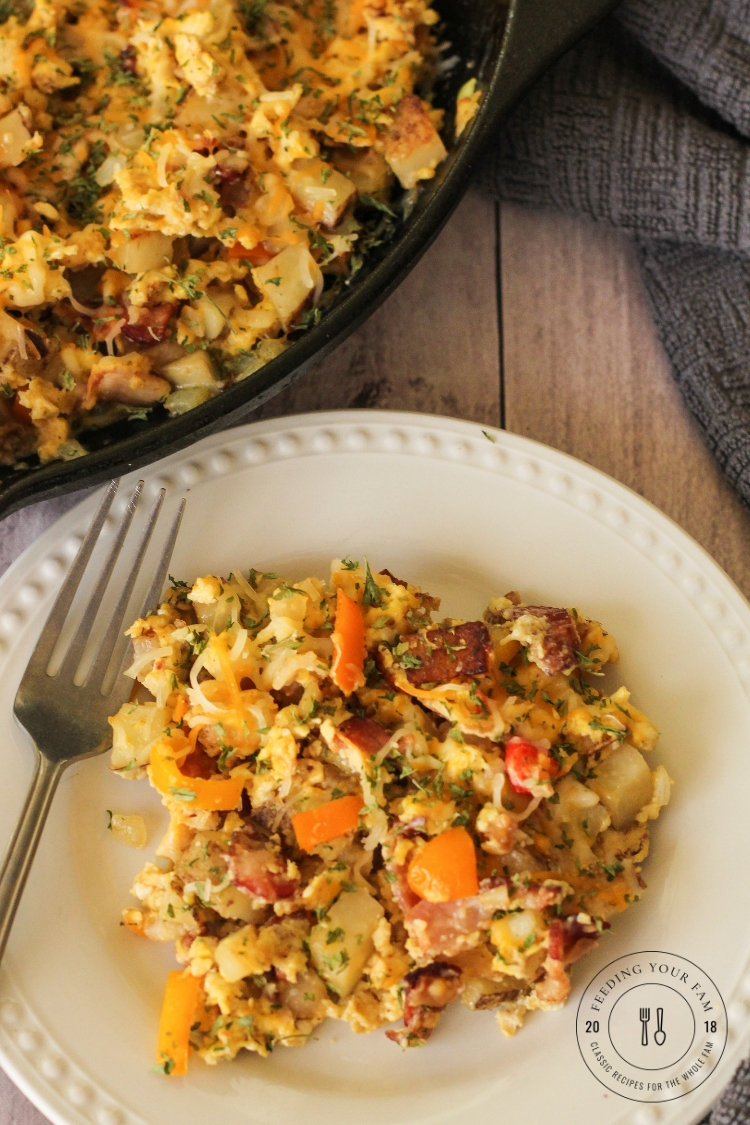 What is a Breakfast Hash?
Traditionally a hash is chopped up meat and potatoes or onions that are cooked together. A hash of just potatoes, meat and onions is so good on its own, but for this breakfast hash we are going to step it up a notch and add some eggs and cheese.
That's exactly what a breakfast hash is…meat, potatoes, onions, peppers, cheese and eggs all cooked together to make this glorious dish! Whenever I think about cooking potatoes for breakfast I shutter a little because potatoes can take so dang long to cook and who want to wait all day for breakfast!!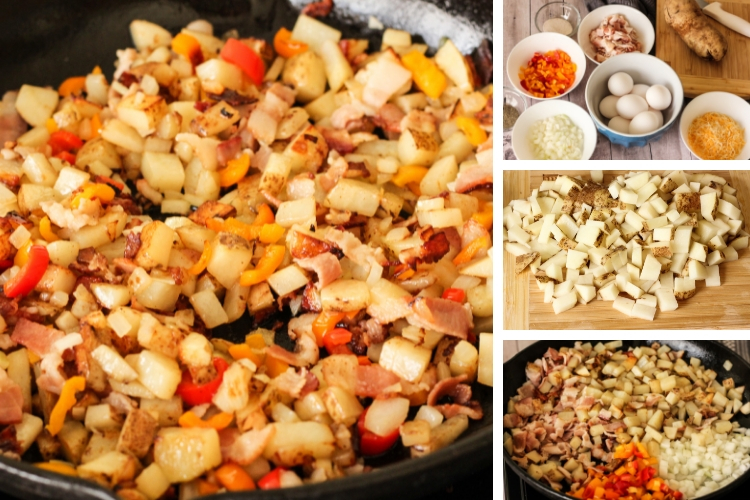 How to make a Breakfast Hash
This breakfast dish comes together really quick and the key is to have everything diced in small pieces so they cook quickly. We make this breakfast hash with eggs and bacon all the time before the kids head out the door to school. That can only be done if we can cook this up fast.
The potatoes get diced into small pieces so they can cook alongside the bacon and get done quick. You will start this hash by slicing the bacon strips and dicing up the onion, peppers and potatoes.
In a large skillet start cooking the bacon and potatoes side by side, stirring occasionally for about 5 minutes, until the potatoes have become fork tender. Add in the peppers and onions and cook for another 3 minutes.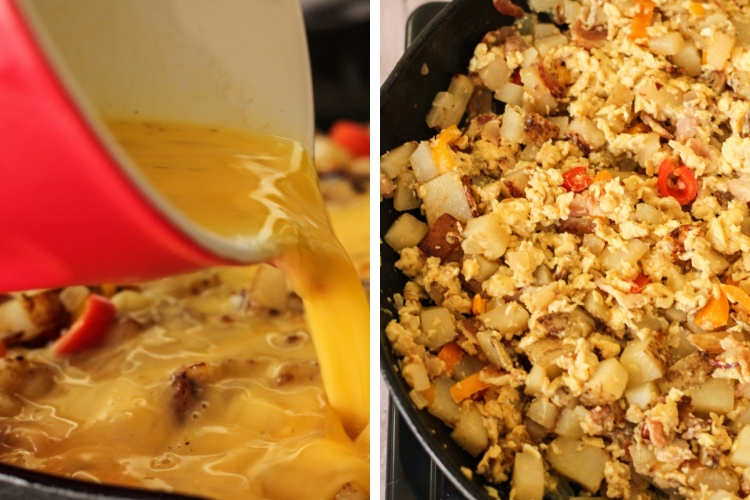 Breakfast Hash with Bacon and Eggs
Once all of the vegetables are tender and the bacon is crisp, add in the eggs. With a spatula, scrape the bottom of the pan flipping the eggs so they will all get a turn to sizzle on the bottom. When the eggs are all done and no longer shiny, top the hash with the grated cheese and allow to get all yummy and melty. Serve with parsley to garnish if desired.

When to Serve Hash
I know the name makes it sound like this can only be for breakfast, but don't limit yourself to that assumption!! This breakfast hash could just as easily be brunch hash, camping hash, lunch hash and even dinner hash!! You can 'hash' it out with your fam and decide!! (See what I did there?!)
Serve with fresh fruit for a complete meal!
Breakfast Hash Recipe
Breakfast Hash with Eggs and Bacon
This Breakfast Hash is loaded with eggs, bacon, peppers, potatoes, onions and cheese! Full of so much flavor and goodness to fill you up for another crazy day!!
Ingredients
1/2

cup

onion, diced

1/2

cup

pepper, diced (any color)

1

large baking potato, diced

6

slices of bacon, chopped

8

eggs

2

tbsp

water

1

cup

cheese, shredded

salt and pepper

1

tbsp

parsley, chopped (optional)
Instructions
In a large skillet over medium-high heat cook bacon and potatoes until bacon is just browning and potatoes are becoming soft.

To the same skillet add the onion and peppers. Continue cooking until all the vegetables are soft and bacon is crisp.

In a separate mixing bowl, combine eggs, water, salt and pepper. Whisk until bubbly.

Pour the eggs into the skillet with the bacon and vegetables. With a spatula scrap along the bottom of the pan and flip the eggs to scramble and cook everything together.

Once the eggs are cooked and no longer shiny, turn down the heat to low and top with the shredded cheese and parsley.
Nutrition
Calories:
287
kcal
|
Carbohydrates:
9
g
|
Protein:
19
g
|
Fat:
20
g
|
Saturated Fat:
8
g
|
Cholesterol:
256
mg
|
Sodium:
650
mg
|
Potassium:
384
mg
|
Calcium:
130
mg
|
Iron:
1.8
mg