Summer Fruit Salad
As an Amazon Associate and member of other affiliate programs, I earn from qualifying purchases.
This Summer Fruit Salad is stuffed with berries, bananas, kiwi, oranges and topped with an orange ginger dressing. Perfect for all of those outdoor parties under the sun!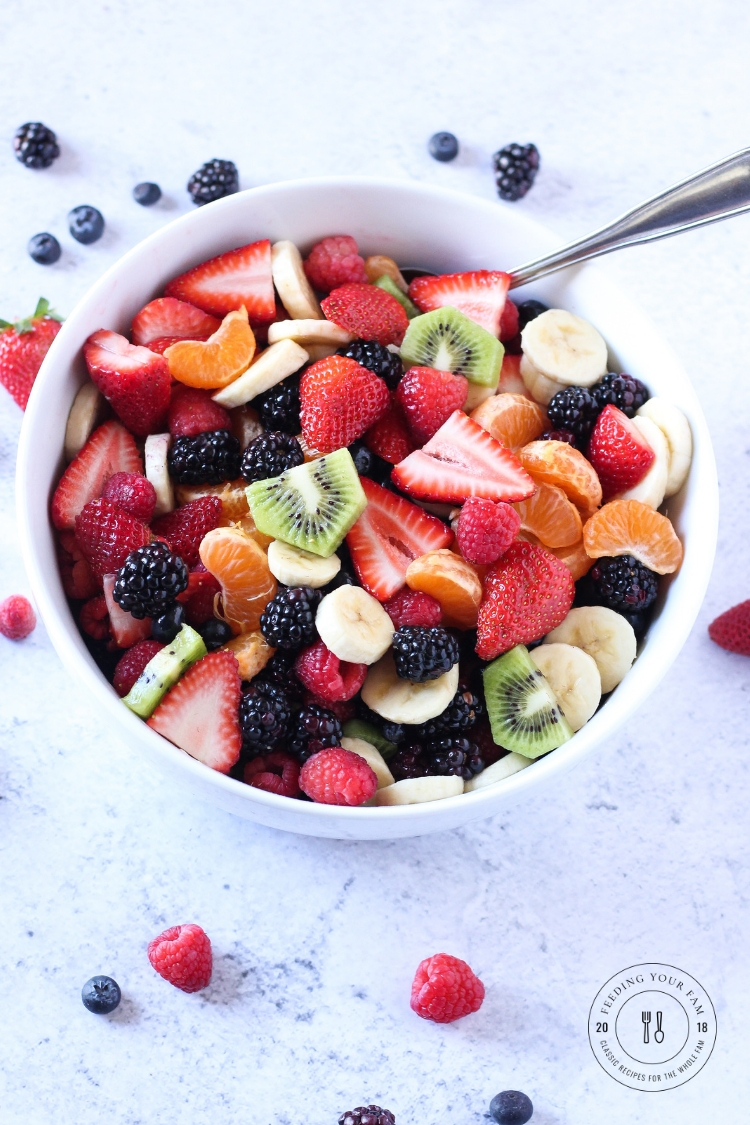 Berry fruit salads are some of my favorites!! They are quick and simple to put together and look like a work of art and, bonus…everyone loves fruit, so no worrying if everyone will like your dish….they will LOVE IT!!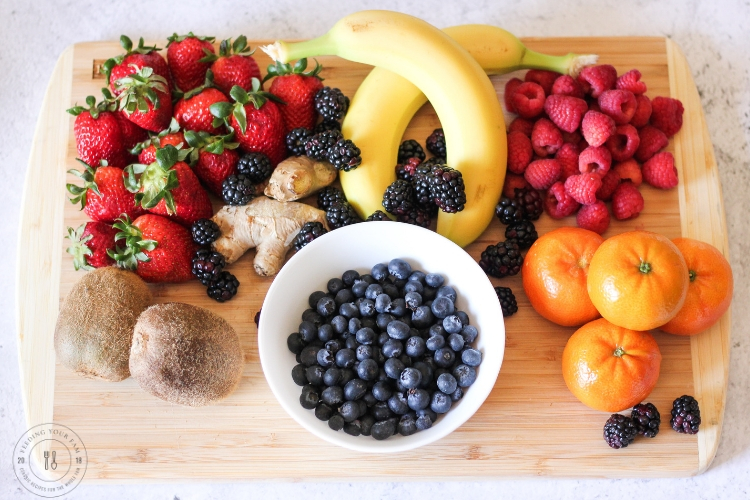 Ingredients for a Easy Fruit Salad
Let's start with the tips right here! Please note this list is very flexible!! You can make this salad with whatever fruit you have on hand if you don't have time to make a trip to the store, or maybe for some reason, you are not a kiwi fan. Leave it out! This is your salad, make it how you like!
2 cups sliced strawberries (about 14 berries)
2 bananas
4 mandarin oranges
2 kiwi
6 oz. blackberries
6 oz. blueberries
6 oz. raspberries
1 tsp brown sugar
1/4 tsp freshly grated ginger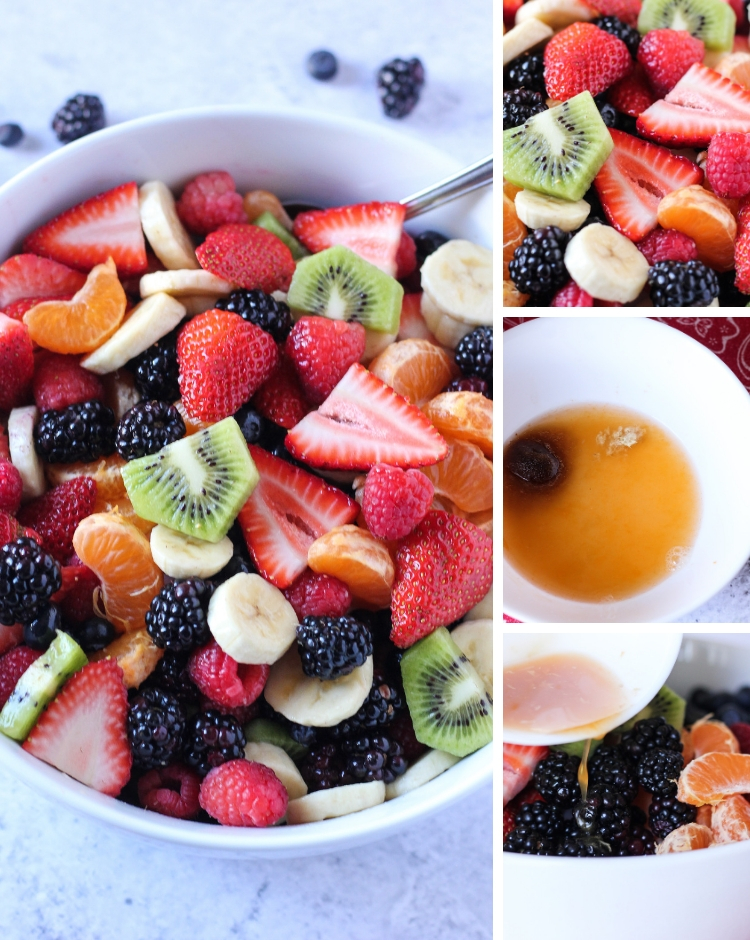 How to make Summer Fruit Salad
I know it's not rocket science…thank goodness or I would still be hungry!! This summer fruit salad doesn't require a lot of prep work, so you can have this ready in 5 minutes or less!! My big tip here is on how big to slice your fruit. Know who you are feeding, if you know this if for little ones, make the fruit easy to eat and even pick up with little fingers.
I like to slice the strawberries longways and go for for slices from each berry. The kiwi, start by cutting both ends and then stand up and slice off skin. Slice the kiwi in half and then half again and into bite sized slices. The bananas can simply be cut into slices, or cut in half lengthwise and then sliced. Everything is just wash and dump in the salad.
The last step is to make the dressing for this tasty salad. Please note, this is completely optional! The salad is incredible on its own without the dressing, but it does add just a little zip!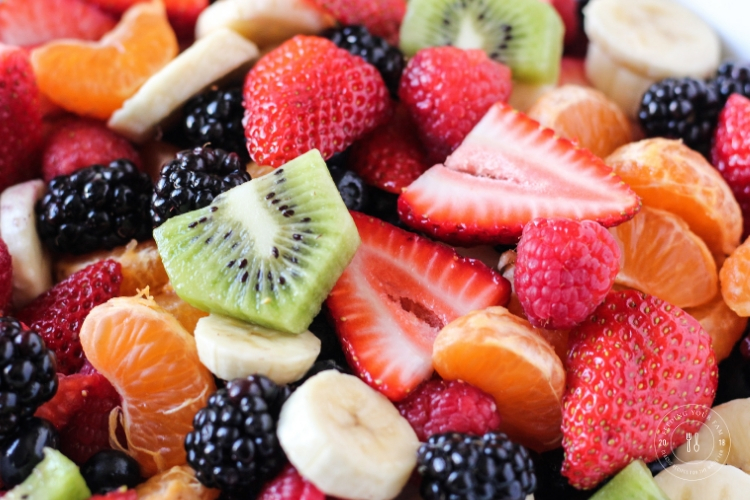 Fruit Salad Dressing
Fruit salad dressing just add something extra and also helps to keep the fruit fresh. For this fruit salad dressing you will take the fruit of one of the oranges, about 1/4 cup of juice, and mix it with one teaspoon brown sugar and 1/4 teaspoon freshly grated ginger. If you don't have fresh ginger, get some, keep it in your freezer, it's nice to have around!! But really, if you don't have fresh ginger just use 1/8 teaspoon of dry ground ginger.
Mix the fruit salad dressing together and pour over salad.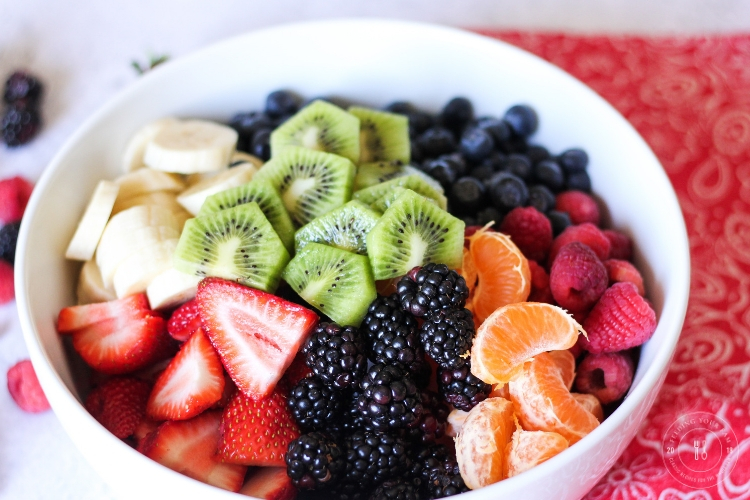 Can I make Fruit Salad Ahead?
This fruit salad recipe is easy to make ahead. You can make this up to 24 hours in advance. Mix everything together, except the sliced bananas, add those just before serving.
This can be stored for up to 2 days in an air tight container in the refrigerator. The bananas might get a little brown, but the berries and oranges will still be great if you used fresh fruit when this was made.
Summer Fruit Salad Recipe
Simple Summer Fruit Salad
This fruit salad is loaded with berries, kiwi, oranges and bananas all topped with a delicious orange ginger dressing.
Ingredients
Fruit Salad
2

cups

sliced strawberries (about 14 berries)

6

oz

raspberries

6

oz

blueberries

6

oz

blackberries

2

kiwi, sliced

2

bananas, sliced

3

mandarin oranges, peeled and separated
Fruit Salad Dressing
1/4

cup

orange juice, juice of one mandarin orange

1

tsp

brown sugar

1/4

tsp

fresh ginger, grated
Instructions
Fruit Salad
Prepare fruit by washing, peeling and slicing. Mix together gently in a large serving bowl.
Fruit Salad Dressing
In a small bowl combine the orange juice, brown sugar and ginger. Pour over the mixed fruits and stir to coat all of the fruit.
Nutrition
Calories:
142
kcal
|
Carbohydrates:
35
g
|
Protein:
2
g
|
Fat:
1
g
|
Saturated Fat:
1
g
|
Sodium:
4
mg
|
Potassium:
513
mg
|
Fiber:
8
g
|
Sugar:
21
g
|
Vitamin A:
457
IU
|
Vitamin C:
93
mg
|
Calcium:
53
mg
|
Iron:
1
mg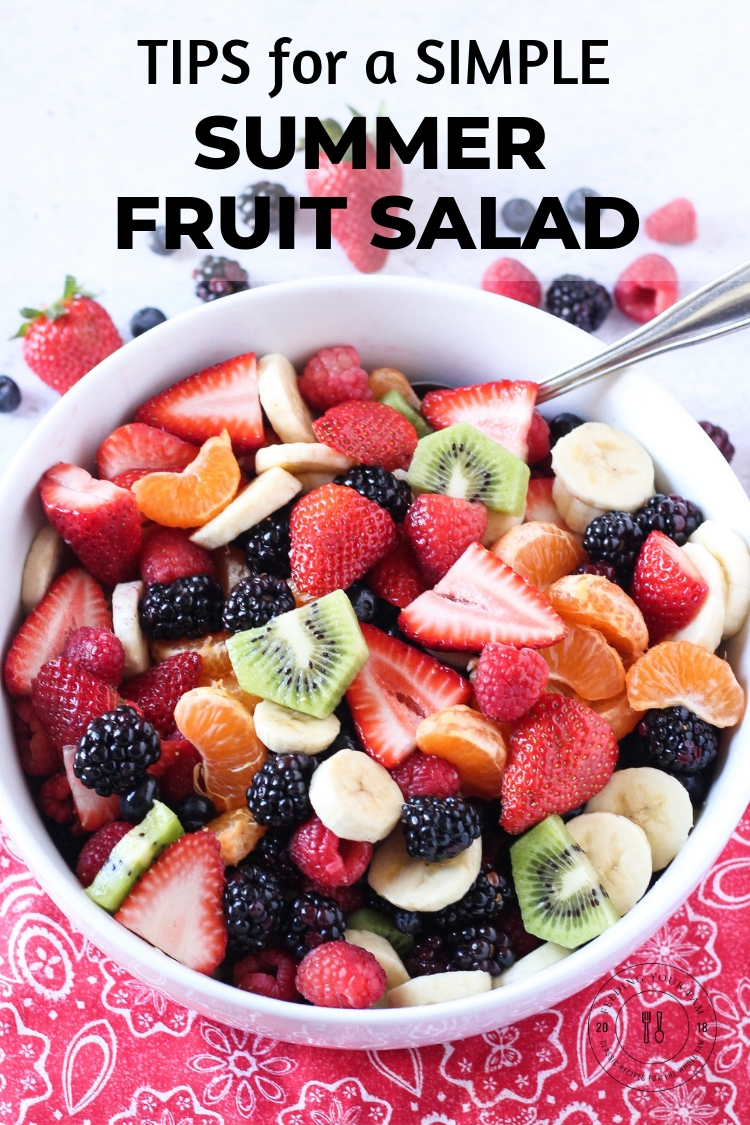 What goes good with Fruit Salad?