Easy Baked Salmon
As an Amazon Associate and member of other affiliate programs, I earn from qualifying purchases.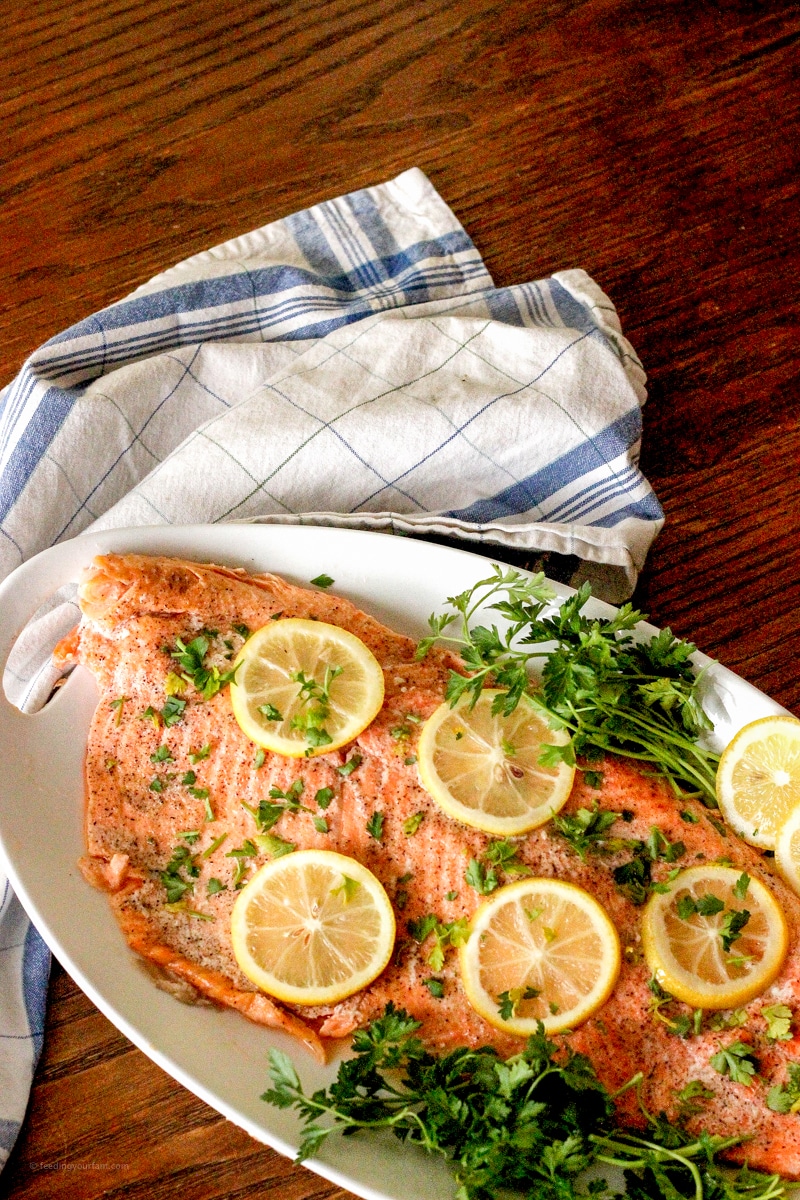 Salmon is not only healthy, but can be made easily for a weeknight meal. Baked salmon is cooked right in the oven with just a few ingredients and in under 30 minutes. So if you are looking for a quick and delicious way to cook salmon, look no further.
Other salmon recipes we love: Brown Sugar Salmon or Air Fryer Salmon from frozen.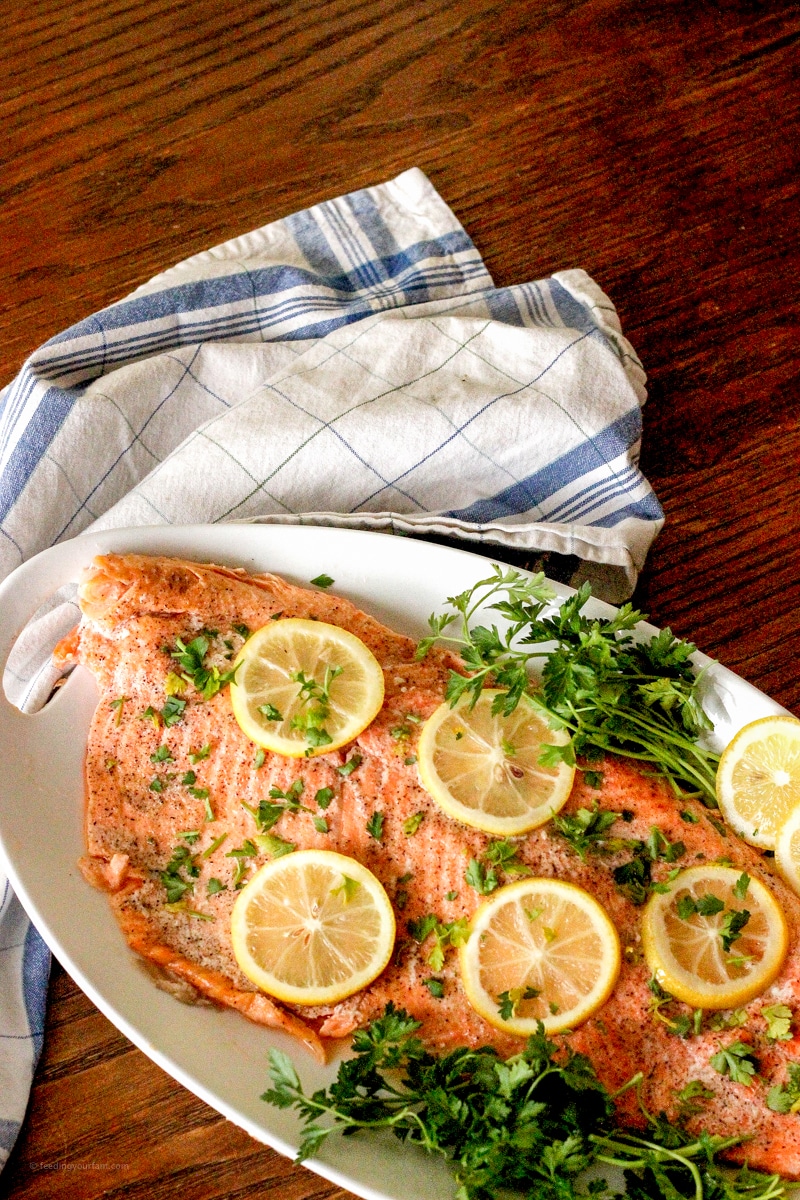 Baked Salmon in Foil
This salmon recipe is super simple to make!! Don't be scared of salmon, make it for your fam!! You will feel like a rockstar, making something so delicious and knowing that they are getting all the good nutrients salmon provides. You will all be smarter from this one!!
Ingredients for Oven Baked Salmon
Salmon really provides all of the flavor on its own, so you don't need a lot of additional ingredients fort this recipe. All you will need to make this baked salmon recipe is the following:
salmon– this can be either skin on or skinless, we have cooked this recipe with both
olive oil– or another cooking oil such as avocado oil
sea salt– table salt will work as well, you might just need to use a little bit more since sea salt is a bigger flake
ground black pepper
garlic powder
lemons– one sliced and one for serving
fresh parsley
See the recipe card at the bottom for full ingredient amounts and recipe instructions.
How to Bake Salmon in the Oven
Start by lining a baking sheet with foil, I had to use two sheets overlaying each other to get enough to wrap around the salmon and provide it room to steam inside.
Next, drizzle the salmon with olive oil and season with a simple spice rub of sea salt, ground black pepper and garlic powder.
After the salmon is seasoned, simply pinch the sides of the foil together and create a little tent above the salmon. Make sure all the sides of the foil are all pinched in and that there are no open holes that the steam can sneak out from. You've got this!! Feed Your Fam!
The salmon is baked in a 425ºF oven for about 20-25 minutes.
If you have an instant read thermometer you can bake it until it reaches 135ºF and then let it rest in the foil for about 5 more minutes before serving. This will give you a perfectly cooked, tender salmon.
If you don't have an instant read thermometer, just cook it until it flakes easily with a fork.
What to Serve with Baked Salmon
Your side dish can be just as simple and delicious as the main star! I like to serve this salmon with rice topped with some fresh parsley, a cooked veggie or a simple salad. One of our favorite side dishes is this Garlic Butter Broccoli, quick and easy to make, because I know life can be straight up crazy busy!!
This salmon may sound like it is an elegant meal (and totally use it for that if you've got a candlelight dinner in your future), but it and should be part of your weekly menu!! I hope you are surprised by how easy this is to make and how delicious it is to eat!!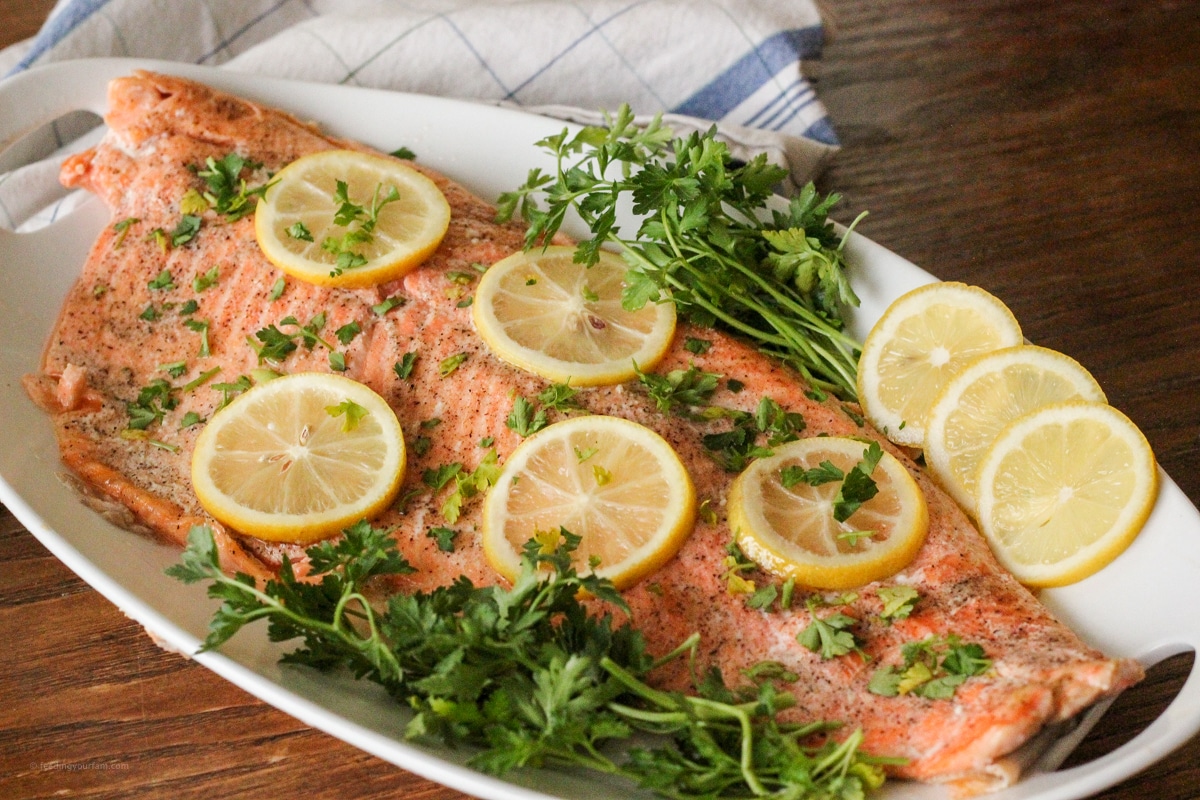 Recipe for Easy Baked Salmon
If you are looking for other Family Friendly meals or desserts follow along with me on YouTube or Facebook where I share simple recipes to help you with Feeding Your Fam! Make sure to subscribe so you will be notified each time I post a new video!
⭐️ ⭐️⭐️⭐️⭐️Tried it and just loved it? Leave me a rating! I would love to hear how it turned out for you! Or even snap a photo and tag me on Instagram @feedingyourfam or #feedingyourfam so I can see what you made!