Salmon is not only healthy, but can be made easily for a weeknight meal. This recipe is easy and can be on the table in under 30 minutes!!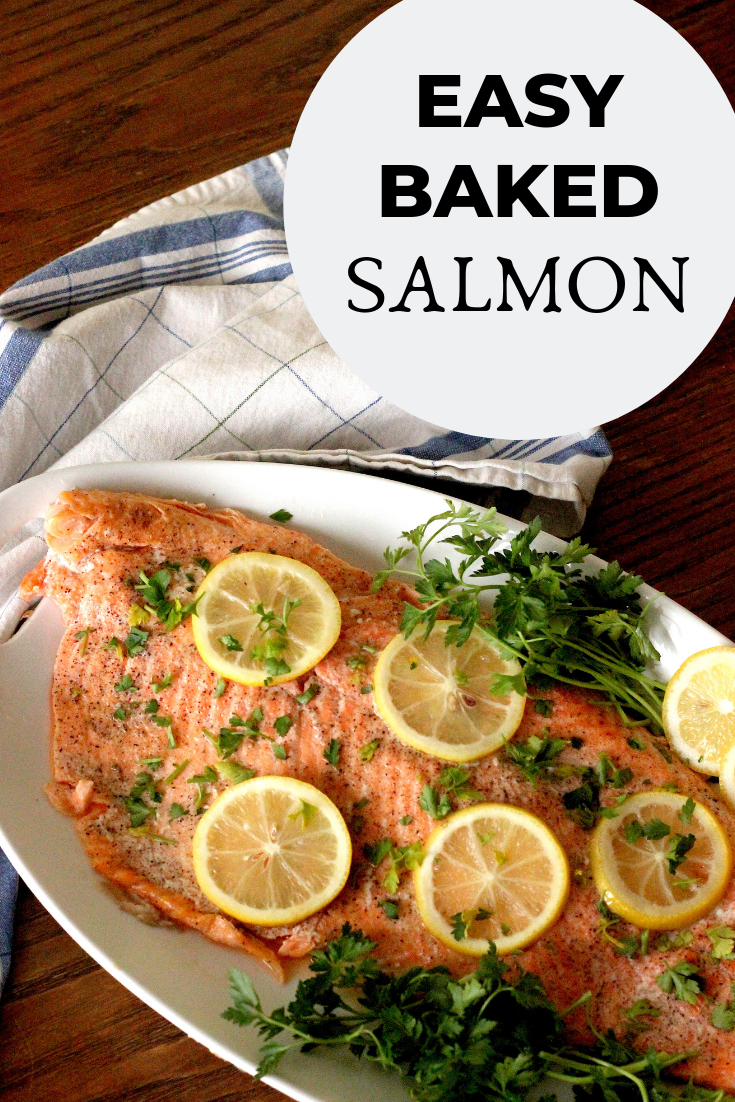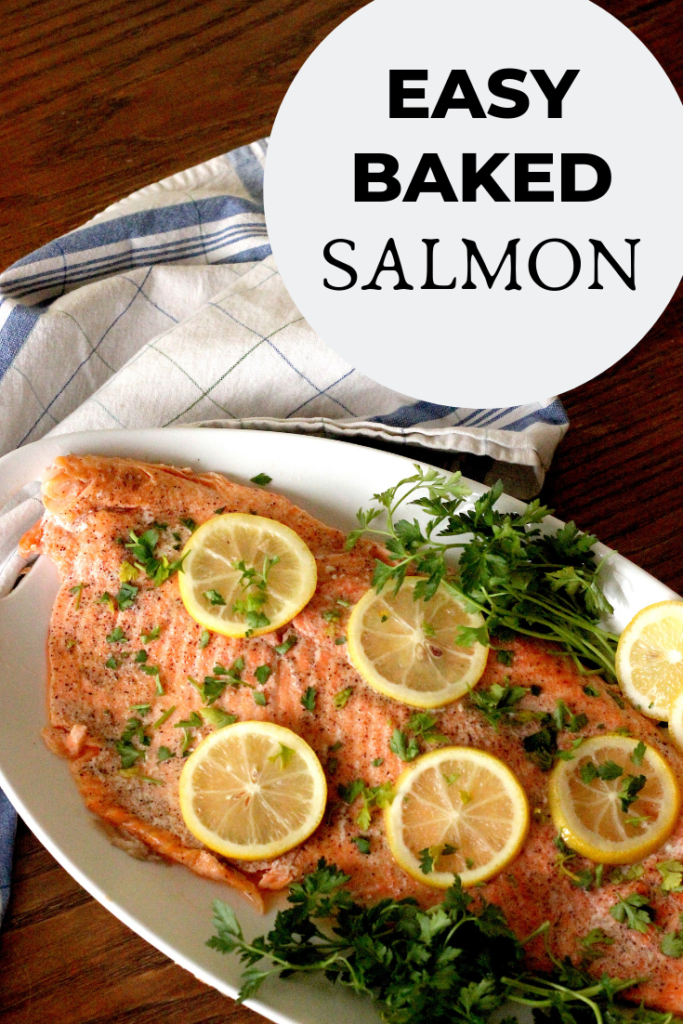 Baked Salmon in Foil
This salmon recipe is super simple to make!! Don't be scared of salmon, make it for your fam!! You will feel like a rockstar, making something so delicious and knowing that they are getting all the good nutrients salmon provides. You will all be smarter from this one!!
Simply line a baking sheet with foil, I had to use two sheets overlaying each other to get enough to wrap around the salmon and provide it room to steam inside. Drizzle the salmon with olive oil and season with a simple spice rub or sea salt, ground black pepper and garlic powder. The salmon gets baked in a 425ºF oven for about 20-25 minutes.
If you have an instant read thermometer you can bake it until it reaches 135ºF and then let it rest in the foil for a few more minutes until it has cooked through. This will give you a perfect, tender salmon. I you don't have an instant read thermometer, just cook it until it flakes easily with a fork.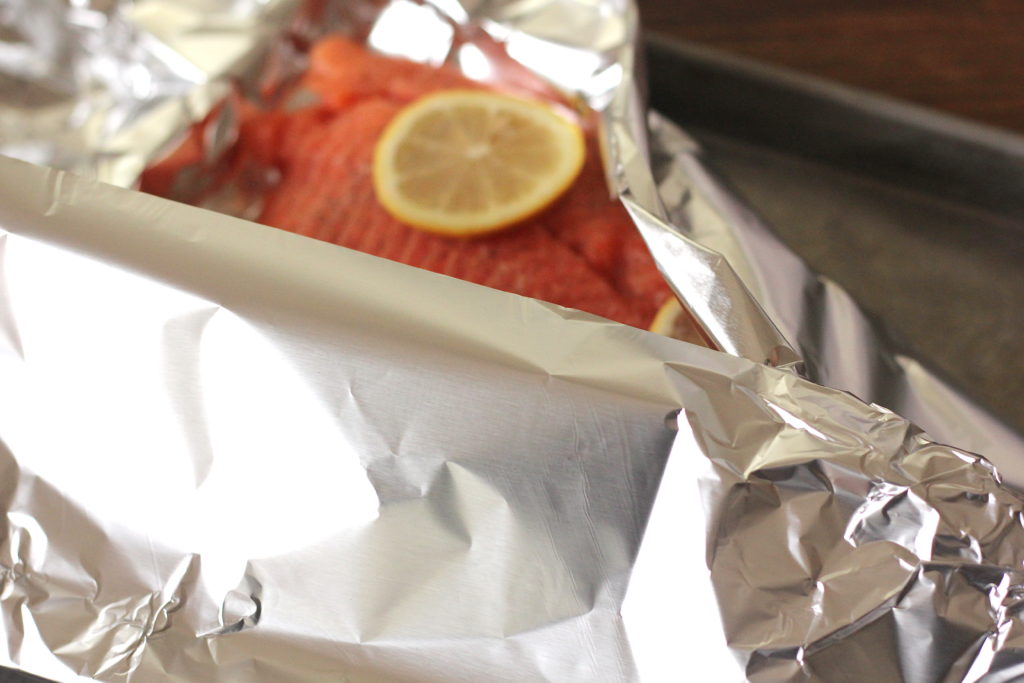 Simply pinch the sides of the foil together and create a little tent above the salmon. Make sure all the sides of the foil are all pinched in and that there are no open holes that the steam can sneak out from. You've got this!! Feed Your Fam!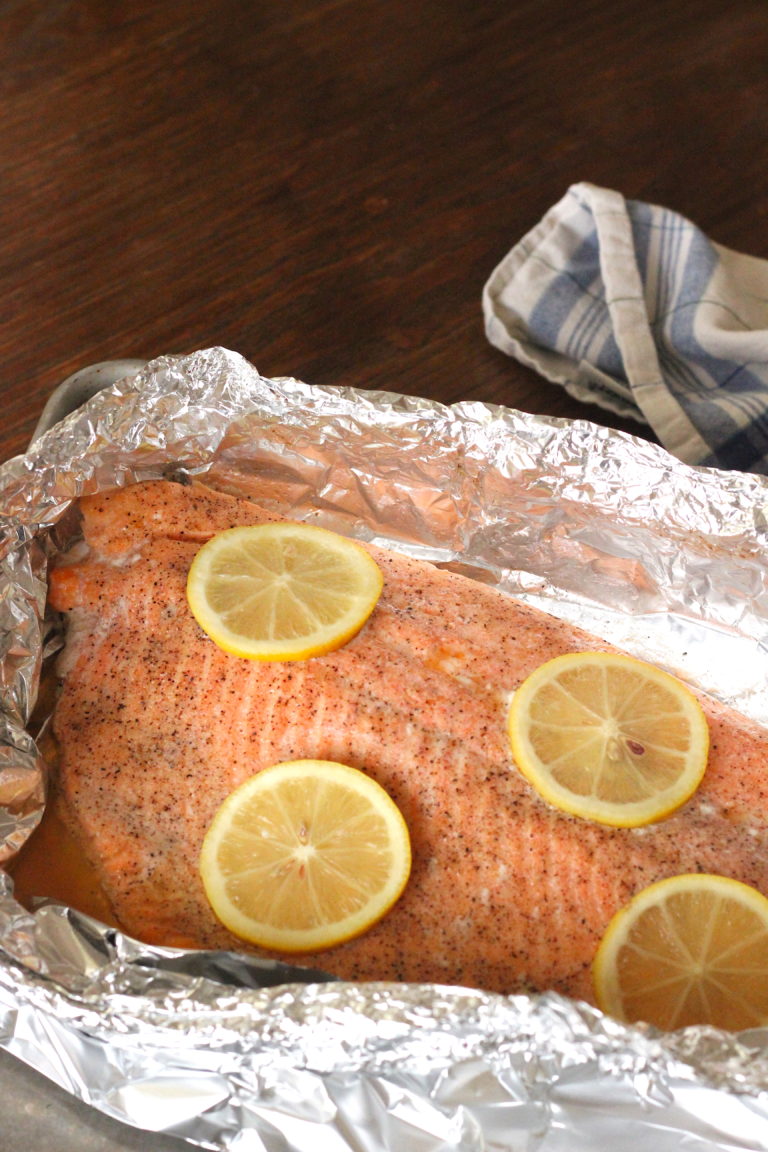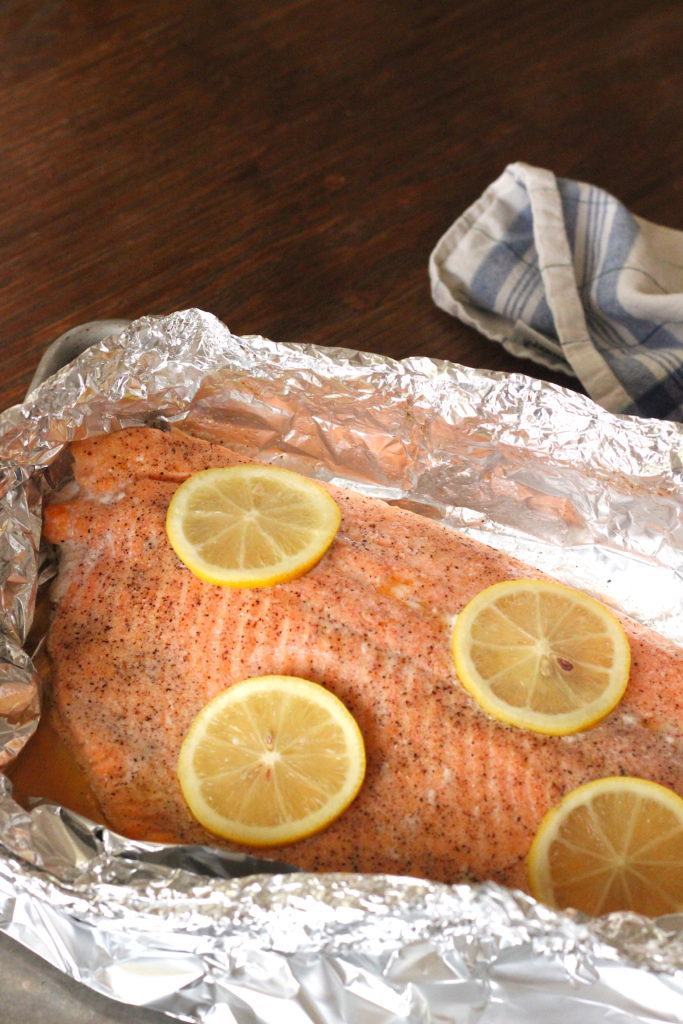 What to Serve with Baked Salmon
Your side dish can be just as simple and delicious as the main star! I like to serve this salmon with rice topped with some fresh parsley, a cooked veggie or a simple salad. One of our favorite side dishes is this Garlic Butter Broccoli, quick and easy to make, because I know life can be straight up crazy busy!!
This salmon may sound like it is an elegant meal (and totally use it for that if you've got a candlelight dinner in your future), but it and should be part of your weekly menu!! I hope you are surprised by how easy this is to make and how delicious it is to eat!!
Recipe for Easy Baked Salmon
Easy Baked Salmon
Oven baked salmon is so easy and delicious!! Ready in 30 minutes and you will be the star of the dinner table!! You've got this!
Ingredients
2-3

pound

Salmon

1

tbsp

olive oil

2

tsp

sea salt

1

tsp

ground black pepper

2

tsp

garlic powder

2

lemons, one sliced and one for serving

1

bunch

fresh parsley, chopped
Instructions
Preheat the oven to 425ºF. Prepare a baking sheet by lining with sheets of foil. The foil should overlap the sides 4-5 inches.

Combine the salt, pepper and garlic powder in a bowl and mix.

Place the salmon on the foil and drizzle with olive oil. Liberally sprinkle the salmon with the spices. You might not use all of the spice mixture, just make sure the salmon is evenly covered.

Place slices of lemon on top of the salmon.

Pull up the sides of the foil up and pinch them together then roll down a few times to secure. Do not make the foil tight on top of the salmon, there should be a little loose space above the salmon.

Place the salmon in the oven and cook for 20-25 minutes or until the salmon flakes easily with a fork.

Sprinkle with fresh parsley if you have it, or serve without with lemon wedges.
Nutrition
Calories:
253
kcal
|
Carbohydrates:
5
g
|
Protein:
31
g
|
Fat:
12
g
|
Saturated Fat:
2
g
|
Cholesterol:
83
mg
|
Sodium:
848
mg
|
Potassium:
856
mg
|
Fiber:
2
g
|
Sugar:
1
g
|
Vitamin A:
861
IU
|
Vitamin C:
32
mg
|
Calcium:
41
mg
|
Iron:
2
mg