Cast Iron Tri Tip Roast
As an Amazon Associate and member of other affiliate programs, I earn from qualifying purchases.
Tri Tip is a super flavorful, tender and delicious cut of beef! This recipe has just a few ingredients and is easily cooked on a stove top in cast iron or a skillet.
Cooking Tri Tip in cast iron is such an easy way to make up a quick dinner. If you enjoy cooking in cast iron check out these other delicious dinner ideas: Boneless Pork Loin Roast with Orange Glaze, Simple One Pan Chicken and Veggies, Homemade Beef Pot Pie.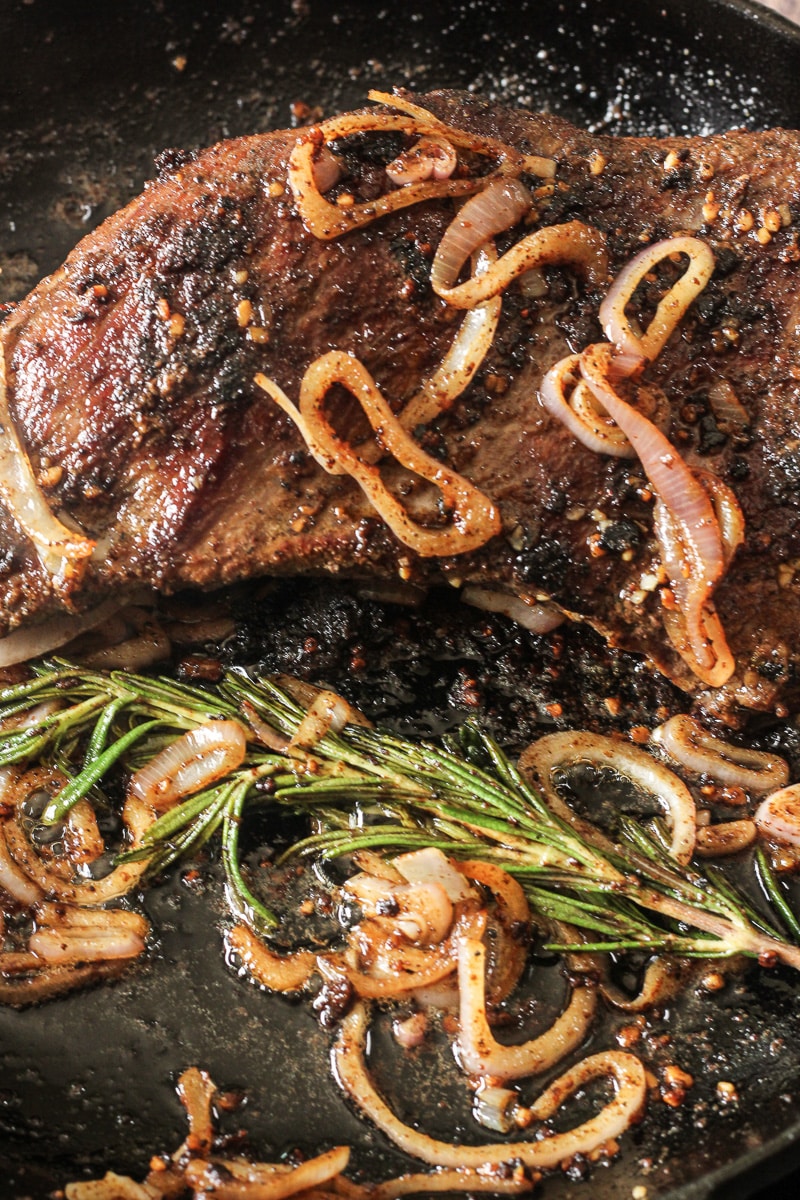 What is Tri Tip
Tri Tip is a lean, boneless triangular cut of beef that is super tender and juicy usually comes in 1.5 to 2 pounds. Cut from the Bottom Sirloin.
It can be slow roasted, grilled, smoked or cook it in a nice cast iron skillet as demonstrated in this recipe. Tri tip is easy to cook and goes far to feed your fam.
Tri tip is doesn't need to be cooked for hours. This tender cut can be quickly cooked and sliced against the grain for a simple way to get some deliciously cooked steak on the table!!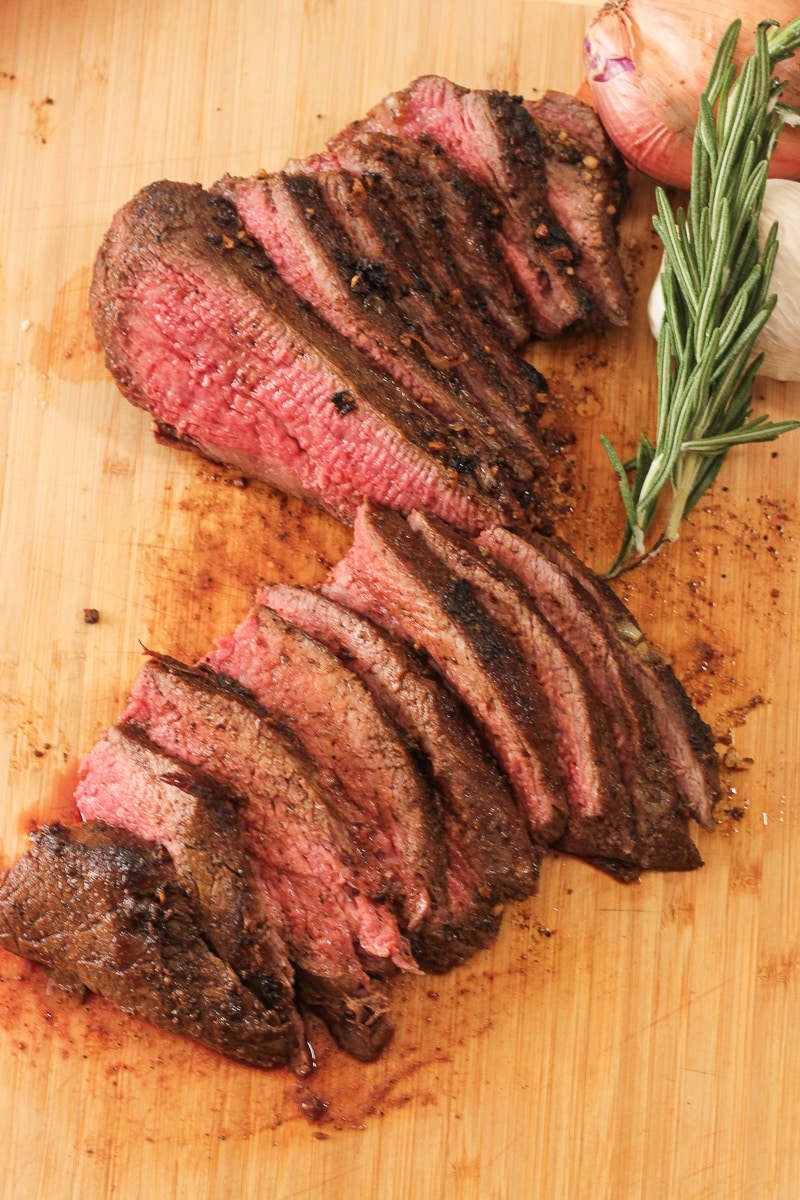 Cooking Tri tip in a Cast Iron Skillet
The first step here is to take your Tri Tip out of the refrigerator and allow it to come up in temperature, about 10-15 minutes, while you will start making a simple seasoning.
Tri Tip Rub
Make a simple tri tip rub with the following:
Sea Salt
Ground Black Pepper
Garlic Powder
Onion Powder
Liberally, and I mean liberally, sprinkle this tri tip seasoning all over your tri tip. Making sure it is seasoned on every side.
Press the seasoning into the meat with your hand. There's no such thing as too much in this scenario! You want all those flavors to get in the meat.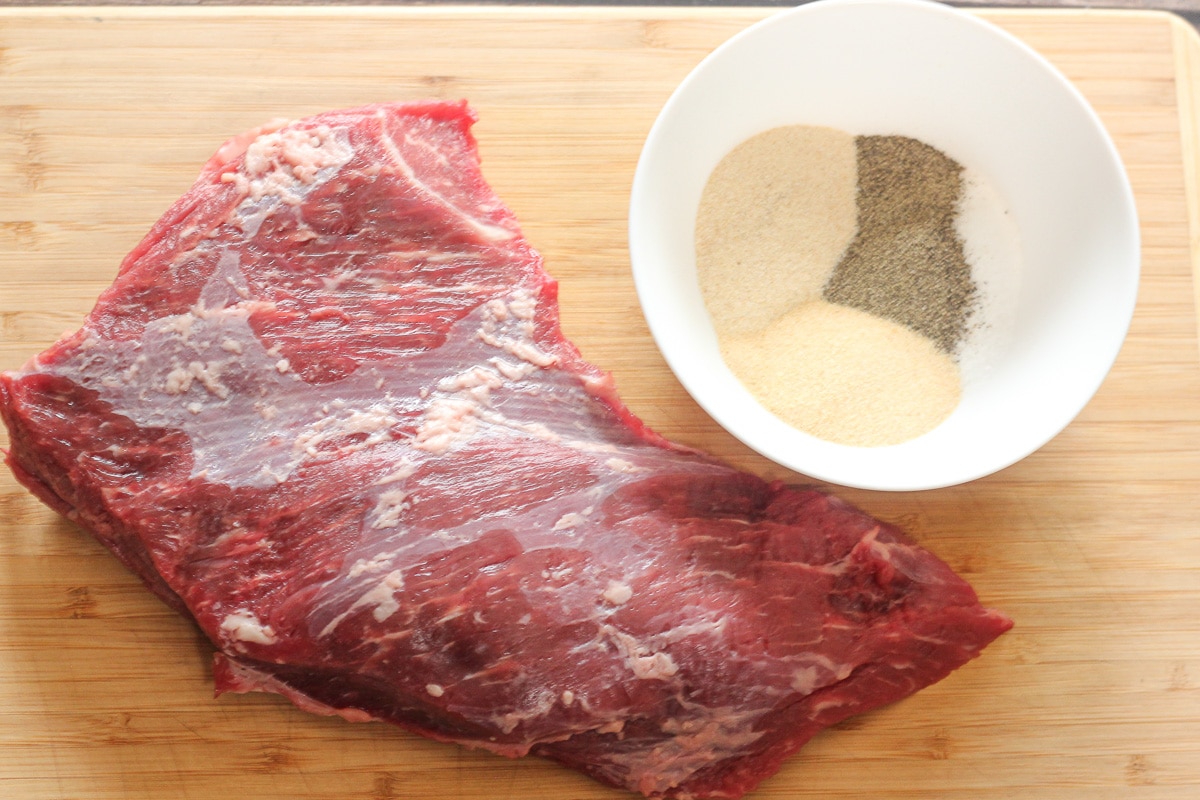 Prepare Your Cast Iron
With your cast iron over medium high heat, pour in 2 tbsp olive oil and heat until shimmering. The oil should move easily along the bottom of the pan.
Brown the Tri Tip Roast
The first step in this recipe is to brown the meat on all sides. This helps to lock in the juices and flavor.
Brown the roast on all sides to help seal in the juices, this will take about 2 minutes on each side. Once it is browned on all sides it is time to cook the roast.
Continue cooking the roast on each side for about 8-10 minutes, turning once.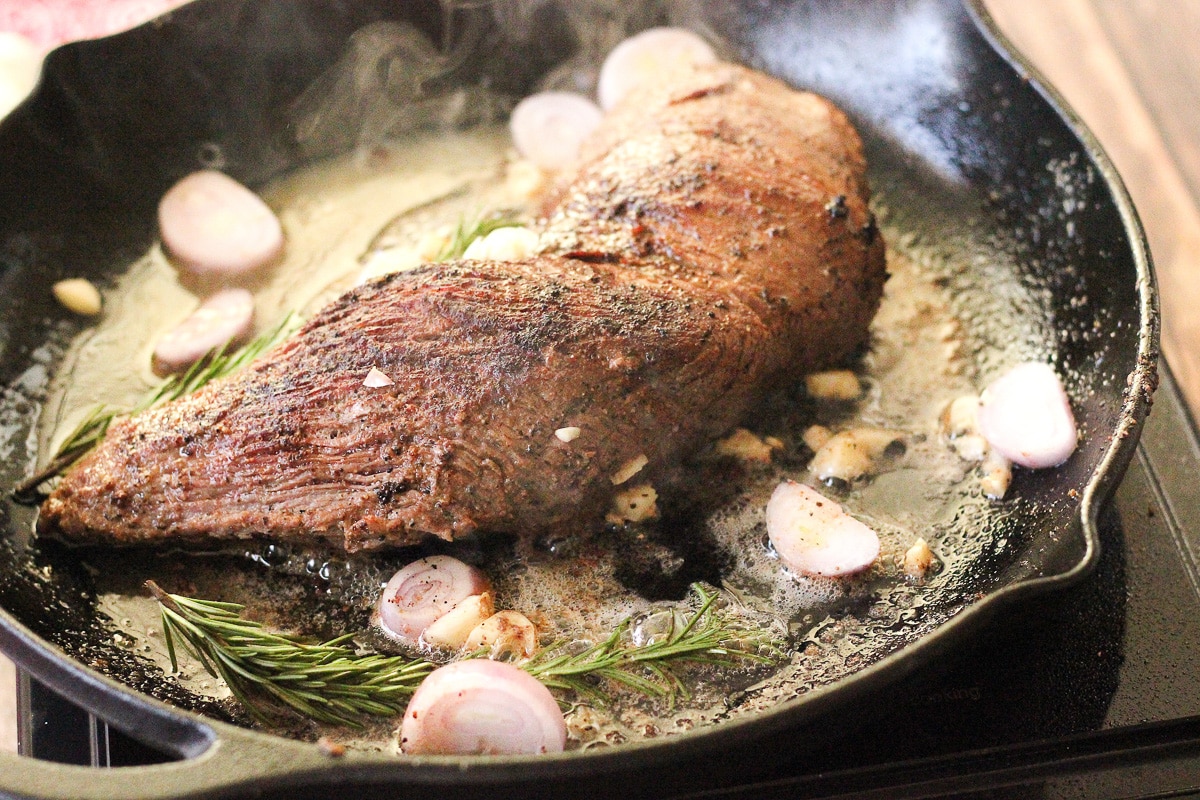 Beef Spices
Cook the roast until it reaches an internal temperature of 126ºF and add in the extra flavors; butter, garlic, shallots and rosemary.
As the butter melts, use a spoon to drizzle the butter, garlic and shallots over the tri tip as it continues to come up to temperature.
Depending on how you like your steak cooked, pull it about 5 degrees below your desired temperature.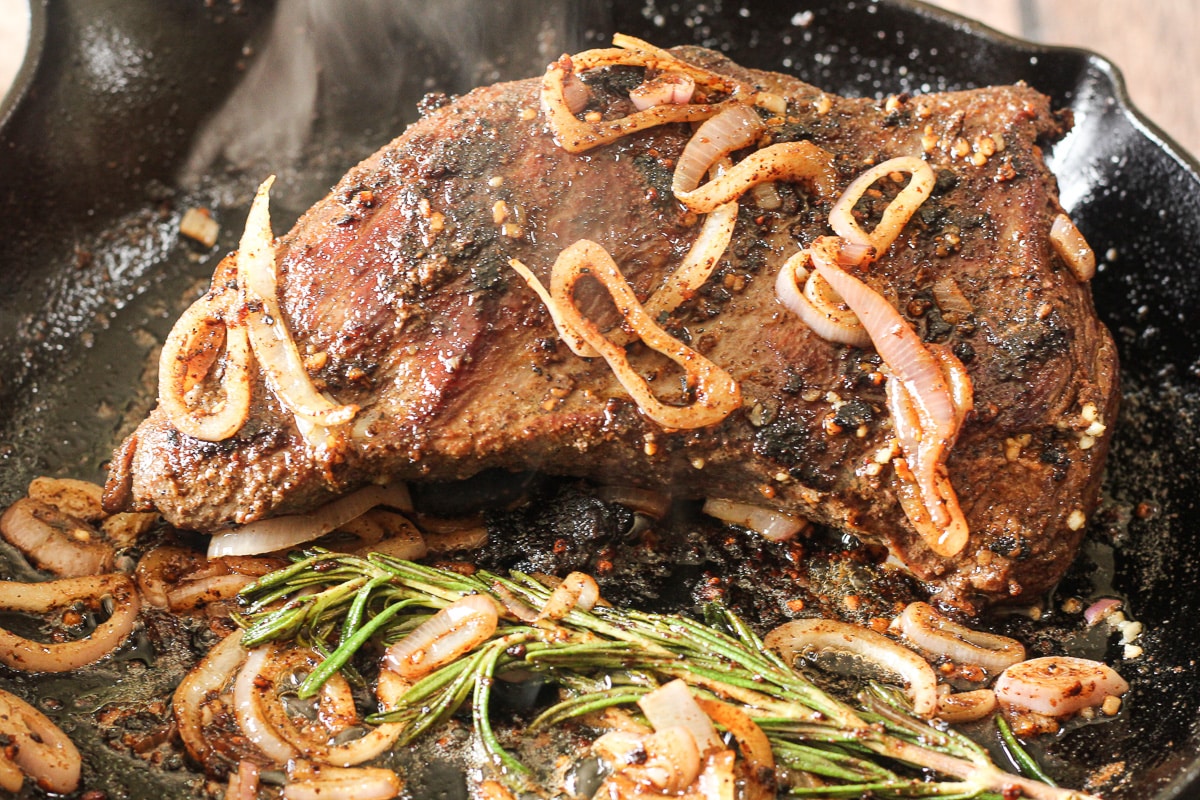 What Temperature to Cook my Steak to
You can easily adjust this recipe for your own fam! We like our steaks at a nice Medium temperature, so I plan on cooking to about 130ºF.
I will remove it from the pan and allow it took continue to come up to temperature while it rests for about 10 minutes.
The following is a guide for what final temperature you would cook it to from Rare to Well Done. Please note that at 10º prior to removing it from the pan, you will add the shallots, garlic, butter and rosemary and at 5º prior to your desired doneness you will remove it and allow it to rest.
Rare: Final temperature 115ºF
Medium Rare: Final temperature 125ºF
Medium: Final temperature 135ºF
Medium Well: Final temperature 140ºF
Well Done: Final temperature 150ºF
The best way to check the doneness of your steak is with an instant read thermometer.
Allow the Steak to Rest
This might just be the most important step of this recipe. Allow your steak to rest for at least 10 minutes before slicing.
Resting allows the juices to redistribute so that when you cut into your steak all the juices don't run out and leave you with a dry steak!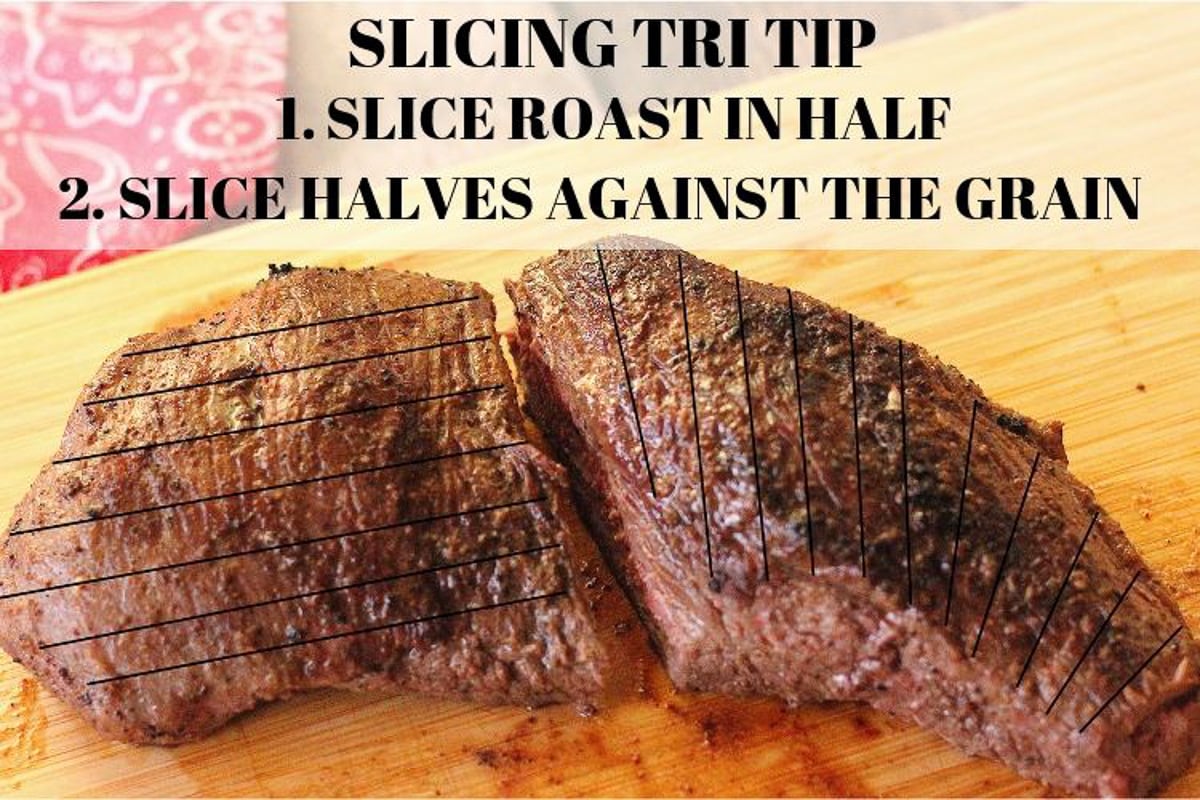 How to Slice Tri Tip
Tri tip needs to be sliced against the grain. Cutting against the grain helps it stay tender, otherwise it will be chewy and hard to eat.
Because of its shape, the muscles run in different directions, it is easiest to slice the two pieces apart and then slice those against the grain like in the photo above. Slice into 1/4 inch slices and serve while still warm!
Cast Iron Tri Tip Recipe
If you are looking for other Family Friendly meals or desserts follow along with me on YouTube or Facebook where I share simple recipes to help you with Feeding Your Fam! Make sure to subscribe so you will be notified each time I post a new video!
⭐️ ⭐️⭐️⭐️⭐️Tried it and just loved it? Leave me a rating! I would love to hear how it turned out for you! Or even snap a photo and tag me on Instagram @feedingyourfam or #feedingyourfam so I can see what you made!
Cast Iron Skillet Tri Tip Roast
Tri tip is a tender and juicy cut of beef. This meal comes together so easy and is perfect for any night of the week!
Ingredients
2-3

pounds

tri tip roast

2

tablespoons

olive oil

2

tablespoons

butter

2

cloves

garlic

minced

2

shallots

sliced

2

rosemary sprigs
TRI TIP RUB
1

tablespoon

sea salt

1

tablespoon

black pepper

1

tablespoon

garlic powder

1

tablespoon

onion powder
Instructions
Remove tri tip from refrigerator, season liberally with spices on all sides and allow to come up in temperature about 10 minutes while you prepare other ingredients.

Heat a large cast iron skillet over medium high heat add olive oil. Place tri tip in skillet and brown on all sides.

Turn heat down to medium and cook tri tip for about 7 minutes on each side, flipping once. When the meat reaches an internal temperature of 125-126ºF add in butter, garlic, shallots and rosemary. With a spoon, spoon the melted butter over the roast as it continues to cook and come up to temperature.

Remove the roast from the pan once it is 5 degrees below your desired doneness, see post above. For this recipe the roast was cooked to 130ºF

Allow the roast to rest before slicing against the grain.
Notes
Nutrition Facts are just an estimate
One of my favorite easy rubs to use is this BEEF RUB from Hey Grill Hey.
Nutrition
Calories:
331
kcal
|
Carbohydrates:
4
g
|
Protein:
32
g
|
Fat:
20
g
|
Saturated Fat:
7
g
|
Polyunsaturated Fat:
1
g
|
Monounsaturated Fat:
10
g
|
Trans Fat:
0.2
g
|
Cholesterol:
108
mg
|
Sodium:
1276
mg
|
Potassium:
562
mg
|
Fiber:
1
g
|
Sugar:
1
g
|
Vitamin A:
132
IU
|
Vitamin C:
1
mg
|
Calcium:
54
mg
|
Iron:
3
mg