Fruit Salsa with Cinnamon Chips
As an Amazon Associate and member of other affiliate programs, I earn from qualifying purchases.
Fruit Salsa with Cinnamon Chips is a sweet treat filled with sliced fruit, berries and seasoned with tangy lime. Perfect for an after school snack or a dish to share at your next pot luck!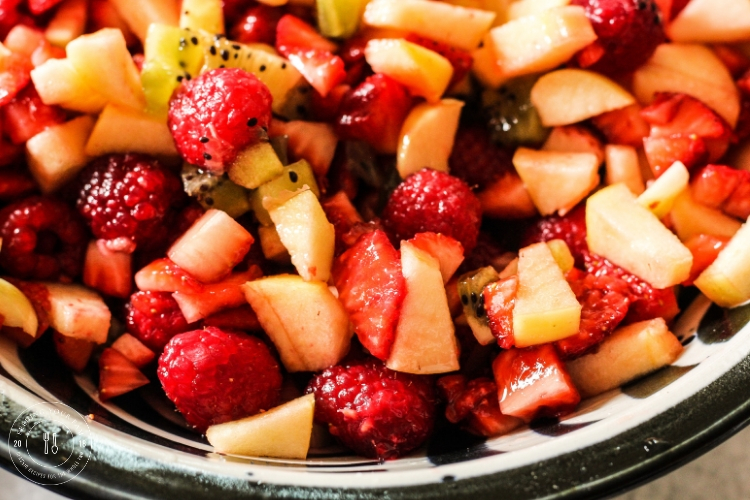 Fruit Salsa and Cinnamon Chips
This fruit salsa recipe is another fam favorite! My kids ask for this one all the time!! It is easy to make with whatever fruits you have on hand. The cinnamon chips are really a crucial part in making this a fun and delicious treat. No mommy guilt if my kids sit and eat a whole bowl full of this vitamin filled fruit salsa goodness.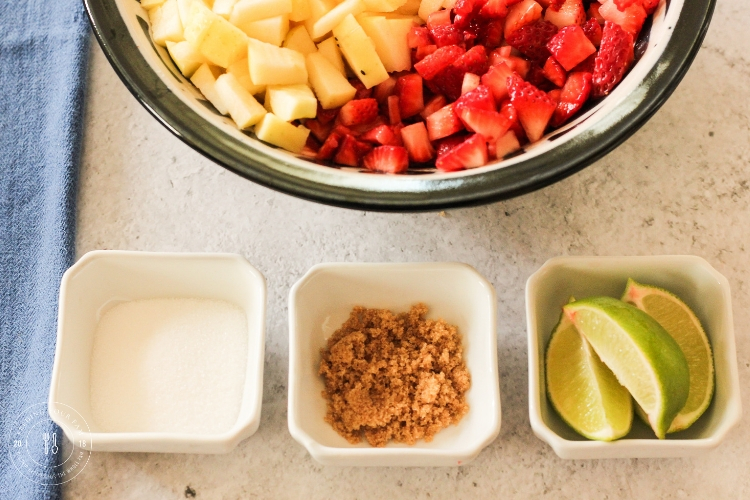 Ingredients Needed for Fruit Salsa with Cinnamon Chips
2 Kiwis
2 Golden Delicious Apples
8 oz Raspberries
1 pound Strawberries
2 tablespoons Lime Juice
2 tablespoons Sugar
1 tablespoon Brown Sugar
8-10, 10 inch Flour Tortillas
1 cup Sugar
1 tablespoon Cinnamon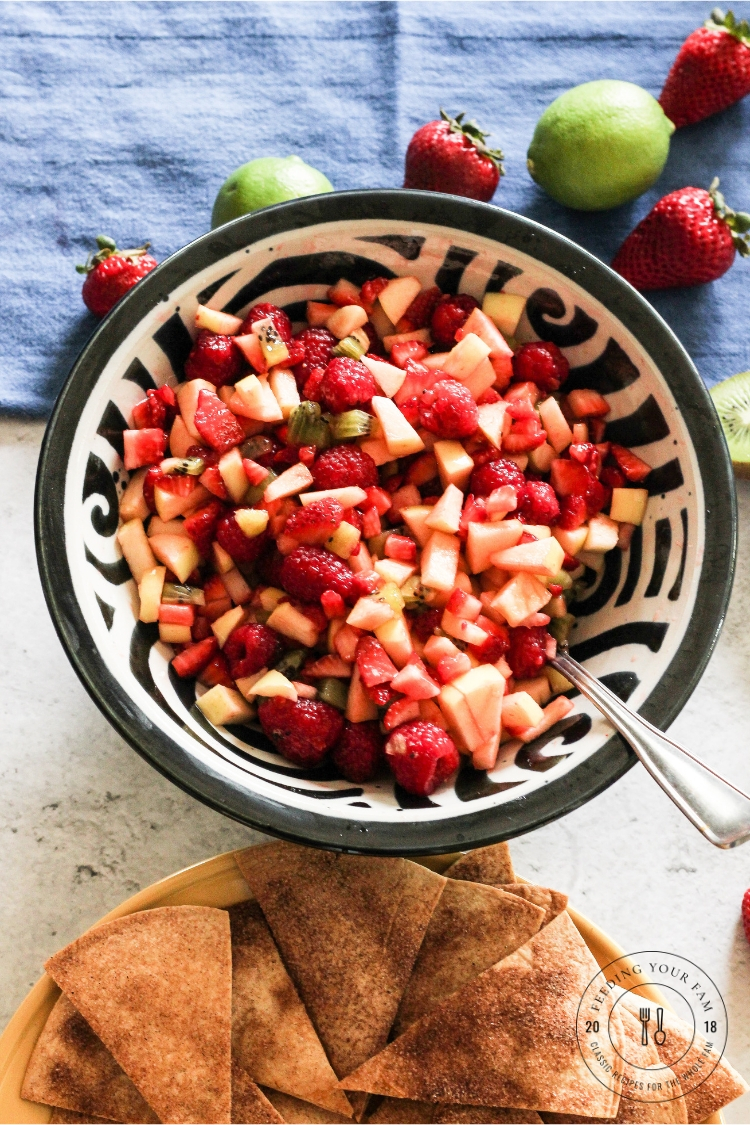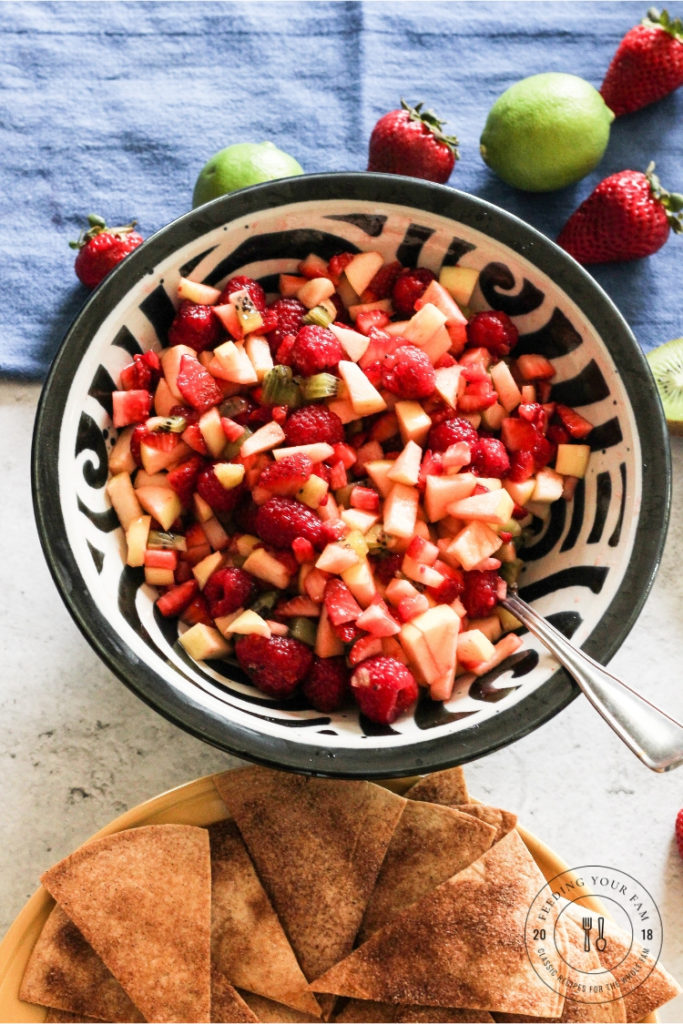 How to Make Cinnamon Chips
Cinnamon chips are seriously so good just on their own, so if you need a little sweet snack, bake up some of these. I prefer to bake these in the oven as opposed to frying them in oil. They come out crunchy and perfect for dipping every time!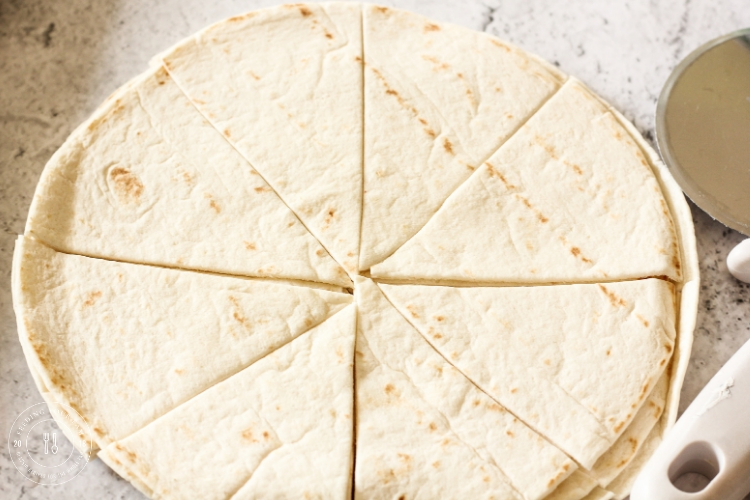 Simply take a 10 inch round tortilla and slice it in halves 4 times. The easiest way to slice is to use a pizza cutter, but a knife will work well if that is what you have. Spread the chips out on a greased baking sheet and spray one side with cooking spray then sprinkle with cinnamon sugar. Flip and repeat on the other side.
Bake the chips in a 375ºF oven for 8-10 minutes, turning half way, until they are golden and crispy. Allow them to cool before taking a dive into the fruit salsa.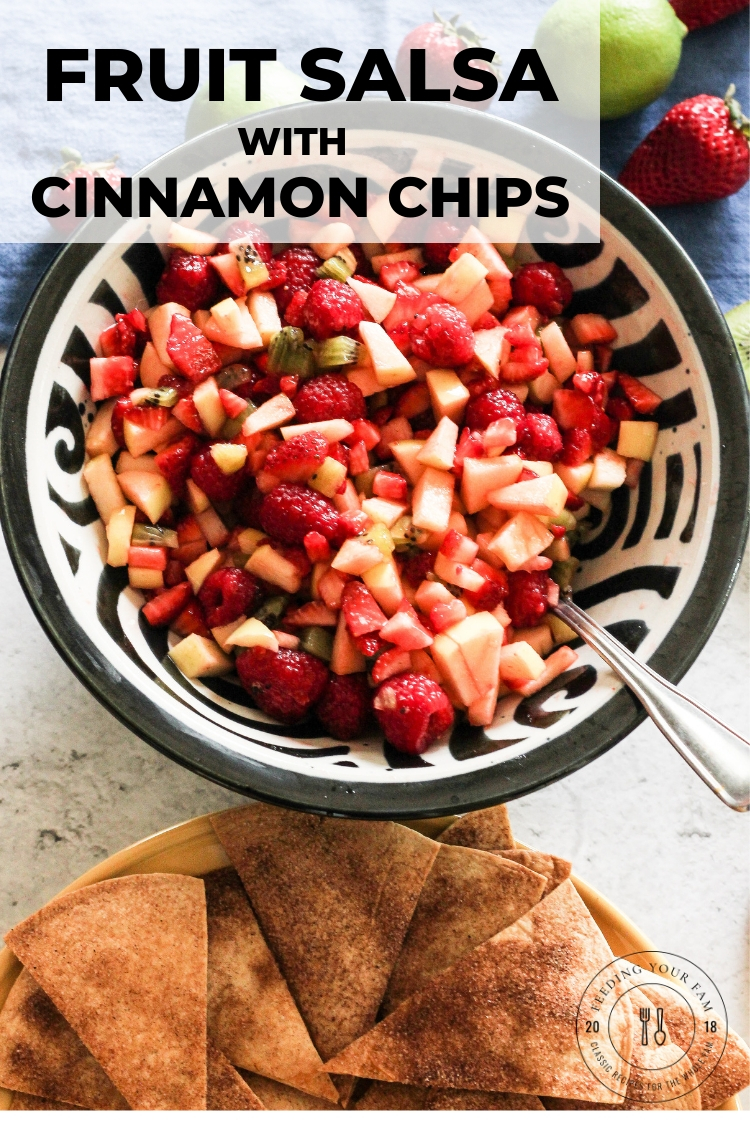 How to Serve Fruit Salsa
This Fruit Salsa with Cinnamon Chips recipe is perfect for all of your mid-day snacking moments, but just limit this delicious dish to the middle of the day! We love to bring this to parties, picnics, barbecues…..really any function where there will be hungry people! You won't be bringing any home once the party is over, sorry!!
This recipe would go great with:
Fruit Salsa Recipe
Fruit Salsa with Cinnamon Chips
Fruit Salsa with Cinnamon Chips is a tasty dish filled with fresh fruit seasoned with a little sugar and lime juice. Perfect for eating with Cinnamon Chips and serving at all the parties!
Ingredients
Fruit Salsa
2

kiwi, diced

2

Golden Delicious apples, diced

8

ounces

raspberries

1

pound

strawberries, diced

2

tbsp

sugar

1

tbsp

brown sugar

2

tbsp

lime juice
Cinnamon Chips
10

10-inch

flour tortillas

1

cup

sugar

1

tbsp

cinnamon

cooking spray
Instructions
Preheat oven to 375ºF. Prepare baking sheet by spraying with cooking spray.

Slice the tortillas in half four times to make 8 triangles. Spread the tortillas evenly on the prepared baking sheet. Spray with cooking spray and sprinkle with cinnamon sugar. Flip and repeat on the other side.

Bake the tortillas for 8-10 minutes, flipping half way, until golden brown and crisp. Repeat until all the tortillas have been cooked.

While the tortillas are cooking, dice fruit and mix together. Sprinkle with sugars and gently stir to cover. Add lime juice and mix until all the fruit is seasoned with sugars and lime juice. Cover and refrigerate until ready to serve.
Nutrition
Calories:
222
kcal
|
Carbohydrates:
55
g
|
Protein:
2.4
g
|
Fat:
1.2
g
|
Sodium:
13
mg
|
Potassium:
291
mg
|
Fiber:
6
g
|
Sugar:
38
g
|
Calcium:
500
mg
|
Iron:
0.2
mg