Coconut Chocolate Crunch Cookies
As an Amazon Associate and member of other affiliate programs, I earn from qualifying purchases.
These Coconut Chocolate Crunch Cookies have a little bit of everything that makes them the most delicious cookie!! If you like coconut, chocolate, pretzels and just cookies in general, this is the cookie for you!!
Pin this recipe to add to your recipe box. This Coconut Chocolate Crunch Cookie comes out perfectly soft and chewy every time, the crunch comes from the added pretzels, and candy coated chocolate candies.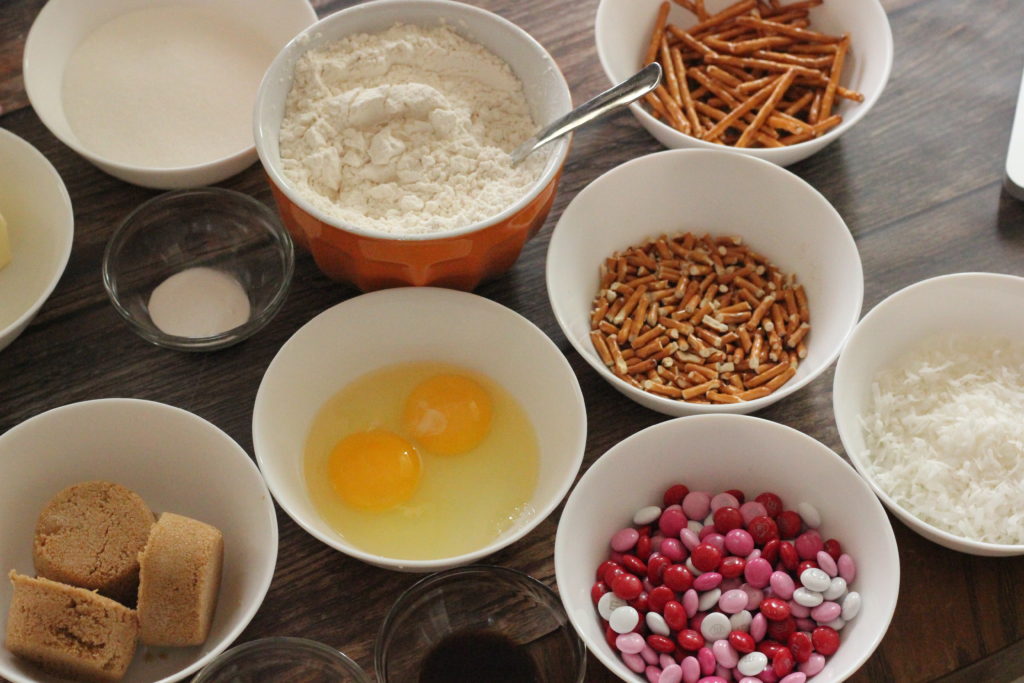 What do I need to make Coconut Chocolate Crunch Cookies
Simple ingredients make the best recipes.
Unsalted Butter
Brown Sugar
White Sugar
Eggs
Vanilla
All Purpose Flour
Baking Soda
Salt
Candy Coated Chocolate Candies (M & M's)
Sweetened Coconut Flakes
Pretzels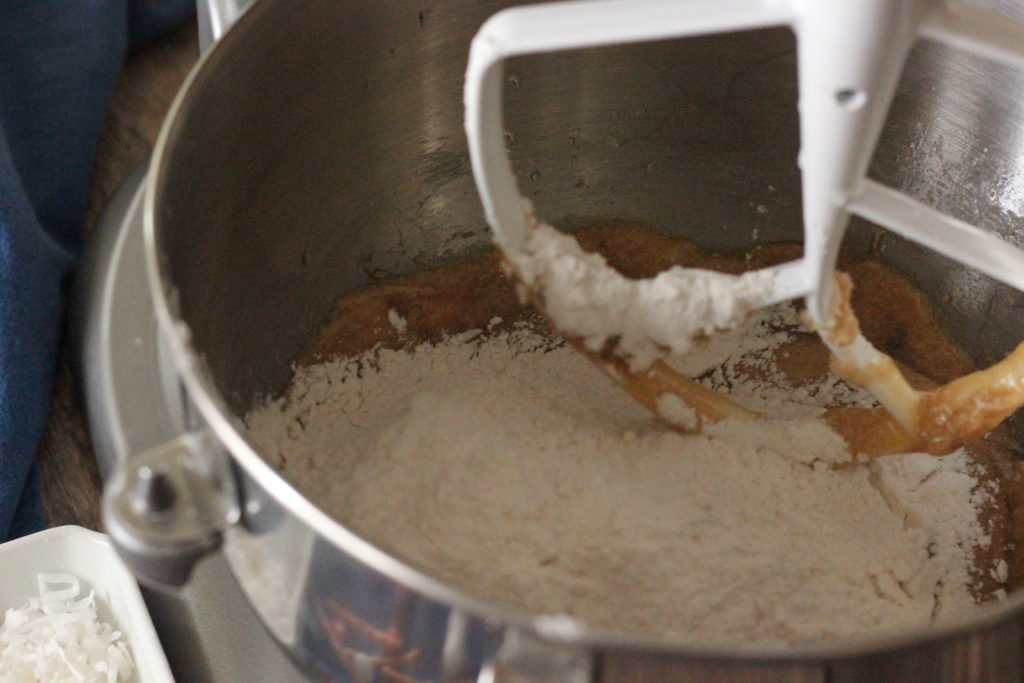 How to Make Coconut Chocolate Crunch Cookies
Just like any great cookie, you will first start by combining the butter and sugars and the flour and baking soda separately. I like to get my butter really soft, just before the melting stage. Just put it in the microwave for 15 seconds. If it does melt all the way, no problem, it will still work perfectly in this recipe.
Cream together the butter and sugars, add the vanilla and eggs one at a time. In a separate bowl, combine the flour, baking soda and salt, whisk to aerate and combine. Those can now jump in the mixing bowl with the butter mixture. Continue to mix until a soft batter has formed.
Once those have come together, you will add in the remaining treats that make this recipe amazing!!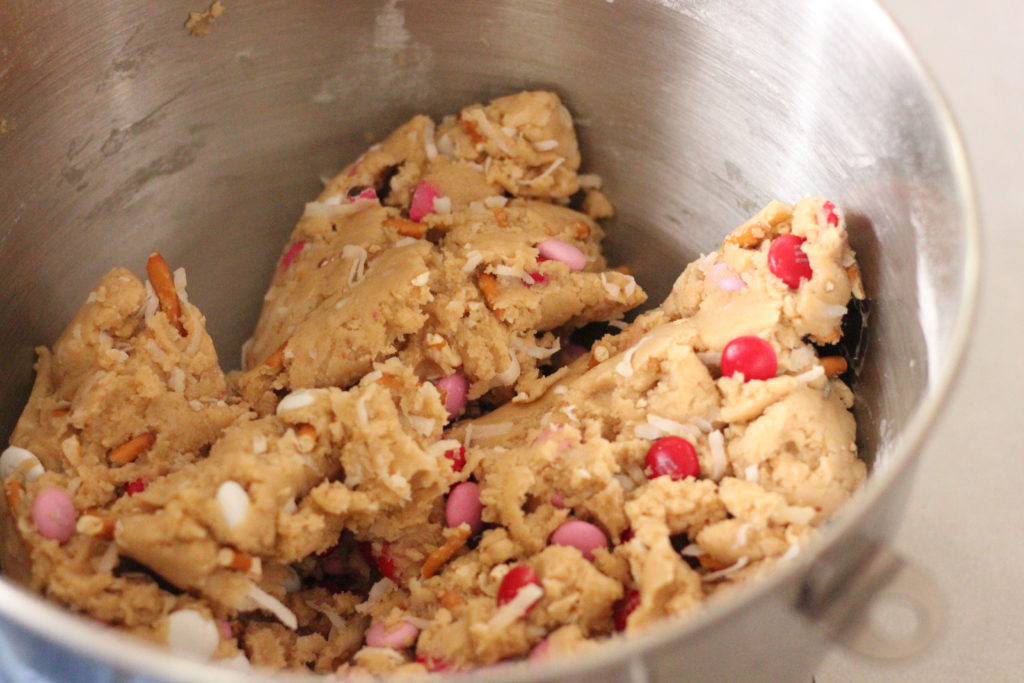 Doesn't that batter just look good enough to eat by itself?? Here's where I need a whole lot of restraint!! It's good in the dough form, but SO much better after if has been baked into a little delicious, chewy, crunchy, chocolatey, coconuty piece of heaven!! (drooling yet?!)
Baking Coconut Chocolate Crunch Cookies
Line 2 baking sheets with parchment paper, this just helps them cook more evenly, makes a perfect bottom and helps keep your baking sheet clean (that means less work for you-bonus!!)
With a spoon or cookie scoop, scoop out the cookie dough and form it into a ball. Place the cookie dough on the cookie sheet, spacing about an inch between each ball. My general rule when making cookies is to place them 4 X 5. 4 across and 5 down. This method has always worked for me and minimizes the cookies all baking together.
These will bake in a 375ºF oven for 12-15 minutes. Personal preference on how crunchy you like your cookies. I am a golden brown, crunchy cookie kind of girl and my hubs like them super soft and gooey in the middle. so make them how you like them, this is your special treat!
When they are cooked to perfection, take them out of the oven, take one for yourself (because warm cookies) and allow them to rest on the cookie sheet for 5 minutes before placing them on a cooling rack to continue cooling.
I hope you enjoy this sweet, crunchy treat. Let me know when you give this recipe a try, I would love to know how it turned out for you!! Enjoy!!
Coconut Chocolate Crunch Cookies Recipe
If you are looking for other Family Friendly meals or desserts follow along with me on YouTube or Facebook where I share simple recipes to help you with Feeding Your Fam! Make sure to subscribe so you will be notified each time I post a new video!
⭐️ ⭐️⭐️⭐️⭐️Tried it and just loved it? Leave me a rating! I would love to hear how it turned out for you! Or even snap a photo and tag me on Instagram @feedingyourfam or #feedingyourfam so I can see what you made!