Coconut Pumpkin Bread
As an Amazon Associate and member of other affiliate programs, I earn from qualifying purchases.
This is not your typical pumpkin bread! Coconut Pumpkin Bread is laced with delicious tropical coconut goodness. You won't go back to that chocolate chip recipe after tasting this one!!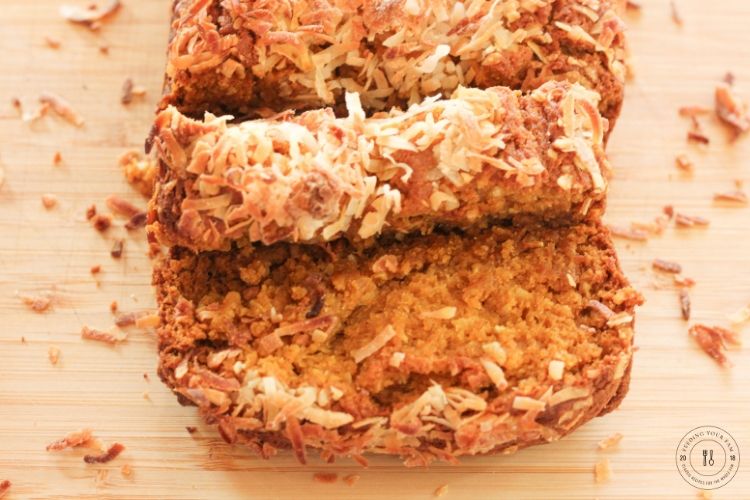 Pumpkin Bread
Pumpkin bread is one of those classic recipes we all turn to when the weather starts to cool and the leaves start to change color, oh and the pumpkins are ripe of course!
This recipe is made with coconut oil, which adds so much moisture and a little touch of flavor. If you don't want to add the oil, applesauce is always a great substitute in these sweet bread recipes.

How to Make this Easy Coconut Pumpkin Bread
First, in a stand mixer or in a large bowl with a hand mixer, combine the coconut oil, pumpkin puree, sugar and eggs. Mix until smooth.
In a separate mixing bowl whisk together the flour, spices, soda, salt and pudding. When the dry ingredients are combined, add them to the wet ingredients in the mixer. Continue mixing the batter until the ingredients are all incorporated.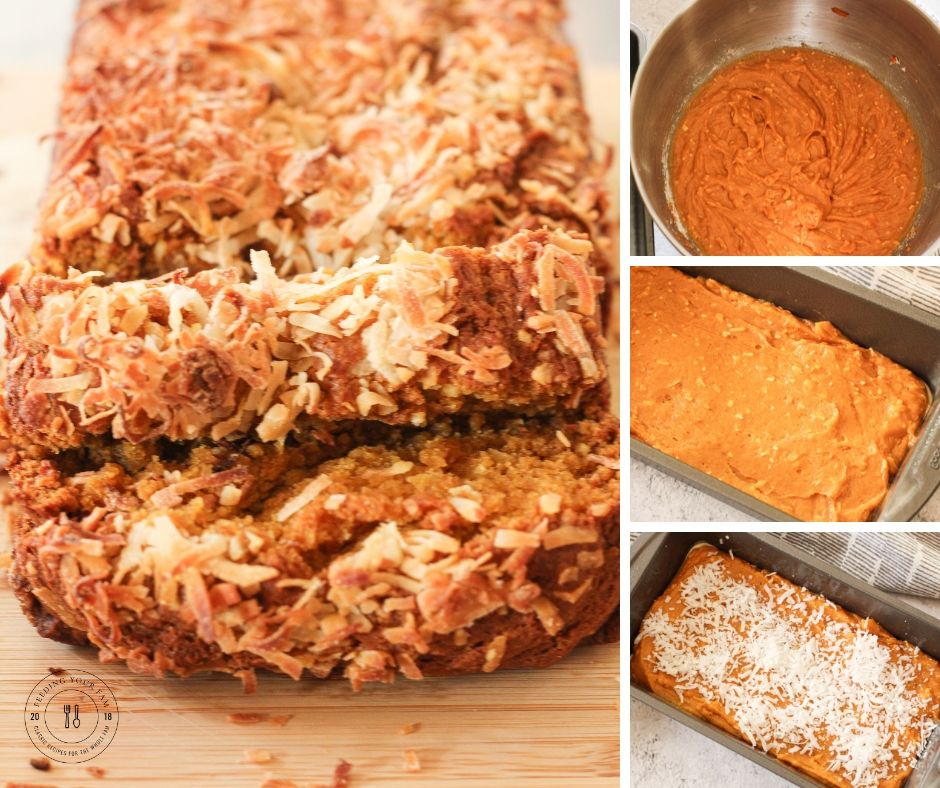 Pour the batter into a greased 9 inch bread pan, sprinkle with 1/4 cup shredded sweetened coconut. Place in a 350ºF oven. Cook for 45-55 minutes until a toothpick comes out clean.
Pumpkin Bread With Coconut Pudding
The pudding really makes all the difference in this pumpkin bread recipe! It adds so much flavor and moisture. It is not overpowering, but a nice compliment to the pumpkin. This recipe makes one loaf, but can easily be double to make and freeze another for later or one to share.
Topping the bread with some sweetened coconut adds a nice tasty crunch. If you feel the coconut is getting to toasty before the bread is cooked all the way through, you can simply put a piece of foil over the top.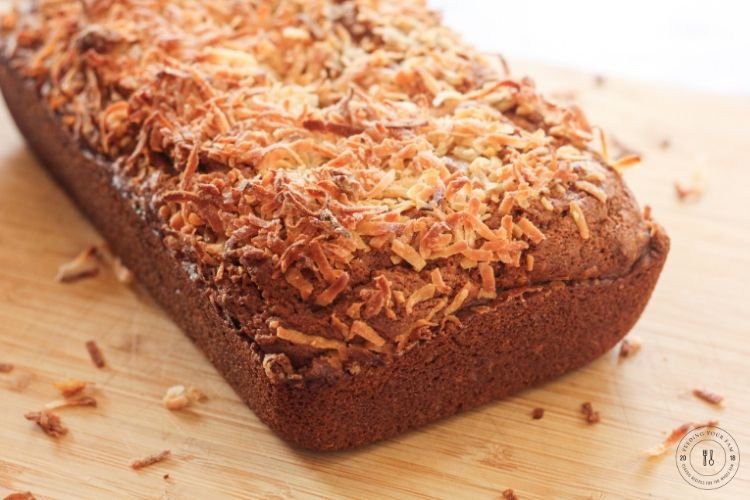 Coconut Pumpkin Bread Recipe
Coconut Pumpkin Bread
Coconut Pumpkin Bread is a moist and delicious version of pumpkin bread that has an amazing hint of coconut.
Ingredients
1/2

C

Coconut Oil

2

Eggs

1

C

Pumpkin Puree

1

C

All Purpose Flour

1

C

Sugar

1/2

tsp

Salt

1/2

tsp

Nutmeg

1/2

tsp

Ground Cinnamon

1

tsp

Baking Soda

1

3.4 oz package

Coconut Cream Pudding Mix

1/4

C

Shredded Sweetened Coconut
Instructions
Preheat oven to 350°F. Grease one 9 x 5 loaf pan.

Combine coconut oil, eggs, pumpkin, and sugar in a large mixing bowl or stand mixer. Mix on medium until well combined.


In a separate mixing bowl whisk together flour, salt, nutmeg, cinnamon, baking soda and pudding mix. 

Add dry ingredients to the wet ingredients and mix until just combined. Pour into prepared pan and sprinkle with shredded coconut. 

Bake for 45-55 minutes, or until a toothpick inserted in the middle comes out clean or internal temperature reads 200°F
Nutrition
Serving:
0
g
|
Carbohydrates:
0
g
|
Protein:
0
g
|
Fat:
0
g
|
Saturated Fat:
0
g
|
Polyunsaturated Fat:
0
g
|
Monounsaturated Fat:
0
g
|
Trans Fat:
0
g
|
Cholesterol:
0
mg
|
Sodium:
0
mg
|
Potassium:
0
mg
|
Fiber:
0
g
|
Sugar:
0
g
|
Vitamin A:
0
IU
|
Vitamin C:
0
mg
|
Calcium:
0
mg
|
Iron:
0
mg