Cranberry Tart
As an Amazon Associate and member of other affiliate programs, I earn from qualifying purchases.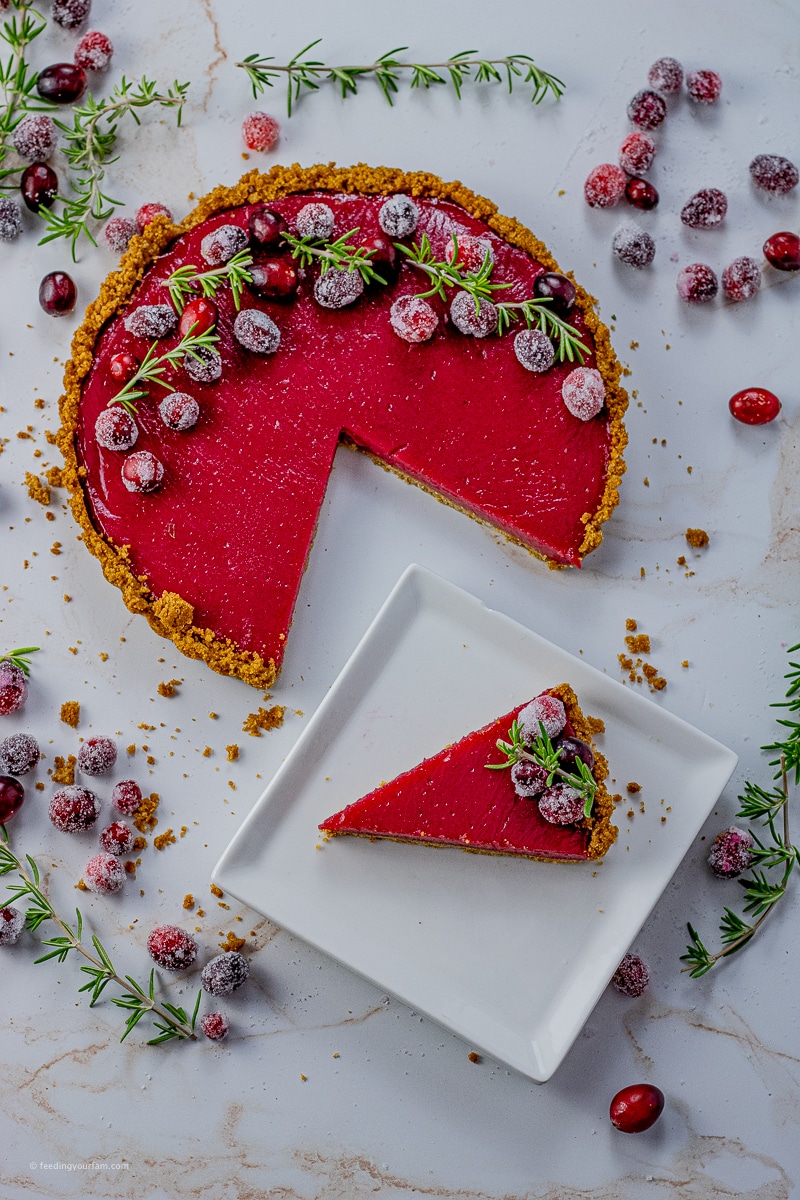 Sweet and Tangy Cranberry Tart is a delicious dessert that combines the natural tartness of fresh cranberries with a sweet, buttery graham cracker crust.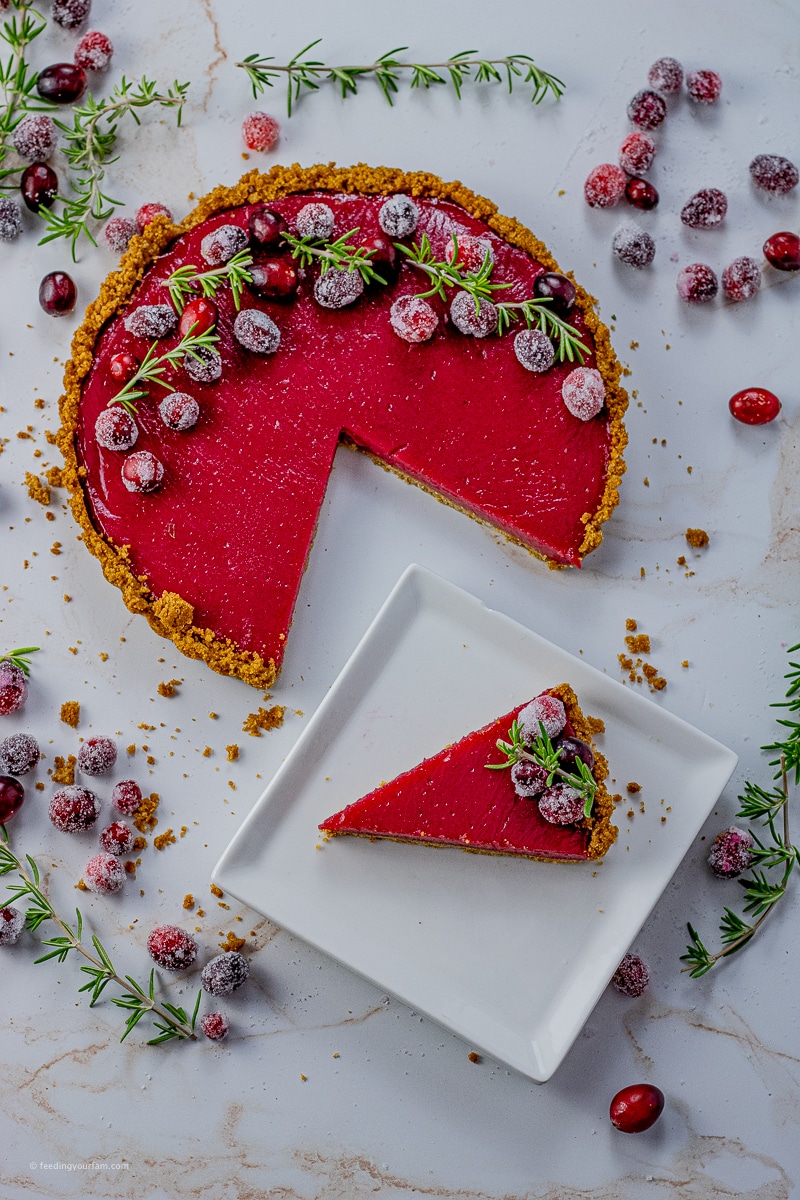 Why We Love this Cranberry Tart Recipe
Cranberry Tart is the perfect dessert for all of your Holiday parties, it is such a festive dessert. The tart has a smooth, tart flavor from the cranberries, but they are sweetened perfectly with some sugar that makes this a delicious dessert.
The other part that takes this tart recipe to the next level is the graham cracker crust. It is buttery and compliments the cranberry so perfectly. When baked, the crust becomes crisp to add a little crunch to the cranberry tart.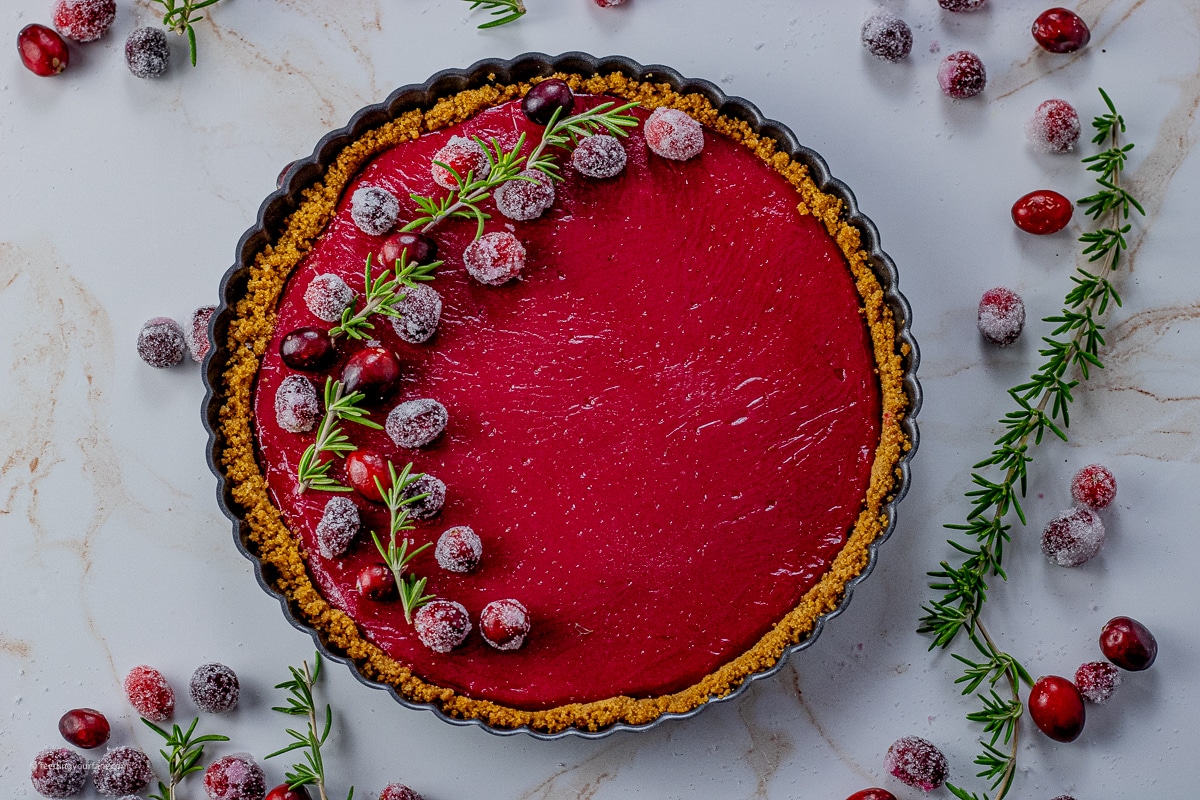 Tips and Tricks to Make Cranberry Curd Tart
This tart takes a few steps to make, let's walk through the steps with some tips and tricks to help you make this flawlessly every time.
Step 1
Start by making the graham cracker crust. This is done by combining crushed graham crackers with melted butter and brown sugar. Just combine in a large bowl and mix with a fork until it is all combined.
Press the crust into a tart pan that has a removable bottom. I like to use the back of a measuring cup or drinking glass to press the crust evenly into the pan. Be sure to press the crust onto the sides of the pan as well.
Bake the crust for 10 minutes at 350 degrees Fahrenheit. Remove from the oven.
Tip: If the crust sides have melted down, just use the cup to press the crust back into place and allow to cool.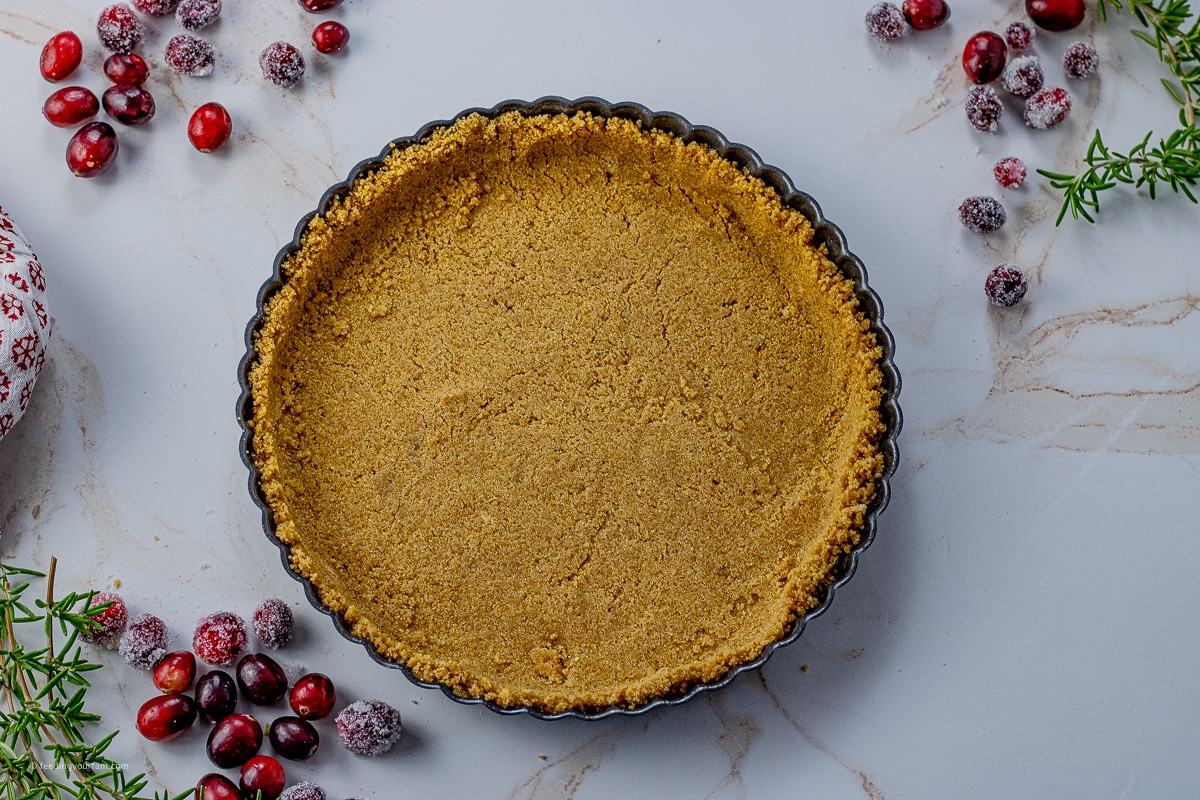 Step 3: How to Make Cranberry Tart Filling
To make the cranberry curd tart filling, start by placing the fresh cranberries, sugar, lemon juice and lemon zest in a sauce pan over medium high heat.
Cook and stir the cranberries while they boil for about 10 minutes, until the cranberries pop and the sugar is dissolved.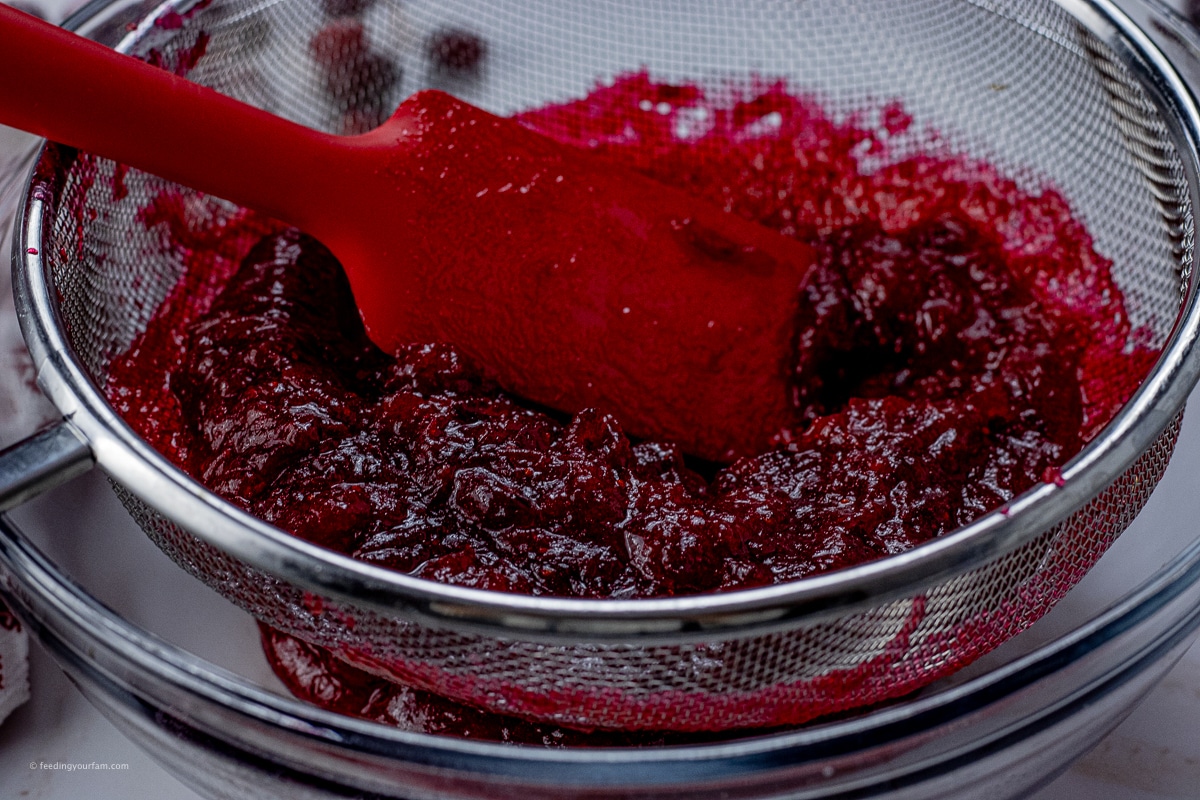 Step 3
Next, transfer the cranberry mixture to a blender, or use and immersion blender until all the cranberries are broken down.
Place the cranberries into a wire mesh strainer to separate the cranberry skins from the juice. Then pour the strained cranberries back into the saucepan.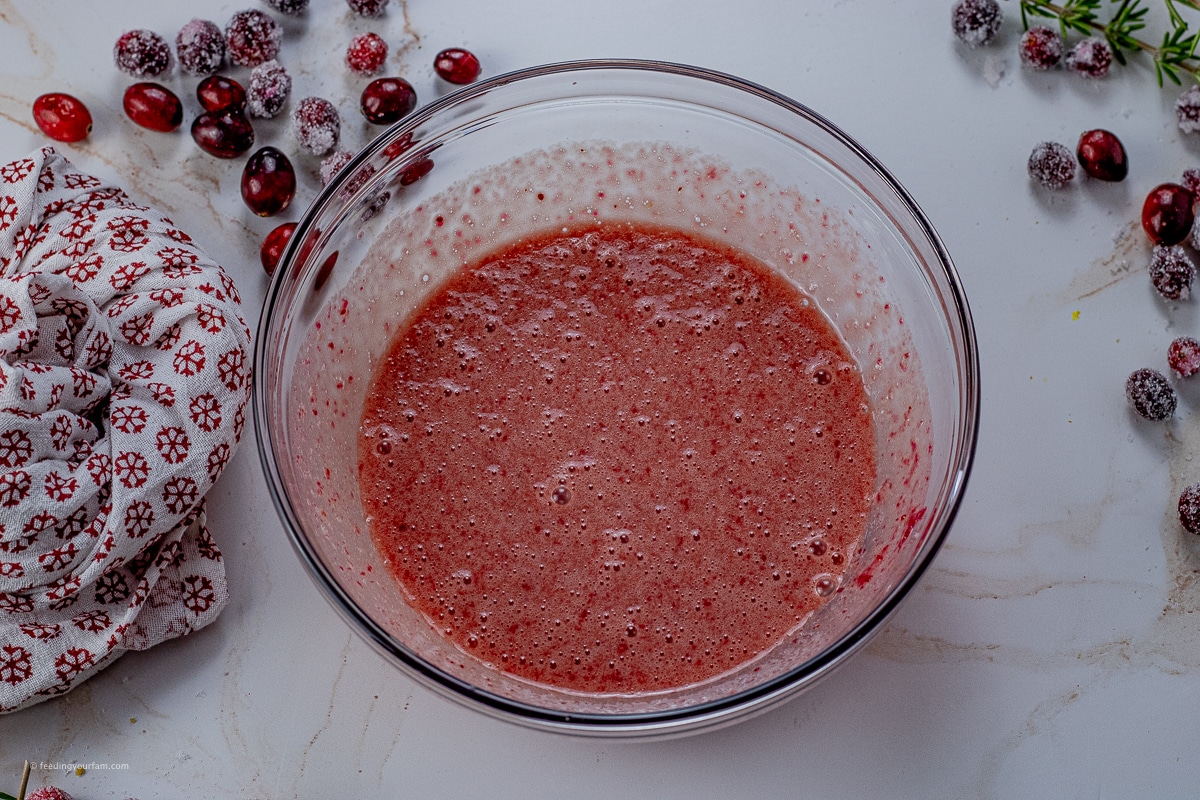 Step 4
In this next step, we are going to temper the eggs. First, whisk together the eggs, egg yolks and vanilla together in a mixing bowl until foamy.
Next, we are going to temper the eggs with some of the strained cranberries. This is done to warm up the eggs with the warm cranberries without allowing them to cook and get chunky which they would do if added right to the pan.
Tip: Slowly whisk about 1/2 cup of the cranberries in 1/4 cup portions into the eggs until well combined, to help bring up the temperature of the eggs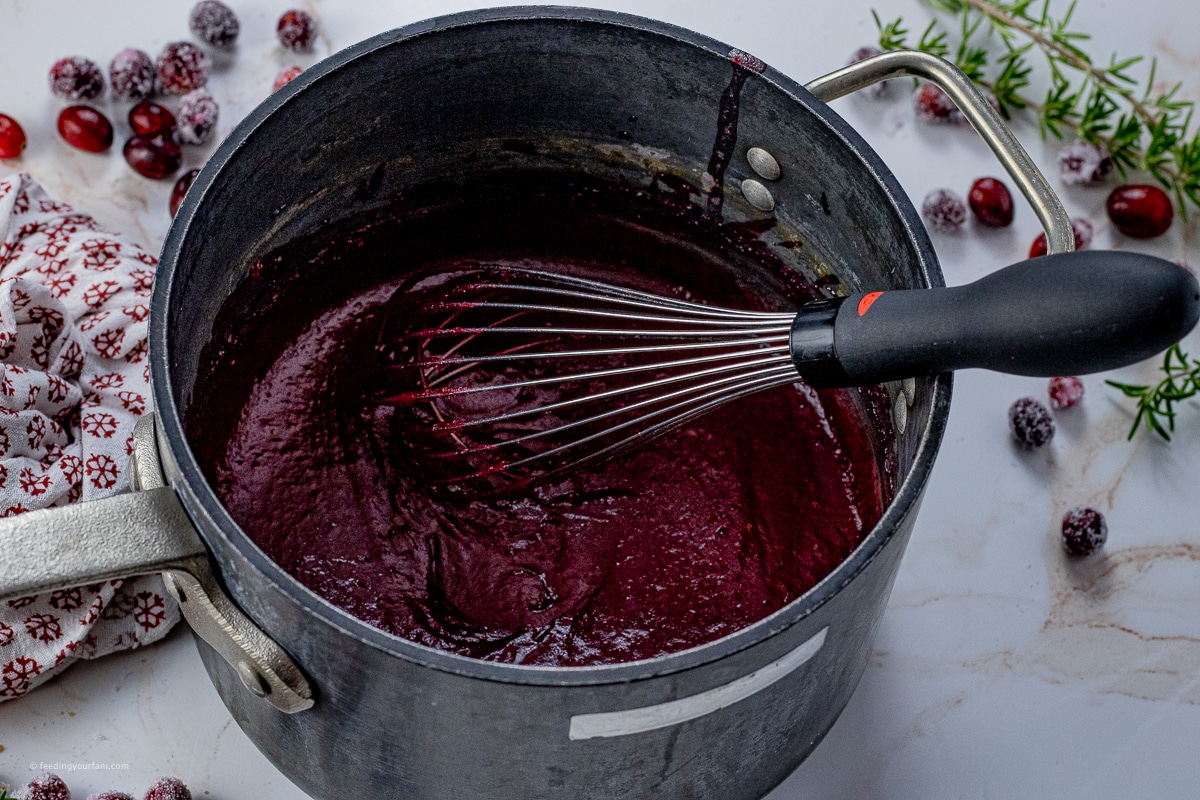 Step 5
I know this might seem like a lot, but it is so worth it! In this step, pour the egg mixture into the saucepan with the remaining cranberry mixture. Whisk until combined.
Turn the stove on to medium low and add the butter, cut into tablespoons and add to the pan. Continue whisking and stirring until the butter melts, the cranberry sauce will boil, cook and stir until thickened.
Tip: Allow the curd to cool for a few minutes before pouring into the crust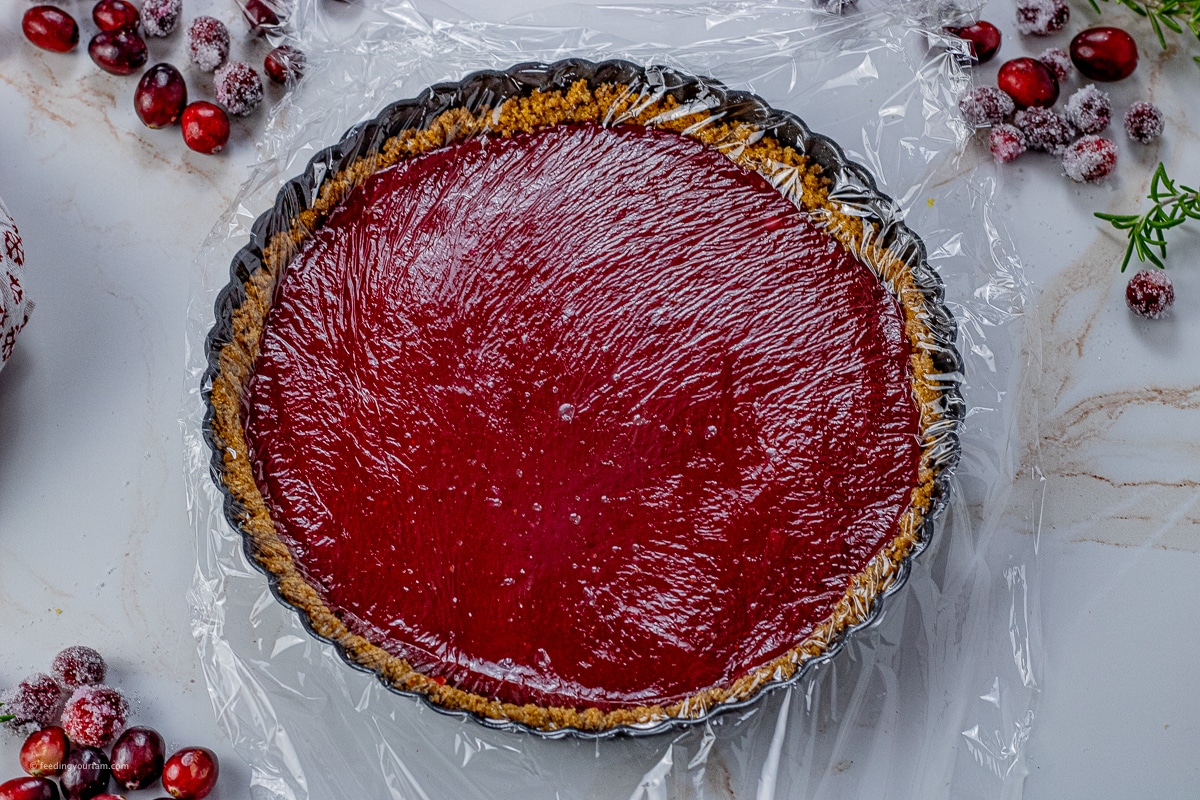 Step 6
Pour the cranberry curd into the cooked graham cracker crust. Spread the curd evenly in the pan. I like to use an offset spatula to easily spread it out.
Place the cranberry tart in the refrigerator covered with plastic wrap and allow to cool for at least 2 hours. It will thickened as it cools.
Tip: Gently press the plastic wrap directly onto the curd before refrigerating. This will prevent the curd from forming a thick, skin-like texture on top.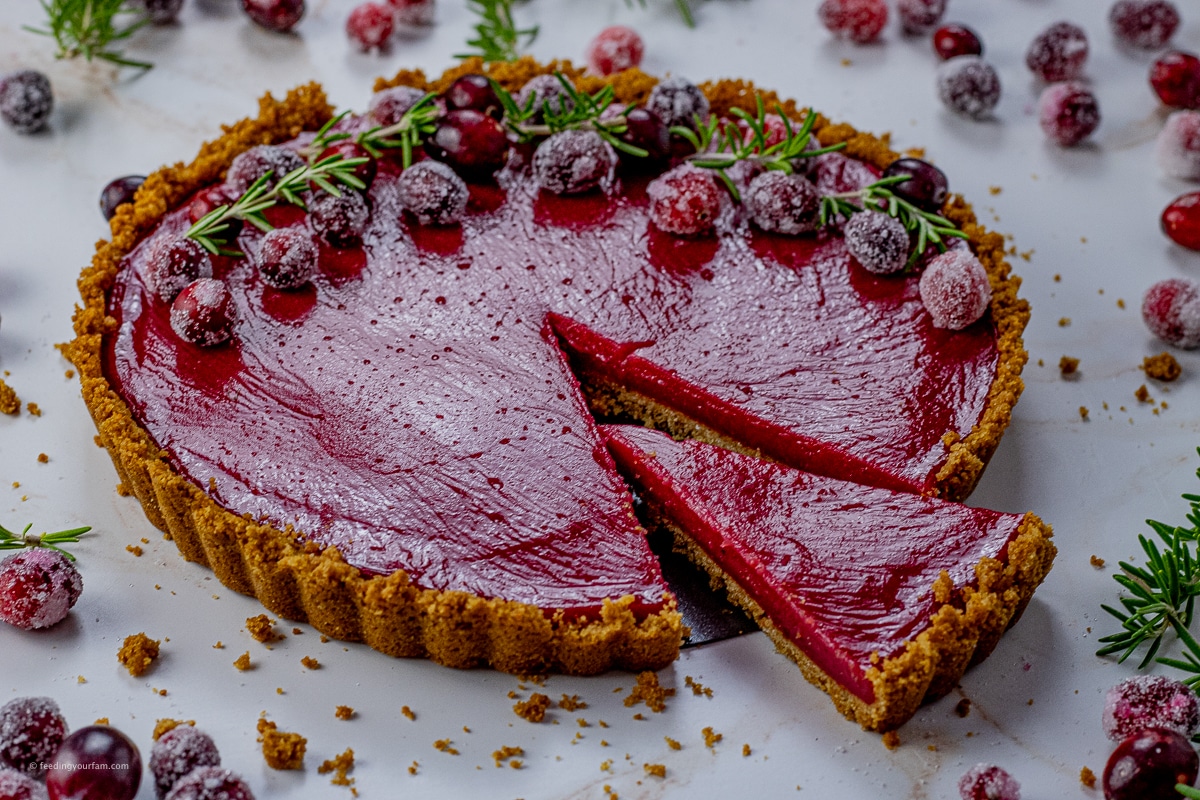 How to Make Sugared Cranberries
This step is just for fun, if you want to use sugared cranberries to decorate the top of your cranberry tart. I like to put a few with some rosemary sprigs on top for decorations.
To make sugar cranberries: Combine 1/4 cup sugar and 1/4 cup water in saucepan over medium heat. Stir until sugar dissolves. Add in 1 cup cranberries. Remove from heat. Toss the cranberries with the sugar water, then roll in sugar on a plate or bowl.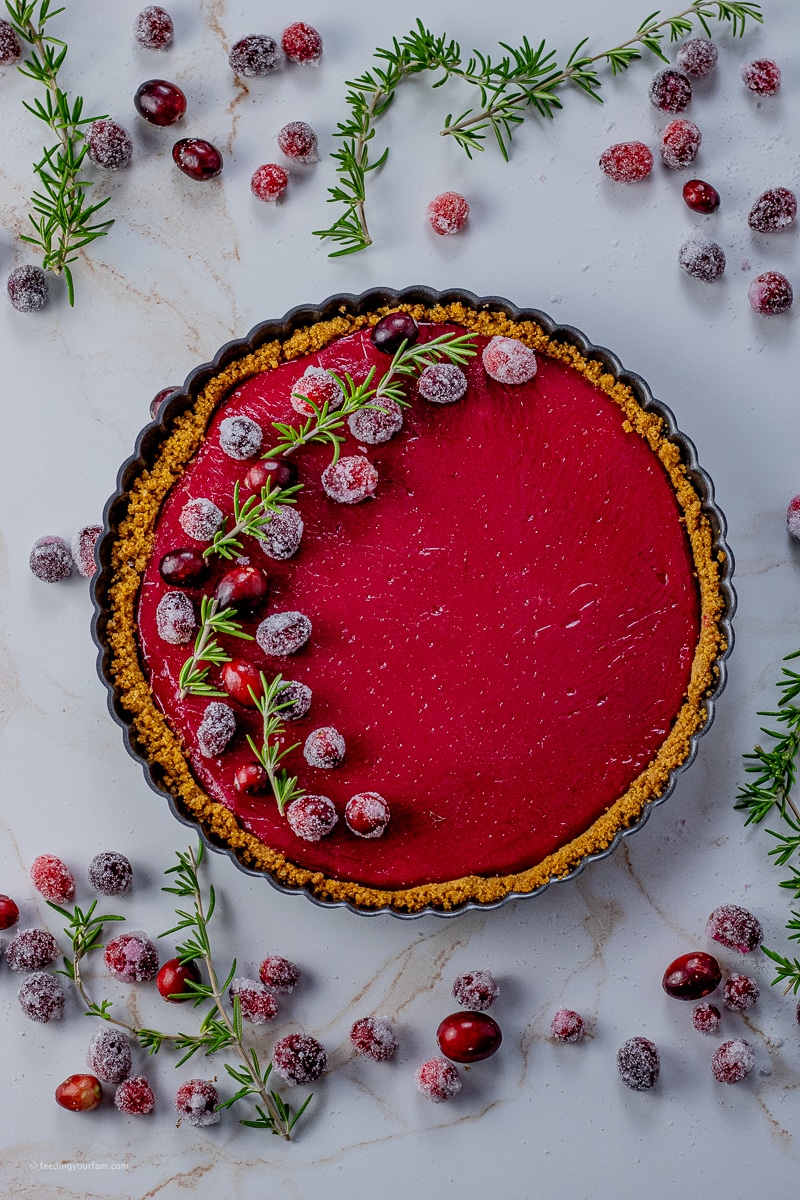 Make Ahead and Store Cranberry Tart
This cranberry tart can easily be made a day in advance of when you will be serving it. Be sure to keep in the refrigerator, covered with plastic wrap until ready to serve.
Store any leftover tart in an air tight container in the refrigerator for up to 3 days.
How to Serve Cranberry Tart
Serve cranberry tart with some whipped cream or even vanilla ice cream for the perfect sweet treat.
Other Dessert Recipes to Try:
If you are looking for other Family Friendly meals or desserts follow along with me on YouTube or Facebook where I share simple recipes to help you with Feeding Your Fam! Make sure to subscribe so you will be notified each time I post a new video!
⭐️ ⭐️⭐️⭐️⭐️Tried it and just loved it? Leave me a rating! I would love to hear how it turned out for you! Or even snap a photo and tag me on Instagram @feedingyourfam or #feedingyourfam so I can see what you made!
Cranberry Tart Recipe
Sweet and Tangy Cranberry Tart is a delicious dessert that combines the natural tartness of fresh cranberries with a sweet, buttery graham cracker crust.
Ingredients
Graham Cracker Crust
1

cup

graham cracker crumbs

1

pinch

salt

about 1/8 teaspoon

¼

cup

butter

melted

3

tablespoons

brown sugar
Cranberry Curd Filling
12

oz

fresh cranberries

or frozen, thawed

1¼

cup

sugar

¼

cup

lemon juice

2

teaspoons

lemon zest

⅓

cup

butter

softened

2

eggs

room temperature

2

egg yolks

room temperature

1

teaspoon

vanilla
Instructions
Preheat oven to 350 ℉. Spray a 9 inch tart pan with cooking spray

Make the crust by mixing together the graham cracker crumbs, salt, brown sugar and melted butter in a mixing bowl.

Press into a well greased 9 inch tart pan. Bake for 10 minutes. Let cool completely.

To make the curd: Place the cranberries, sugar, lemon juice and zest in a saucepan over medium high heat. Bring to a boil, then reduce the heat to medium low and simmer, stirring occasionally, until the cranberries pop, about 7-10 minutes.

Transfer cranberry mixture to a blender or use an immersion blender to blend until smooth. Pour through a mesh strainer into a bowl pressing the juice through the strainer and then pour back into the pan.

In a separate bowl, whisk together the eggs, egg yolks and vanilla. Slowly pour ½ cup of the cranberry mixture, 1/4 cup at a time, into the eggs to bring them up to temperature without cooking them.

Pour the egg mixture into the saucepan with the cranberries, stirring constantly. Whisk in the butter, cut into smaller pieces and cook the mixture over medium low, stirring constantly until thickened.

Allow curd to cool slightly before pouring into prepared crust.

Refrigerate 2-3 hours before serving. Put plastic wrap on top, touching the curd while refrigerating to avoid skin on top. Curd will thicken as it cools.
Notes
Nutrition facts are just an estimate
can be made a day in advance
store covered in the refrigerator
Nutrition
Calories:
236
kcal
|
Carbohydrates:
33
g
|
Protein:
2
g
|
Fat:
11
g
|
Saturated Fat:
6
g
|
Polyunsaturated Fat:
1
g
|
Monounsaturated Fat:
3
g
|
Trans Fat:
0.4
g
|
Cholesterol:
83
mg
|
Sodium:
134
mg
|
Potassium:
62
mg
|
Fiber:
1
g
|
Sugar:
27
g
|
Vitamin A:
376
IU
|
Vitamin C:
6
mg
|
Calcium:
22
mg
|
Iron:
1
mg