Pan Seared Pork Chops with Pears
As an Amazon Associate and member of other affiliate programs, I earn from qualifying purchases.
This recipe for pan seared pork chops with pears is an easy and tasty weeknight meal!! Your fam is going to love this sweet and savory meal! Ready in under 30 minutes, perfect for a busy night or Sunday dinner.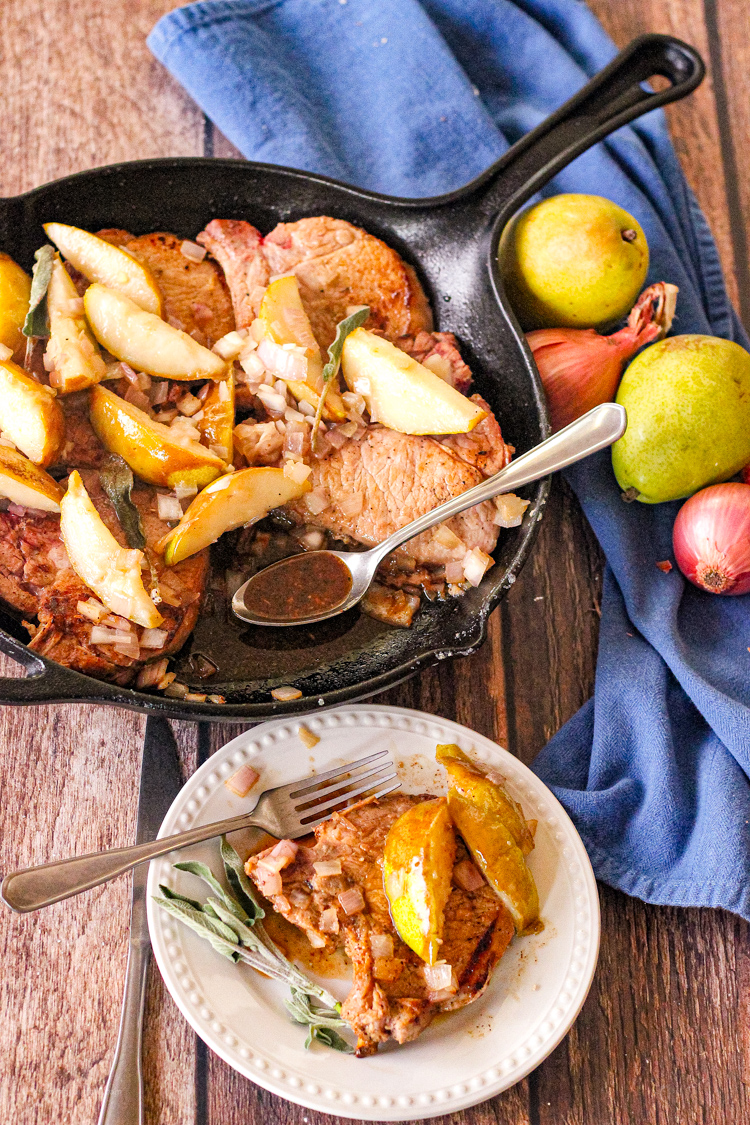 This is such an easy go to meal and bonus…..pork chops are usually cheap!! I am always in need of easy, filling meals that can be ready fast. This dish is so full of flavorful goodness!! If you haven't tried your pork chops with pears (or even apples), you NEED to add this to your must try list!! They compliment each other so perfectly!
Start by sautéing the sliced pears and shallots in some olive oil over medium high heat. You will want the shallots to become fragrant and translucent and the pears to become warm and soft, not mushy. Remove them from the pan once they have cooked through.
For this recipe you will be looking for pears that are more firm than ripe. If they are too ripe they will become mushy and begin to fall apart. Shallots are so complimentary to this dish, they add a subtle onion-garlic flavor. If you haven't cooked with shallots before, please give this one a try. Also, just a quick warning, shallots are major tear jerkers, they always make my eyes water when chopping!!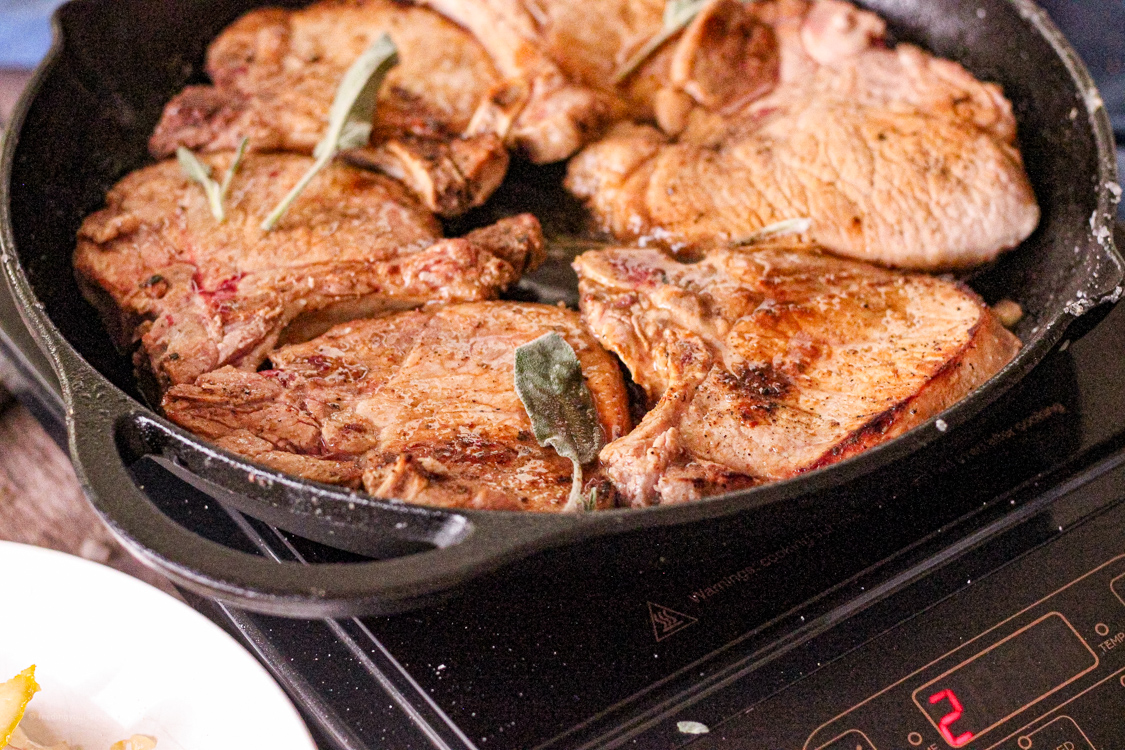 How to Pan Sear Pork Chops
I am a big fan of a good cast iron pan, they are easy to work with and add so much flavor to whatever you are cooking. If you don't have cast iron, no stress, grab your favorite large skillet and let's get to cooking. Also, for this recipe, I am using bone in pork chops. Boneless can be substituted if you prefer.
Start by seasoning the pork chops on both sides with a generous amount of salt and pepper. Heat your pan over medium high heat and add in the olive oil, when it shimmers and moves freely around the pan, place your pork chops in the pan. Allow them to sear for about 5-7 minutes until a nice brown bark or crust has formed. Flip the pork chops and repeat on the other side.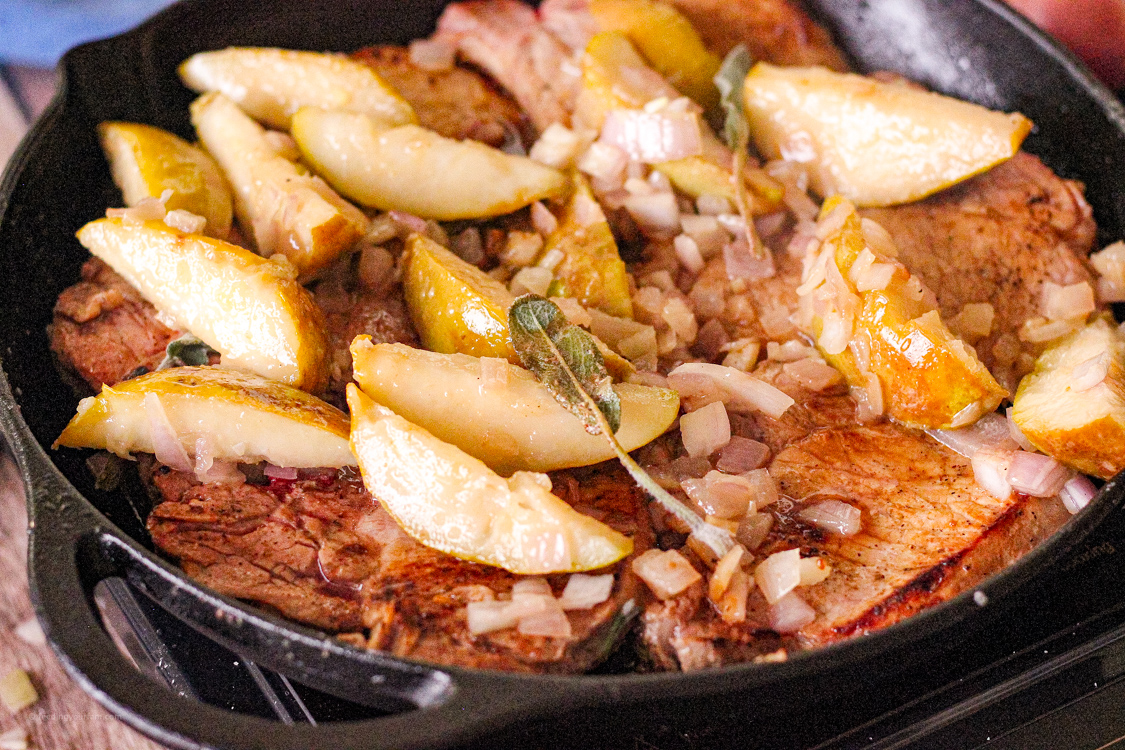 Pan Seared Pork Chops
Now that your pork chops have a nice, crisp outer layer, you will pour in the apple juice, honey and sage and allow it to simmer for another 10-15 minutes, spooning the sauce over the pork chops. Cook until your pork chops have reached an internal temperature of 145ºF. Add back in the pears and shallots for the last few minutes.
Pork chops are safe to eat at 145ºF. If you are like me, you are used to pork chops being cooked all the way through, so there is no pink center. At 145ºF these will have a warm pink center, and that is totally OK!! Pork chop aren't like chicken where it needs to be cooked through, it is more like red meat, so you are safe to have a little pink in the middle. It also makes the porks chops more tender and less like shoe leather…..
If you would like it to be cooked completely through the center, then go for it, you need to make this recipe for you and your fam, so make it how you like it.
Let me know if you give this recipe a try!! I would love to know what you think!! Enjoy!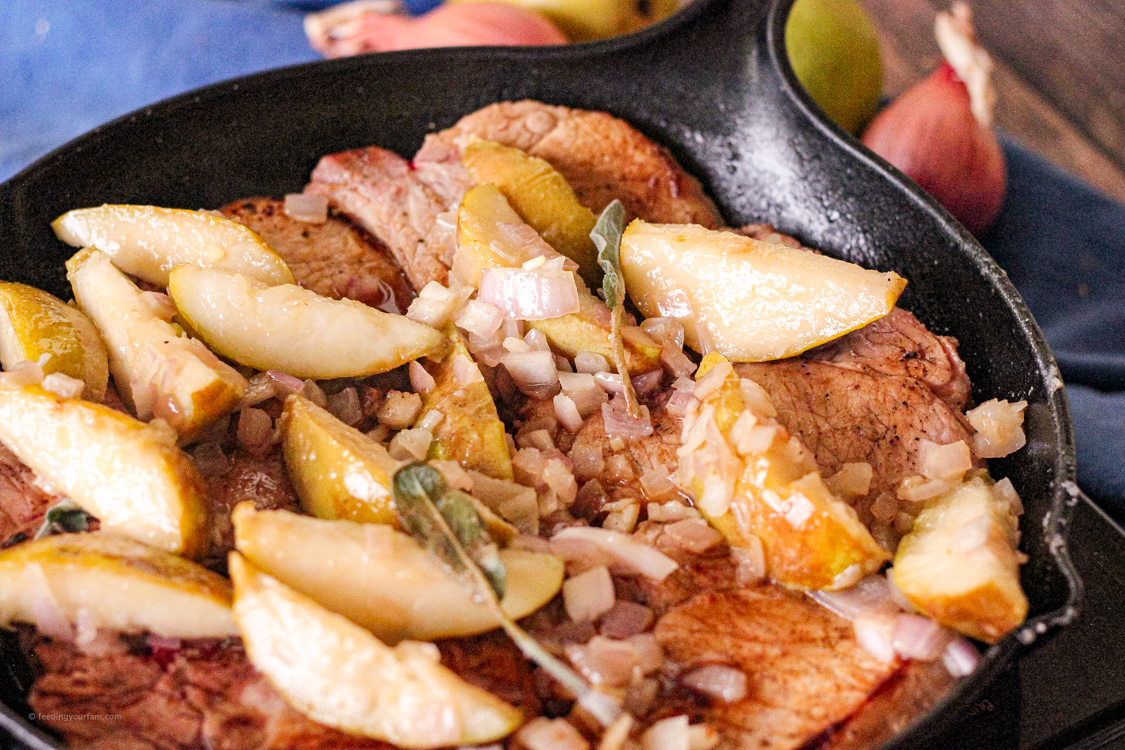 Pan Seared Pork Chops with Pears Recipe
If you are looking for other Family Friendly meals or desserts follow along with me on YouTube or Facebook where I share simple recipes to help you with Feeding Your Fam! Make sure to subscribe so you will be notified each time I post a new video!
Tried it and just loved it? Leave me a rating! I would love to hear how it turned out for you! Or even snap a photo and tag me on Instagram @feedingyourfam or #feedingyourfam so I can see what you made!
Pan Seared Pork Chops with Pears
Pan Seared Pork Chops with Pears is an easy and delicious meal that is ready in under 30 minutes!! Your fam will love the flavors of pork chops and pears together!!
Ingredients
6

Bone In Pork Chops

2

Large Pears

2

Large Shallots (or onions)

1

tbsp

Honey

1

Olive Oil

1/2

cup

Apple Juice

1

sprig

Sage

Salt and Pepper
Instructions
Core and slice pears into thick slices. Dice shallots.

Salt and pepper the pork chops liberally on each side.

Heat olive oil in a large cast iron skillet over medium high heat. Saute the sliced pears and shallots for 3-5 minutes until the shallot has become fragrant and translucent. Add the honey, and mix in. Remove from pan.

To the hot pan add more oil if needed, sear the seasoned pork chops on each side for 5-7 minutes until they have formed a brown crust on each side.

Turn down the heat to medium low and pour in the apple juice and sage. Allow the pork chops to simmer for another 10-15 minutes until a thermometer reads 145ºF, or longer if you want it cooked through.

Add back in the pears and shallots spooning the pan juices over the pork chops as they come up to temperature for the last few minutes.

Remove from heat and enjoy!
Nutrition
Calories:
245
kcal
|
Carbohydrates:
17
g
|
Protein:
23
g
|
Fat:
10
g
|
Cholesterol:
63
mg
|
Sodium:
62
mg
|
Potassium:
436
mg
|
Fiber:
2
g
|
Sugar:
12
g
|
Calcium:
20
mg
|
Iron:
0.9
mg
Side Dishes to Serve with Pan Seared Pork Chops