French Onion Soup
As an Amazon Associate and member of other affiliate programs, I earn from qualifying purchases.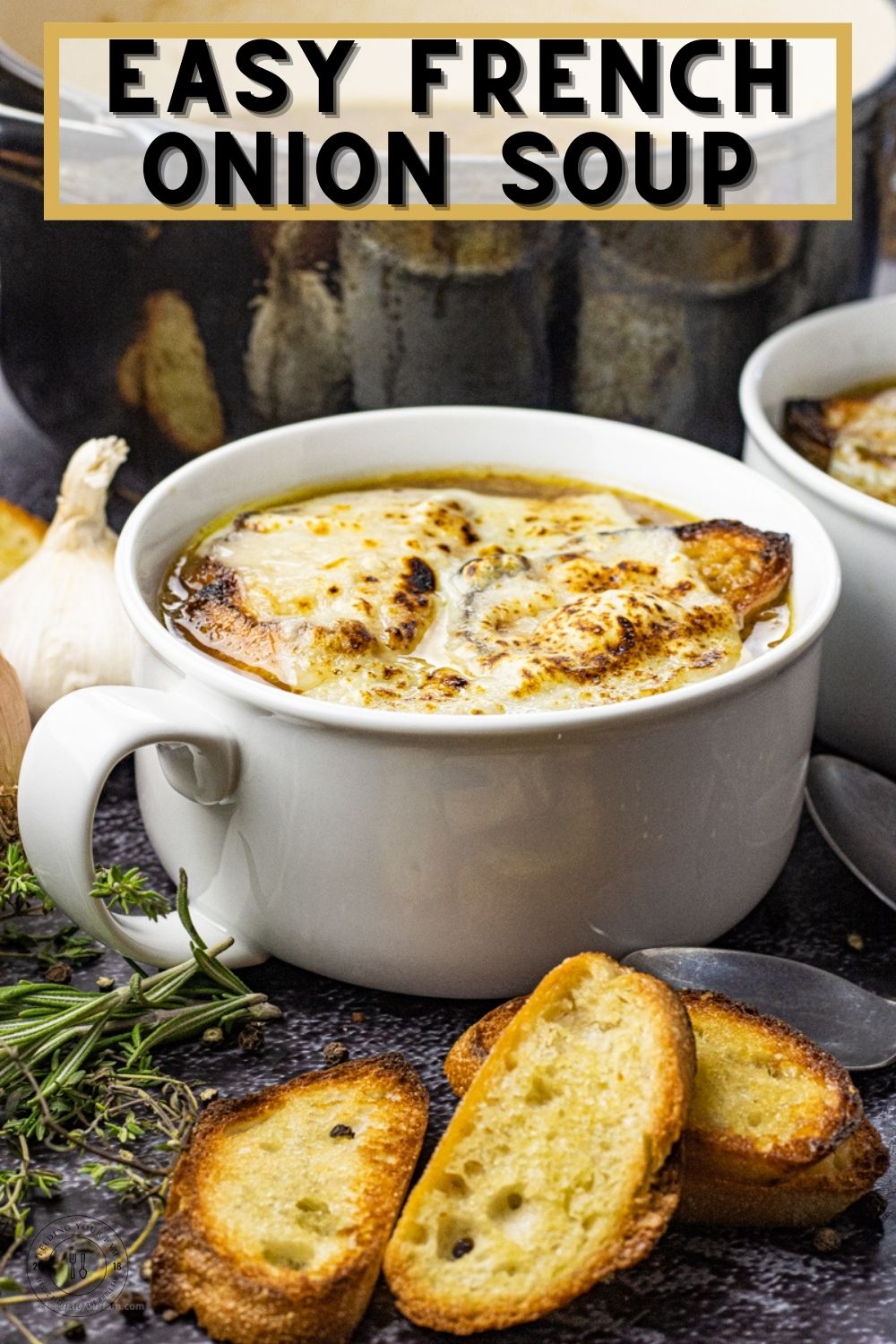 French Onion Soup is such a classic soup. This French Onion Soup Recipe is perfect for a simple weeknight family meal. You might think no one would eat a bowl full of onions, but this robust soup will have them coming back for more and requesting it often.
Looking for other soup recipes your fam will love? Check out my recipes for: Chicken and Dumplings Soup, Cauliflower Cheese Soup, Chicken Tortilla Soup or Easy Tomato Soup.
French Onion Soup
The hardest part about this French Onion Soup recipe is waiting for it to be done!! Soups in all of their forms are one of our favorite go to meals for any night of the week. Some of our favorites are Broccoli Potato Cheese Soup and Creamy Chicken and Rice Soup. Plus, soups are usually inexpensive to make and will feed a lot of people.
This easy recipe for French Onion Soup does not call for any alcohol or cooking wine, I just don't cook with alcohol and found a way to make this delicious without it. This recipe is super easy to prep, the thing that takes time is cooking the onions and then allowing the soup to simmer until it is ready to serve.
We love onion soup because it is truly so affordable to make and our favorite part is the crunchy garlic bread and melted Swiss cheese on top.
Ingredients for French Onion Soup
This is just a visual of the ingredients, for measurements, scroll down to the recipe card at the bottom of this post.
Ingredient tips:
Onions: The best onion for French Onion Soup (in my opinion) is a simple yellow onion. These are the best for caramelizing and have a natural sweetness when they are cooked. They won't be overpowering in flavor either. If you must, you can substitute white onion. I wouldn't suggest red onions, unless you are going to mix them with either white or yellow as they can be a bit bitter.
Garlic: I am generally a fan of the pre-minced garlic that you can purchase, but for this recipe I highly suggest buying fresh garlic and using a garlic press to add it to this soup. It really adds a whole other level of flavor to the soup as well as the bread slices.
Sugar: Don't skip this. The sugar is key in helping the onions to caramelize to the beautiful golden brown.
Beef Broth: Homemade, store bought, bouillon or beef base. I personally prefer the flavor from beef base, it is just a little more rich.
How to make French Onion Soup
Start by peeling and thinly slicing the onions. You will need about 6 medium sized onions for this recipe. This comes out to about 10 cups of sliced onions. Be sure to slice them all about the same thickness.
Place the onions and 2 tablespoons of olive oil and butter into a large 6-8 quart pot over medium heat.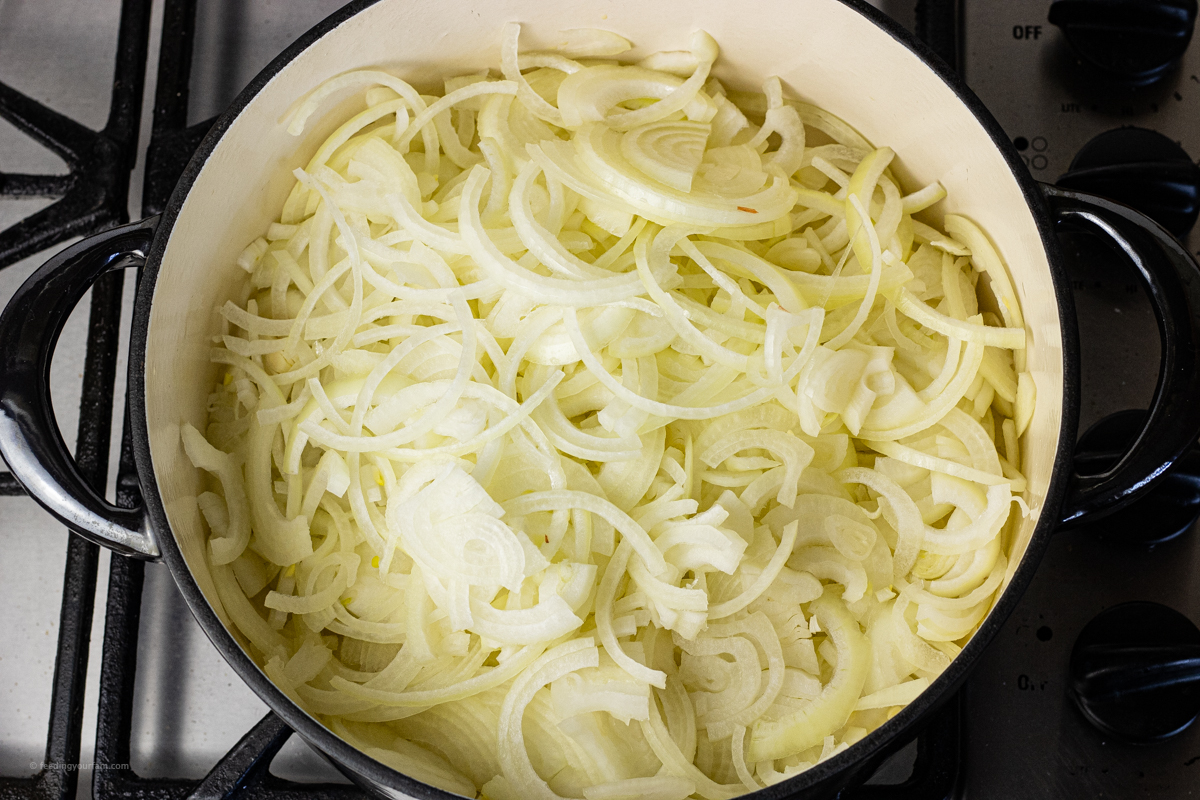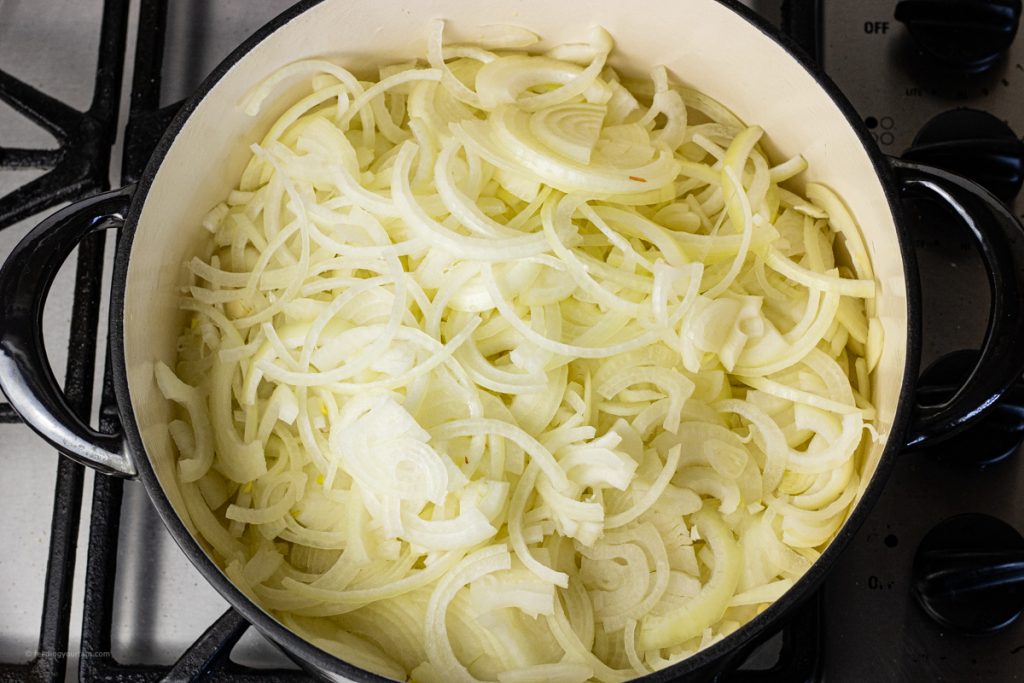 Cook the onions over medium heat, stirring occasionally until they are translucent and softened. This can take 20-25 minutes. At this point you will add an additional tablespoon of both olive oil and butter as well as the sugar and sea salt.
Continue to cook and stir until the onions because a golden brown color, about another 10 minutes. Add in the garlic and cook until fragrant, about 30 seconds.
Pour in the beef broth, black pepper, Worcestershire sauce, rosemary, thyme and bay leaves. Bring the soup to a boil, then turn the heat down to low. Cover the soup and allow to simmer for 30 minutes.
While the soup is simmering, slice a baguette into thin slices. Brush each side of the slice with olive oil, then broil for 1-2 minute each side until golden brown. Remove from the oven and brush with a garlic clove.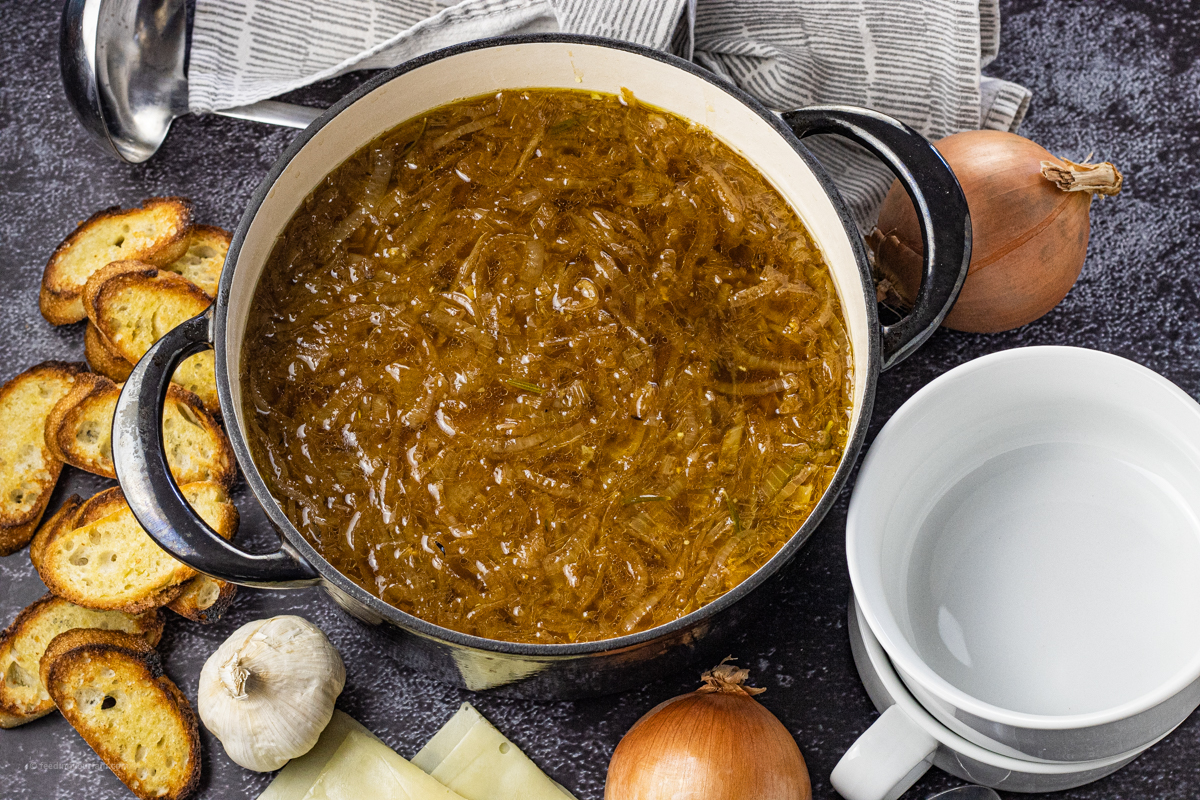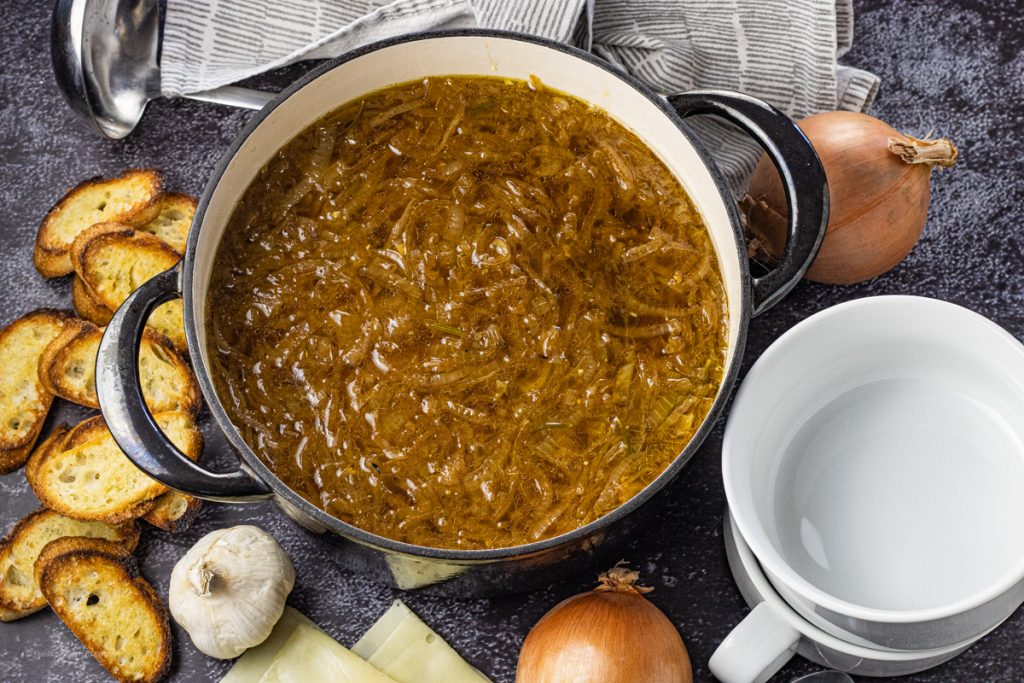 When the soup is done, remove the bay leaves and any other spices, fill a soup bowl with the onion soup and place 2 garlic bread slices on top of the soup. Top the soup with a slice of Swiss cheese.
If you have oven safe bowls, place the bowl on a baking sheet and under the broiler for 2-3 minutes, until the cheese is golden and bubbly. Another option is to use a kitchen torch to melt and toast the cheese.
How to store Leftover French Onion Soup
Leftover French Onion Soup can be easily stored in the refrigerator or frozen in the freezer.
Refrigerator: Leftover onion soup can be stored in the refrigerator for up to 4 days. Reheat in a pot over medium heat, or in individual portions in the microwave.
Freezer: To freeze French Onion soup, place it in individual portions in zip top bags or air tight containers. It is much easier to thaw and reheat individual portions of this soup. Keep in the freezer for up to 4 months.
French Onion Soup Recipe
Tried it and just loved it? Leave me a rating! I would love to hear how it turned out for you! Or even snap a photo and tag me on Instagram @feedingyourfam or #feedingyourfam so I can see what you made!
If you are looking for other Family Friendly meals or desserts follow along with me on YouTube or Facebook where I share simple recipes to help you with Feeding Your Fam! Make sure to subscribe so you will be notified each time I post a new video!
French Onion Soup is such a classic soup. This French Onion Soup Recipe is perfect for a simple weeknight family meal. You might think no one would eat a bowl full of onions, but this robust soup will have them coming back for more and requesting it often.