Grilled Shrimp Recipe
As an Amazon Associate and member of other affiliate programs, I earn from qualifying purchases.
This easy Grilled Shrimp Recipe is a quick and simple meal that can be made on the grill with or without skewers. The ingredients are simple, complimentary and minimal. These grilled shrimp will be a repeat on your menu!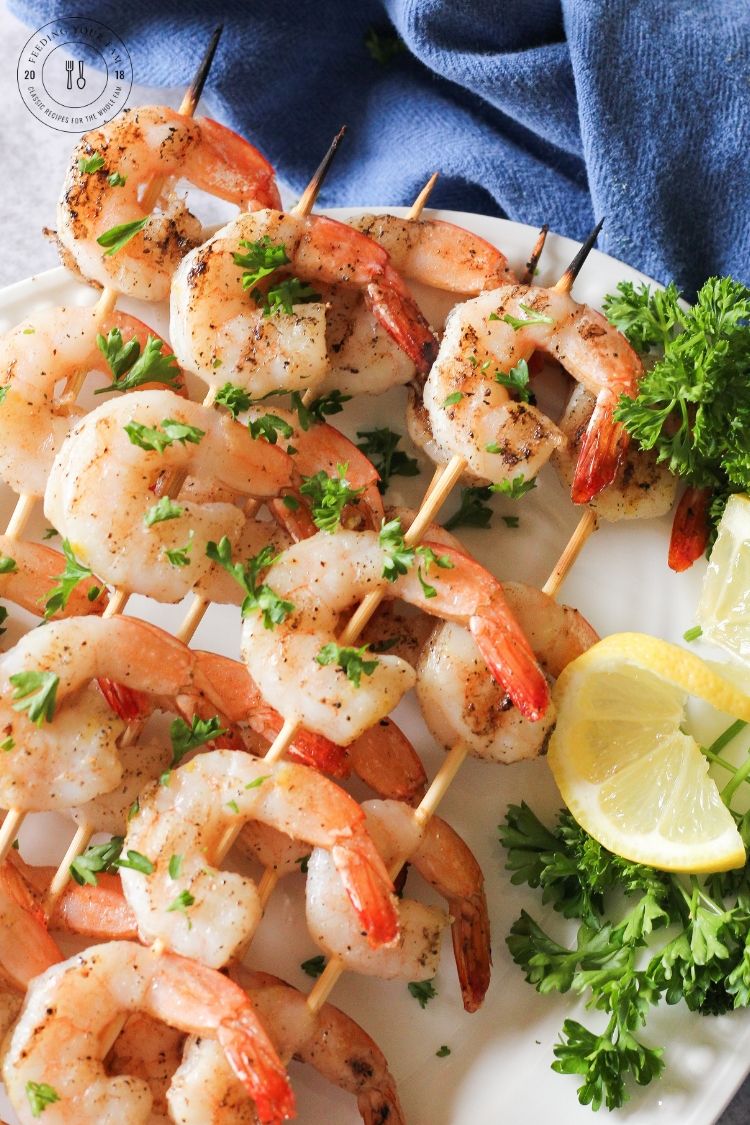 Grilled shrimp is such an easy main dish to make. Shrimp usually take less than 10 minutes to cook and always look like an elegant meal you worked hours on! This recipe can be cooked on the grill, in a skillet or on a broiler pan.
Can I use Frozen Shrimp?
You can definitely start this recipe with frozen shrimp. I always thaw the shrimp before placing on the skewer or grill. Frozen shrimp are simple to thaw. Simply place the shrimp in a colander placed in a bowl inside the sink and run cold water over the shrimp until it thaws. Depending on the amount and size of shrimp you are thawing, this should only take a few minutes. Rotate the shrimp occasionally to make sure they all thaw under the water. The bowl will also help the shrimp on the bottom to thaw as well. Keep an eye on the shrimp, you don't want to leave it under the water too long or in too warm of water since it can cook your shrimp.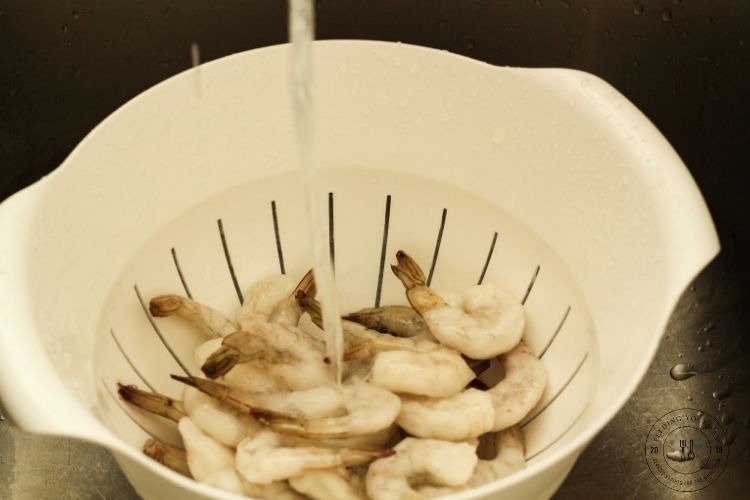 How to make Grilled Shrimp Skewers
The first step is to prepare your skewers, you thought I was going to say shrimp, right?! If you are using wood skewers, you will need to have them soak in some water so they won't burn up on your grill. Just submerge the skewers in some warm water and allow to soak while you prepare the shrimp.
Lets, talk shrimp. Now that you have got those shrimp all thawed out, you will need to get them ready to skewer. I like to buy my shrimp shelled and deveined, but if your shrimp still have shells, you will need to first remove the shell and devein the shrimp. This can be done by running a sharp knife along the backside of the shrimp to expose the vein. Peel off the shell and pull out the vein. Rinse the shrimp to make sure it is all cleaned off.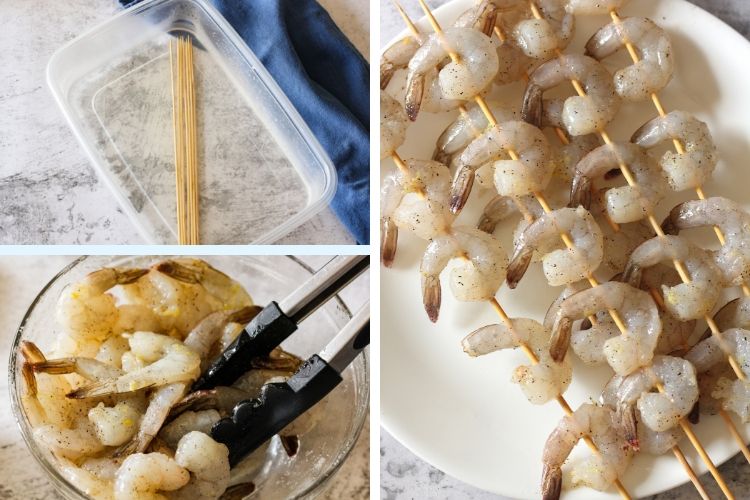 Ingredients needed for Grilled Shrimp Recipe
This is a simple recipe with just a few simple ingredients you probably already have around. For this recipe you will need:
36 large shrimp (fresh or frozen)
1/2 tsp salt
1/4 tsp ground black pepper
1 tsp garlic powder
1 tbsp olive oil
1 tsp lemon zest
lemon slices for serving
How to place Shrimp on a Skewer
You want to make sure your shrimp are nice and secure on the skewer so they won't be falling off or through the grill grates. The shrimp stay on great when you go through the body and then again just behind the tail. You can cook the shrimp with the tail on or off, that is just personal preference. Going through both the bottom and top of the shrimp will hold the shrimp on snug so they won't fly off when turning them on the grill.
Can I Grill Shrimp without a Skewer?
You can absolutely grill this shrimp recipe without using a skewer. I like to place a cookie cooling rack directly on my grill grates to prevent the shrimp from falling through the grill grates. This recipe can also be cooked in a skillet with a bit of olive oil, just cook over medium high heat until they turn pink.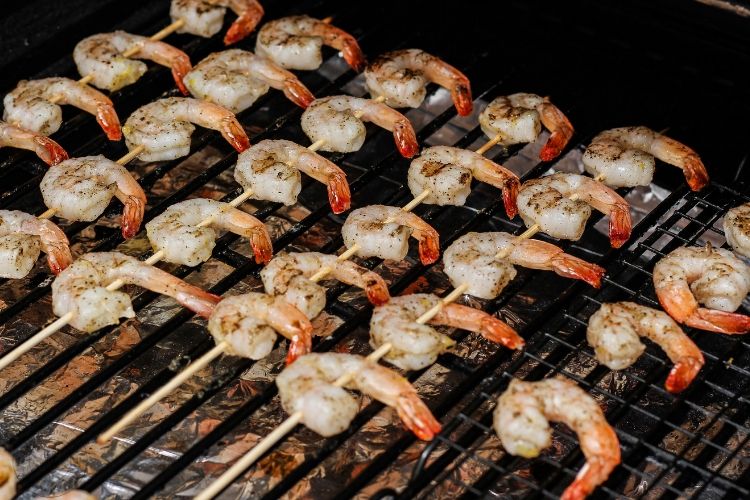 How Long to Cook Shrimp
Shrimp can cook really quickly, so keep an eye on it. I cooked these shrimp skewers for 2-3 minutes on each side, until they turned pink. If you have larger shrimp, they will take a little longer to cook. You will only need to flip your shrimp one time while cooking. You are going to love how quickly these are done and ready to enjoy!!
Grilled Shrimp Skewer Recipe
Grilled Shrimp Skewers Recipe
Ingredients
36

shrimp, deveined and peeled

1/2

tsp

salt

1/4

tsp

ground black pepper

1

tsp

garlic powder

1

tbsp

olive oil

1

tsp

lemon zest

lemon wedges (optional)
Instructions
Preheat grill to 375ºF. Prepare wooden skewers by soaking in water.

Place shrimp in a large bowl. Drizzle with olive oil and toss to coat.

Season with salt, pepper, garlic powder and lemon zest. Toss to coat all of the shrimp.

Thread each shrimp onto the skewers, placing up to 5 shrimp on each skewer. Leave a little space between each shrimp.

Cook the shrimp for 2-3 minutes on each side turning once, until the shrimp have turned pink. Remove from the grill and enjoy!
Nutrition
Calories:
179
kcal
|
Carbohydrates:
2.5
g
|
Protein:
30
g
|
Fat:
4.6
g
|
Saturated Fat:
1
g
|
Cholesterol:
278
mg
|
Sodium:
516
mg
|
Potassium:
231
mg
|
Calcium:
90
mg
|
Iron:
0.5
mg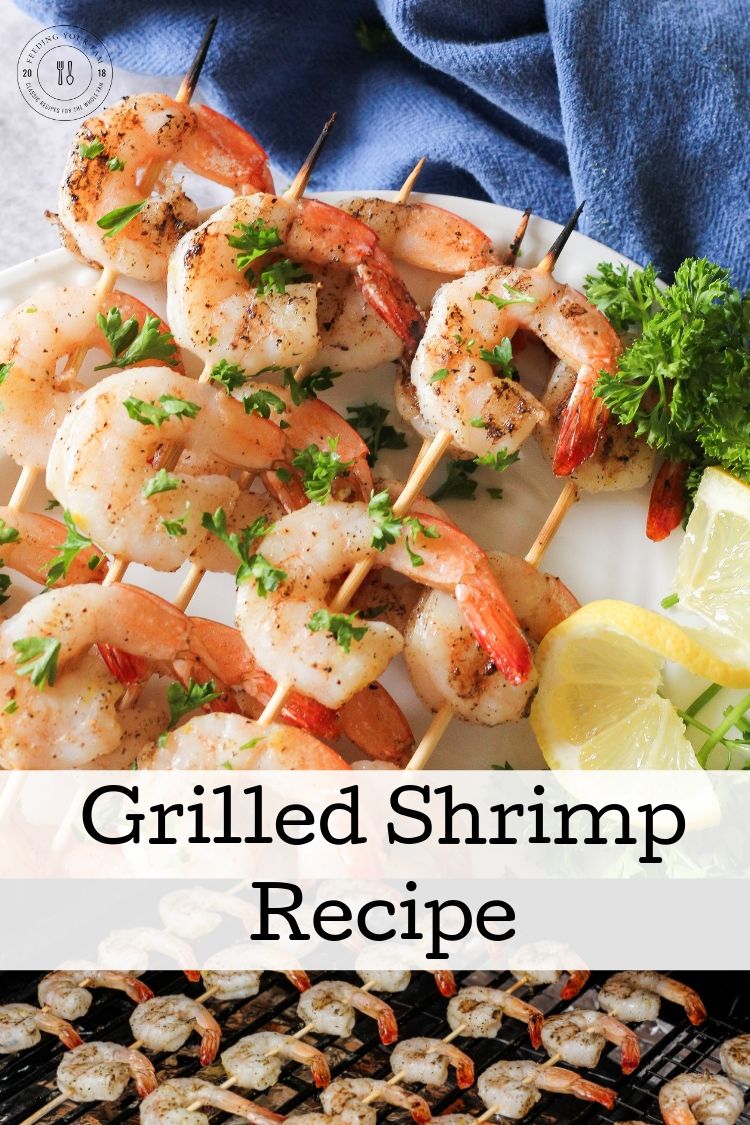 Side dish ideas for Grilled Shrimp: