Grilled Asparagus Recipe
As an Amazon Associate and member of other affiliate programs, I earn from qualifying purchases.
Grilled Asparagus is a special treat and perfect vegetable side dish to whatever you are grilling! This grilled asparagus recipe has a hint of lemon and garlic and couldn't be easier to prep and make!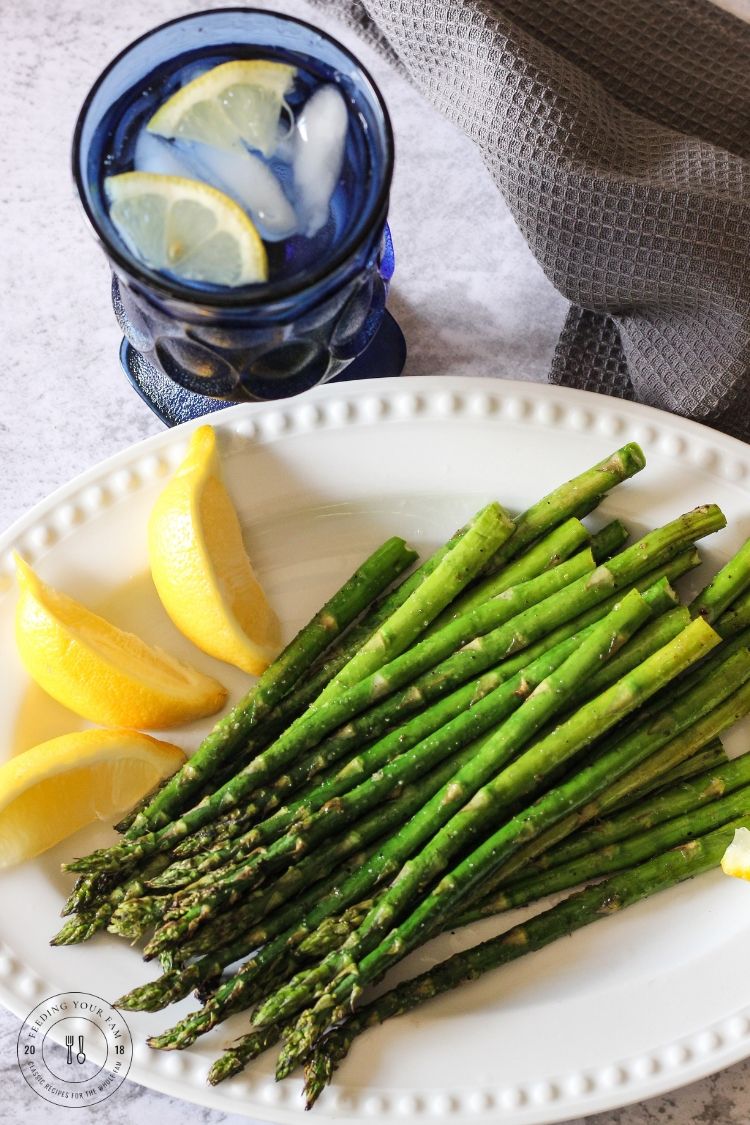 This Grilled Asparagus Recipe has a hint of garlic and lemon to add a whole lot of flavor. Asparagus is easy to place on the grill alongside that chicken or steak you've got on the menu. This grilled asparagus cooks quickly with simple ingredients and no special equipment required.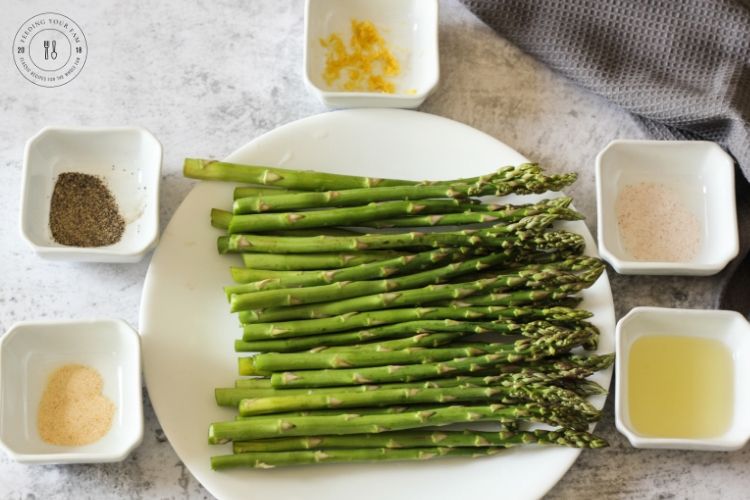 How to Prepare Asparagus for Grilling
Asparagus is a vegetable that requires just a few simple cuts to make it ready for the grill. After you purchase asparagus from the store make sure you keep it moist in the refrigerator until you are ready to use. You can place it in a bowl of water or wrap it with wet paper towels and store in the fridge.
To prepare the asparagus for the grill, first wash the asparagus throughly to make sure no dirt is still on the spears. Separate the spears and take one and fold it towards the stem to see where it will naturally break. This is the spot at which you will want to trim the stem of the asparagus. Once you have found that sweet spot, trim that piece of asparagus, line it up with the bunch and trim them all to the same length.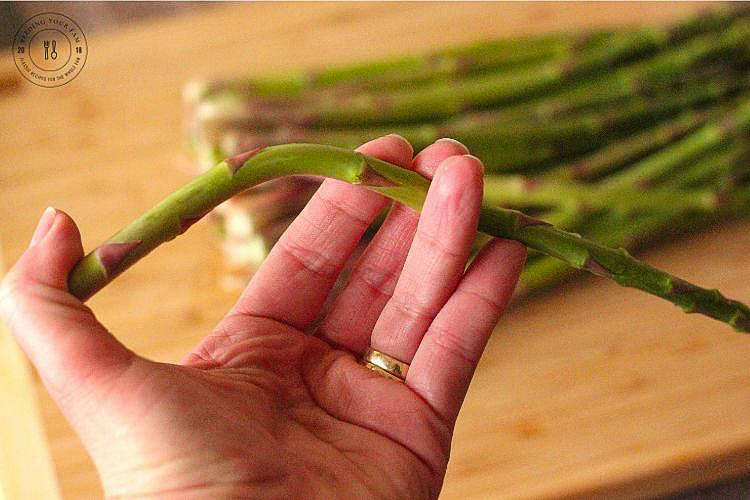 How to Cook Asparagus on the Grill
Now that you have your asparagus all clean and trimmed pretty, you are ready to get it on the grill. Set your grill to 350-375ºF and let it heat up. While the grill is getting toasty, drizzle the asparagus with olive oil and use your hands to roll the asparagus around making sure it all gets covered in oil. I like to season my asparagus once I have it all laid out on the grill, but you can season before it goes on the grill if you like.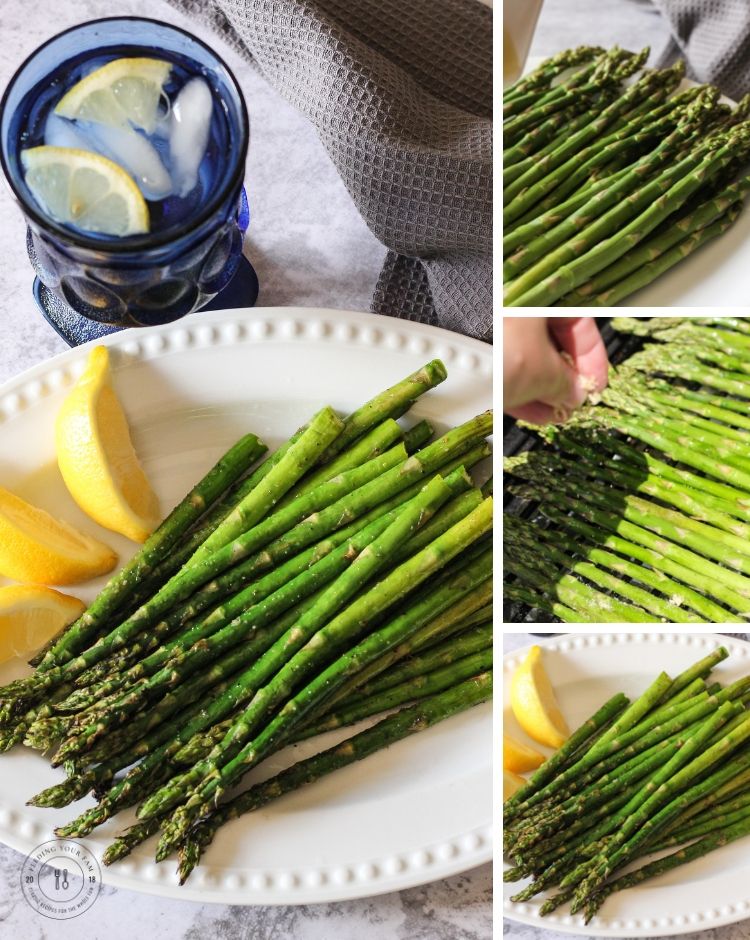 How Long to Cook Asparagus on the Grill
Once the grill has heated up, place the asparagus directly onto the grill grates, horizontally, so they won't fall through, season with salt, pepper, garlic powder and lemon zest.
Let the asparagus cook for 1-2 minutes and then roll the asparagus, using tongs, to allow it to cook on the other side. Cook for an additional 1-2 minutes until the asparagus is dark green and tender.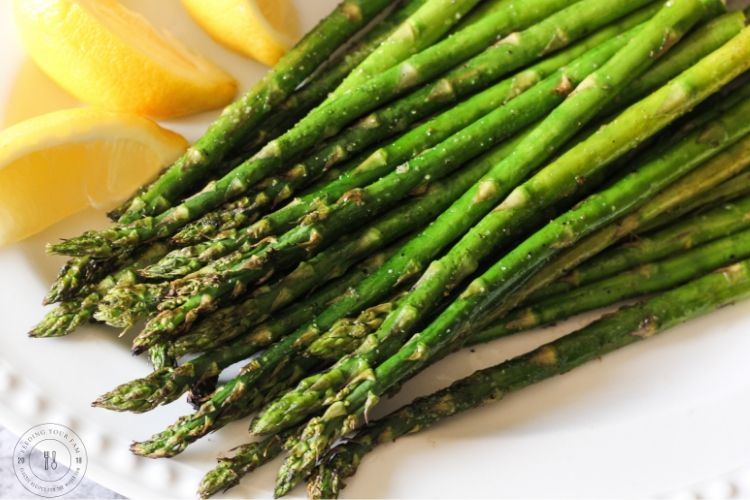 Ingredients Needed for Grilled Asparagus
Only a few simple ingredients are needed to make this flavorful vegetable side dish. To make this grilled asparagus you will need:
One bunch asparagus
salt
pepper
garlic powder
olive oil
lemon, for zest and juice
Grilled Asparagus Recipe
Grilled Asparagus Recipe
Grilled asparagus is a simple vegetable side dish for whatever you have got grilling! Simple and delicious with just a few ingredients.
Ingredients
1

bunch

asparagus

1/2

tsp

salt

1/4

tsp

ground black pepper

1

tsp

garlic powder

1

tbsp

olive oil

1

tsp

lemon zest

1

tsp

lemon juice
Instructions
Heat grill to medium high, 350-375ºF

Wash and trim asparagus to prepare for grill. Bend a stem on asparagus and cut at the bend. Aline with the other spears of asparagus and slice all to the same length.

Drizzle asparagus spears with olive oil and rub to coat.

In a small bowl combine the salt, pepper, garlic powder and lemon zest. Stir to combine.

Place asparagus horizontally on the grill grates and sprinkle with the blend of seasonings.

Cook for 1-2 minutes, rotate by rolling on grill grates and cook for an additional 1-2 minutes until desired tenderness.

Remove from heat and squeeze fresh lemon juice over the asparagus.
Nutrition
Calories:
37
kcal
|
Carbohydrates:
1.5
g
|
Protein:
0.6
g
|
Fat:
3.5
g
|
Saturated Fat:
0.5
g
|
Cholesterol:
0
mg
|
Sodium:
291
mg
|
Potassium:
51
mg
|
Fiber:
0.6
g
|
Sugar:
0.6
g
|
Iron:
0.5
mg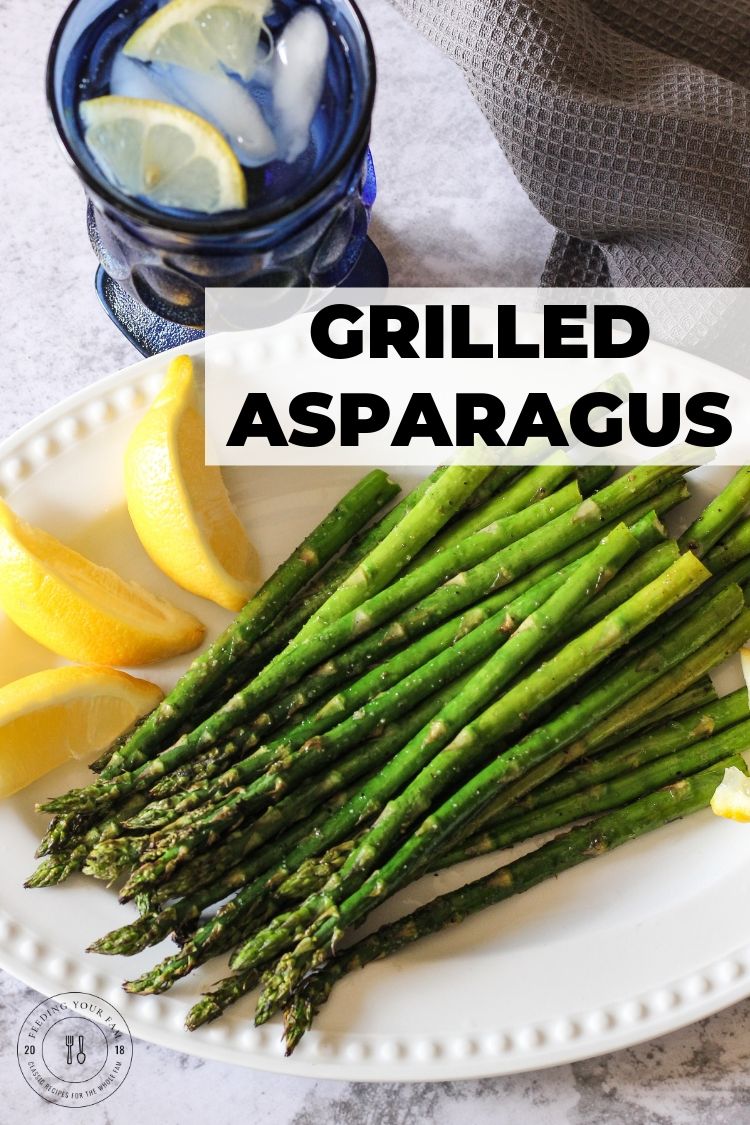 Serving Suggestions for Grilled Asparagus
If you are looking for a simple pan cooked asparagus recipe, give this Sauteed Asparagus with Lemon a try!