Oven Baked Asparagus
As an Amazon Associate and member of other affiliate programs, I earn from qualifying purchases.
Oven Baked Asparagus is a simple way to enjoy fresh asparagus. This easy oven roasted asparagus only takes a few ingredients and is ready in under 15 minutes. Asparagus is a delicious side dish that goes with all of your dinner ideas.
Other asparagus recipes you should give a try are: Sauteed Asparagus with Lemon and Grilled Asparagus, both are delicious year round.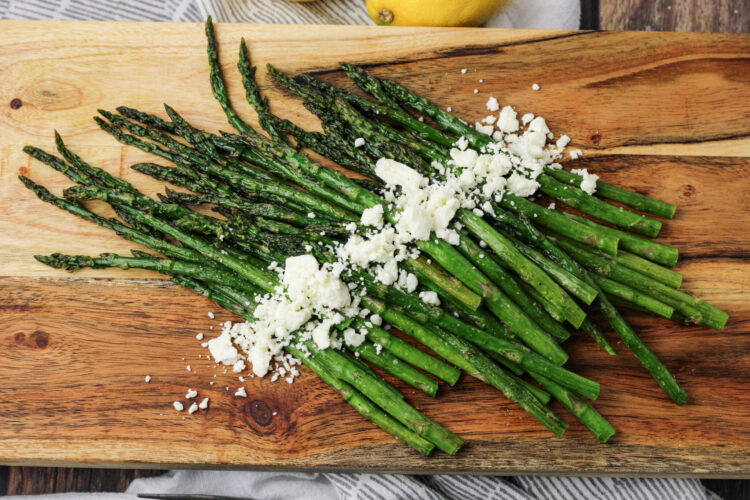 We are huge fans of asparagus around this house. Asparagus is such a simple vegetable to cook and it can be made in many different ways. This is one of our go tos because it is easy, ready in just a few minutes with simple ingredients.
We love to serve this asparagus recipe with a sprinkling of feta cheese, it is SO good. If you are not a fan of feta, you can leave the cheese out all together or try something more mild such as parmesan.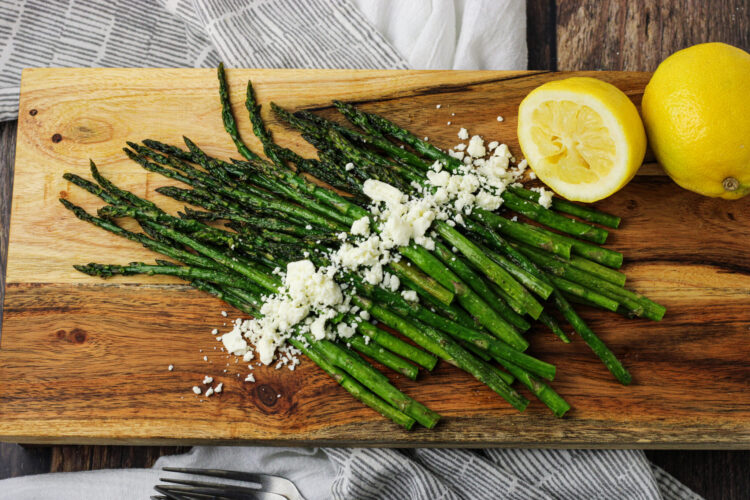 How to Buy Fresh Asparagus?
When picking out asparagus, look for thinner stalks. The thicker stalks tend to be more woody when cooked. Also, look at the tops of the asparagus. You want the tips to be tender and not dried out. If they are dried out they will not be good when cooked.
How to Store Fresh Asparagus at home?
When you bring your asparagus home from the market, store in the refrigerator. I like to place the ends into a bowl of jar filled with about 1 inch of water, then place in the fridge. If you can stand the asparagus up in your fridge you can wrap the ends with a moist paper towel before placing in the fridge. Use within a few days.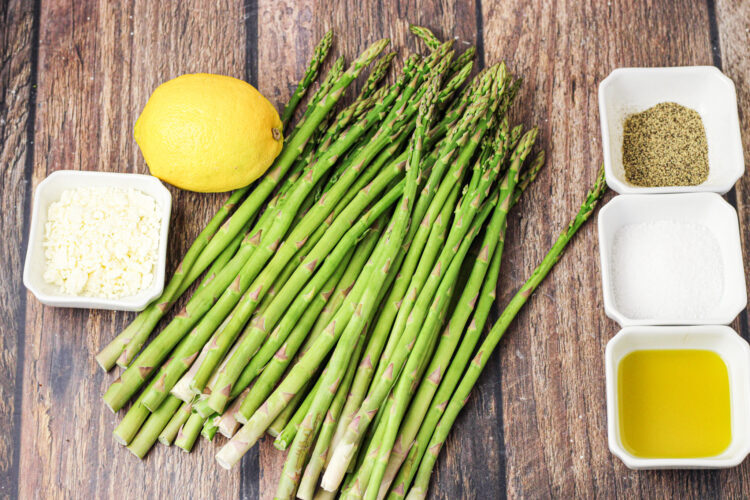 Asparagus Recipe Ingredients
You will need the following to make this recipe:
1 pound asparagus spears
Salt and Pepper to taste
2 tablespoons olive oil
2 tablespoons lemon juice
3 tablespoons feta cheese (optional)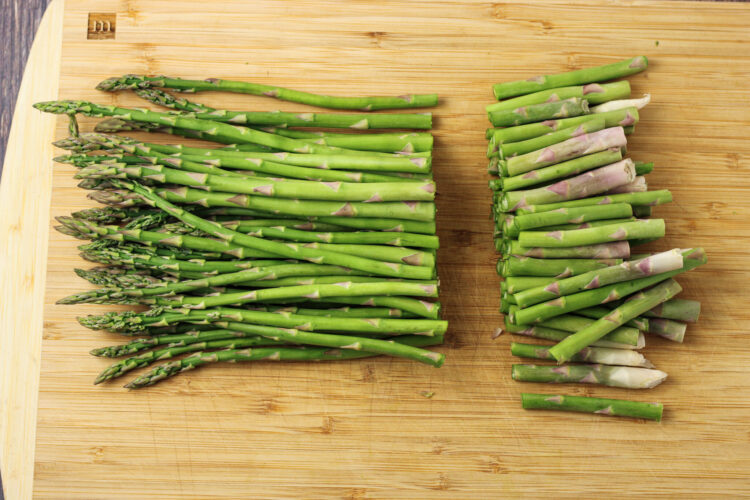 How to Prepare Asparagus
First, wash the asparagus spears in cold water to remove any dirt. Place the asparagus on a cutting board. Pick up one of the spears and gently bend it. It will bend easily the bottom. Where the asparagus bends is where you will want to slice it to remove the woody end from the bottom.
You can do this for each spear, or I generally bend and slice one spear and then slice all the spears at the same length.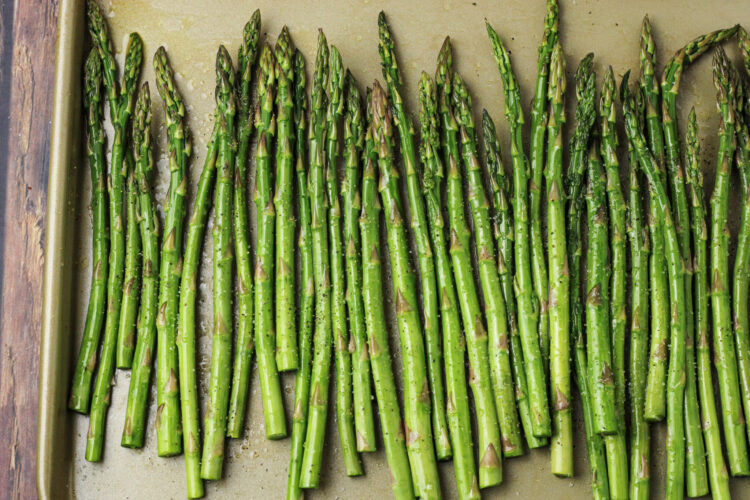 Get the oven preheating to 425ºF. Meanwhile, lay the asparagus spears on a baking sheet. Make sure they are laying in a single layer on the pan so they will cook evenly. Drizzle the olive oil over the asparagus and toss to coat all of the asparagus in oil.
Season with salt and pepper.
How to bake asparagus in the oven
Place the baking sheet in the oven at 425. Make sure the oven rack is in the center of the oven. Bake the asparagus for 10-15 minutes in the oven, flipping the asparagus half way. I like to use some tongs or a spatula and just rotate the asparagus. This can also be done by just giving the pan a little shake to roll the asparagus around.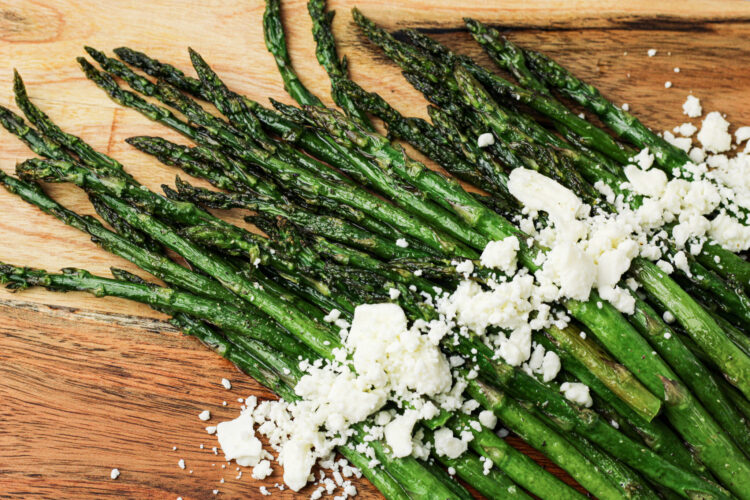 Please also note that the cooking time will depend on how thick the asparagus spears are. Thicker spears will take a few minutes longer. Just check how soft the asparagus is at the half way point and adjust the remaining time as needed.
Remove the baking sheet from the oven and place the asparagus on a serving platter. Drizzle with lemon juice and top with crumbles of feta cheese and serve warm
Oven Baked Asparagus
Ingredients
1

pound

asparagus

2

tbsp

olive oil

2

tbsp

lemon juice

salt and pepper to taste

3

tbsp

feta cheese (optional)
Instructions
Prepare asparagus by trimming off woody ends. Place asparagus spears on a baking sheet in a single layer.

Drizzle olive oil over asparagus and toss to coat. Season with salt and pepper

Bake for 10-15 minutes, rotating half way until tender-crisp

Remove from the oven and place on serving plate. Drizzle with lemon juice and add feta cheese if using.
Nutrition
Calories:
57
kcal
|
Carbohydrates:
3
g
|
Protein:
2
g
|
Fat:
5
g
|
Saturated Fat:
1
g
|
Sodium:
2
mg
|
Potassium:
153
mg
|
Fiber:
2
g
|
Sugar:
2
g
|
Vitamin A:
572
IU
|
Vitamin C:
6
mg
|
Calcium:
18
mg
|
Iron:
2
mg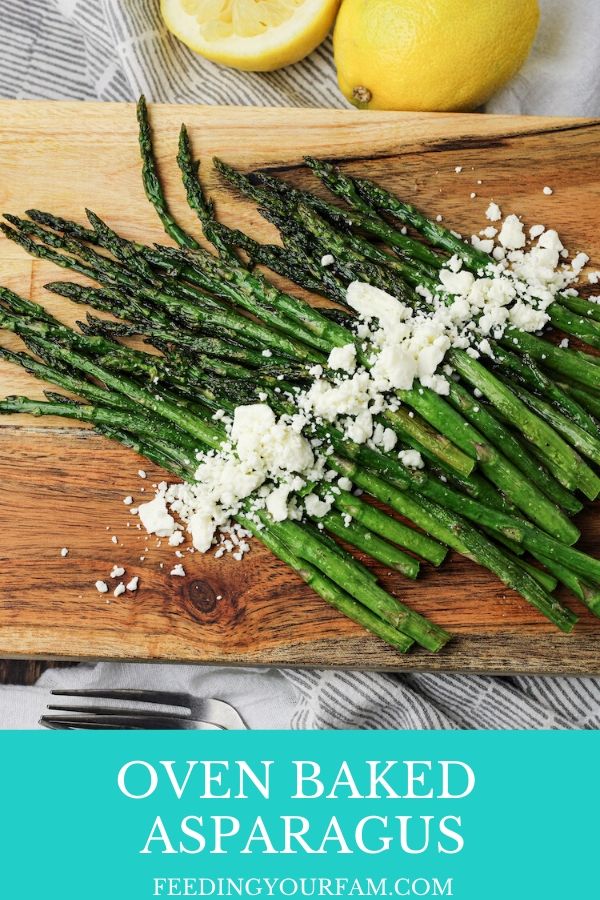 What to serve Oven Baked Asparagus with:
Some of our favorite dishes to eat with asparagus are: