Chicken Lo Mein
As an Amazon Associate and member of other affiliate programs, I earn from qualifying purchases.
Chicken Lo Mein is a simple dish that can be ready and on the table in under 20 minutes!! Now who doesn't love that on a busy night?!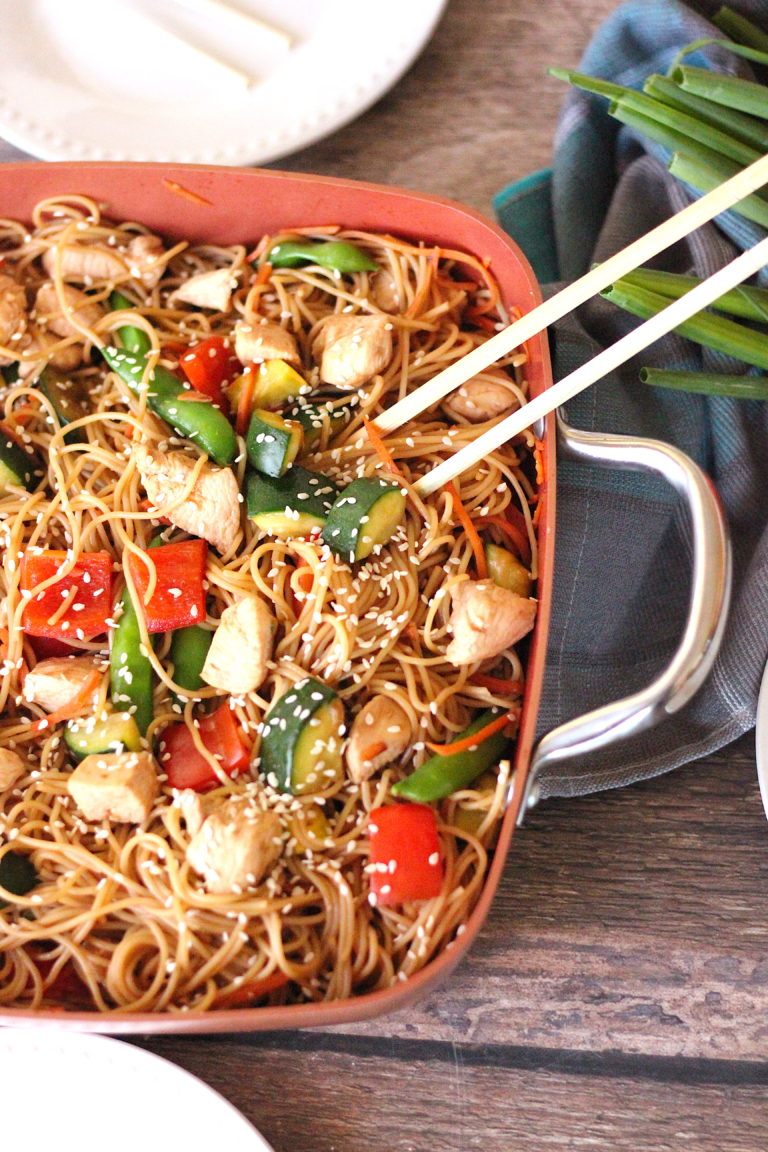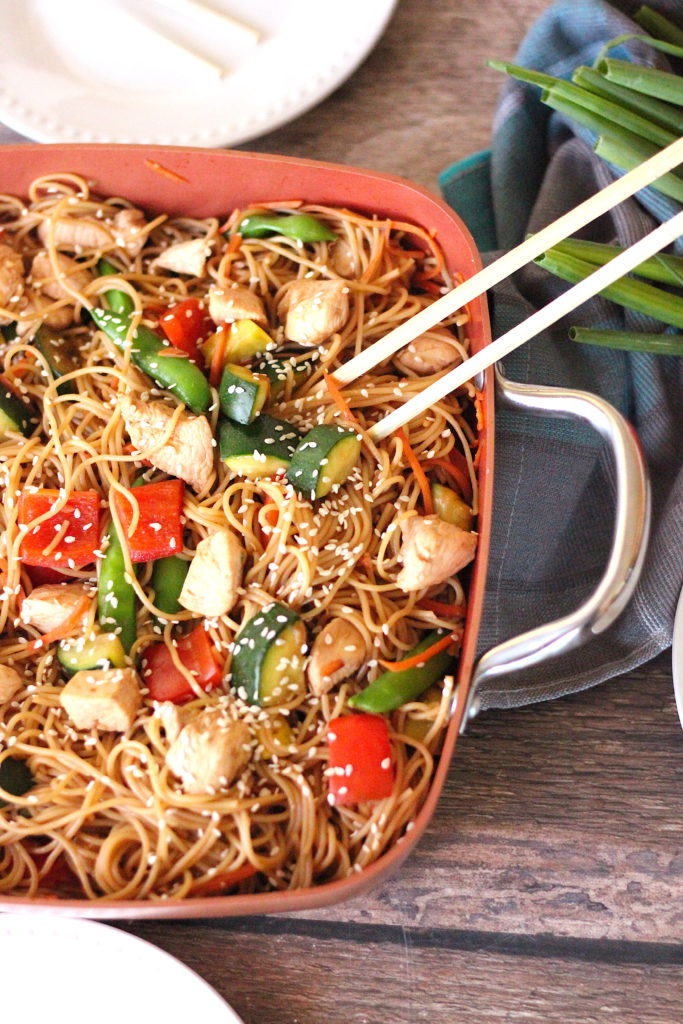 This is another one of our Feeding Your Fam go tos!! This Chicken Lo Mein recipe is so easy the teenagers can make this themselves. It is one that they ask for over and over and it can be made different each time depending on what you have on hand!
How to Make Chicken Lo Mein
This Chicken Lo Mein recipe is so simple and so flavorful, you will stay home instead of spending money and time on takeout!! This is so much faster and done in your own kitchen. Start with some diced chicken breasts in a large skillet over medium high heat. Cook in olive oil until cooked through about 5-7 minutes, until no longer pink. Remove the chicken from the skillet and add in some sesame oil, this add so much flavor!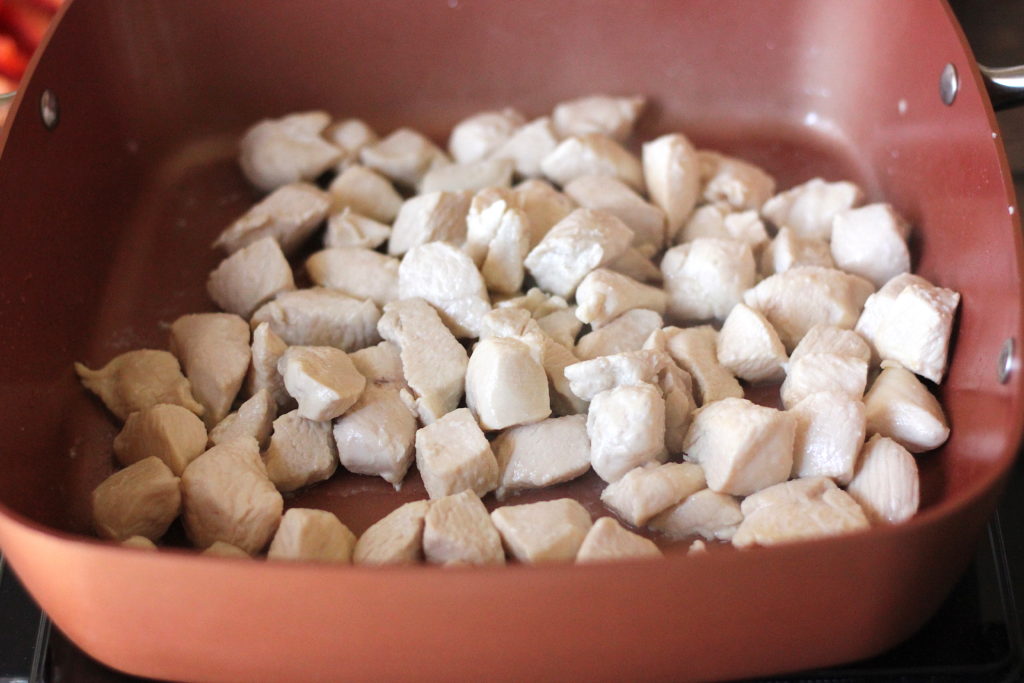 Stir fry the vegetables in the skillet until they are just tender, you want them to still have a little bite to them, not overly soft or mushy! If you are using snow peas or sugar snap peas, add those in at the end for just a few minutes until heated through.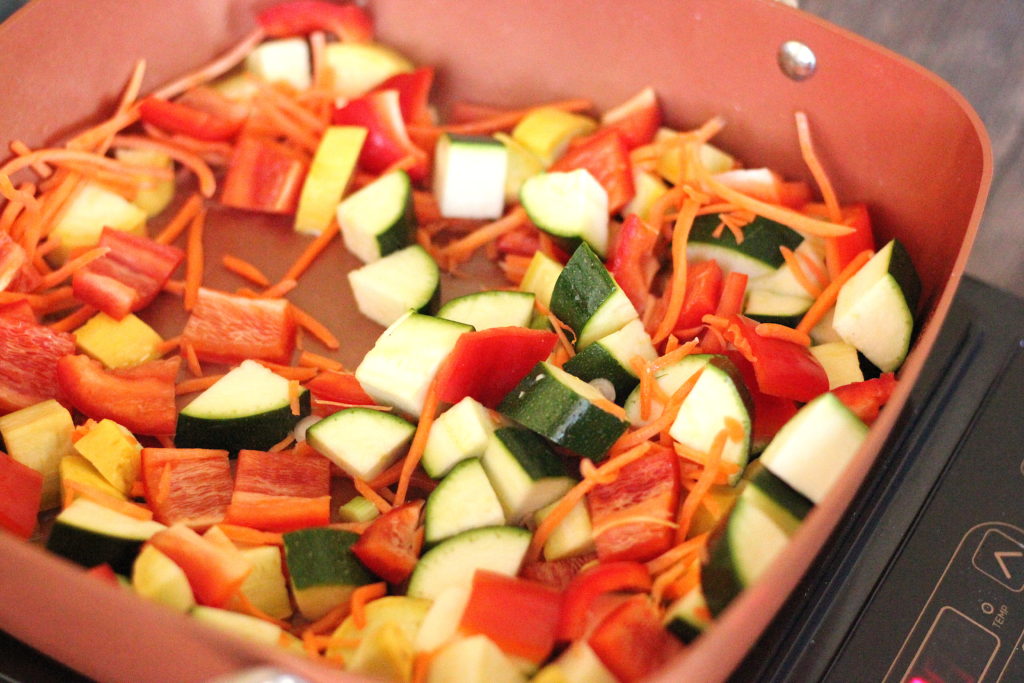 Dump in your cooked noodles and using tongs or two large spoons fold them in until everything is well combined. Season with soy sauce, hoisin sauce and sesame oil, stir to coat.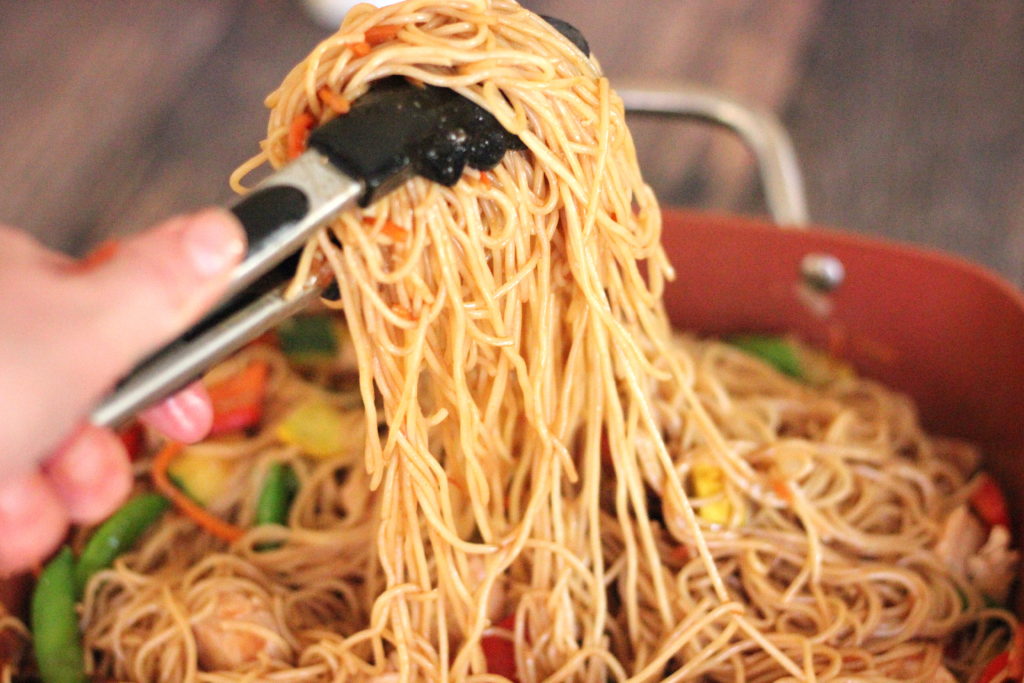 What Kind of Noodles for Chicken Lo Mein
Lo Mein is usually made with soft egg noodles. I like to use a thin spaghetti noodle or vermicelli, since that is what is usually in my pantry and is easily accessible. If you would like, you can use a traditional Chinese egg noodle for this recipe, it would work perfectly. The vermicelli works great because it cooks quickly. I like to start the noodles boiling while I get the skillet cooking chicken and vegetables and then everything is ready to be mix together at the same time.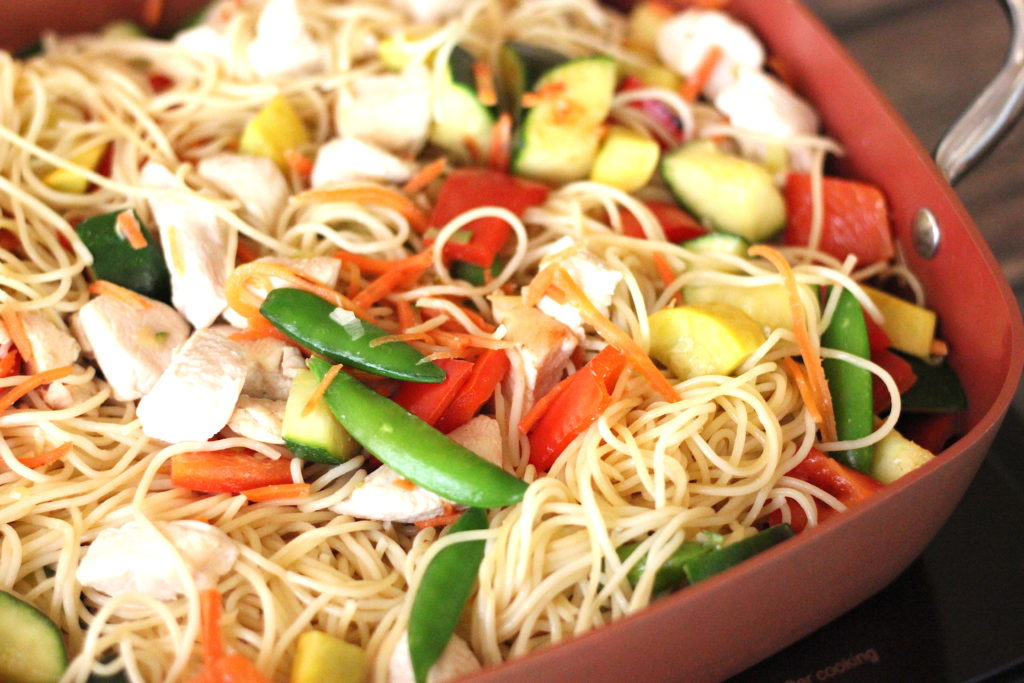 Ingredients for Easy Chicken Lo Mein
The ingredient list for this easy chicken lo mein recipe is simple and can definitely be adjusted to your tastes and what you have available.
16 oz Vermicelli pasta
2 large chicken breasts
zucchini
yellow squash
carrots
green onion
red pepper
sugar snap peas
sesame oil
soy sauce
hoisin sauce
sesame seeds
If you don't have hoisin sauce and sesame oil in your pantry, add them to your shopping list!! They are so good to have on hand for marinades, fried rice, ramen and so much more!!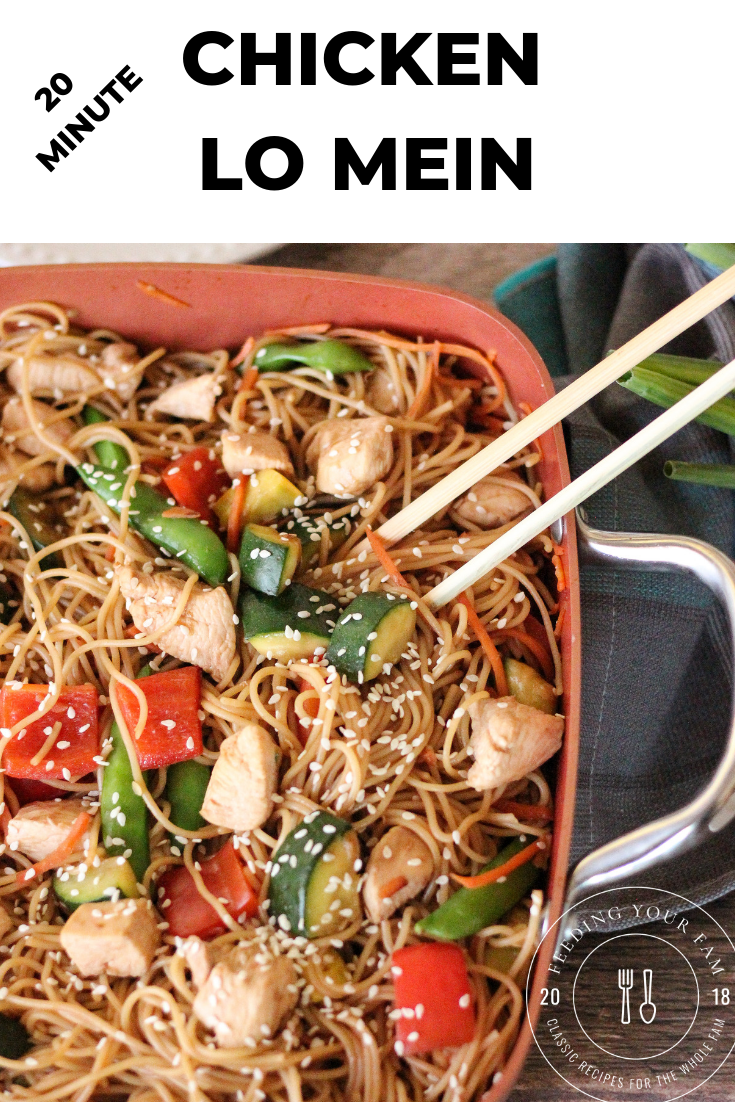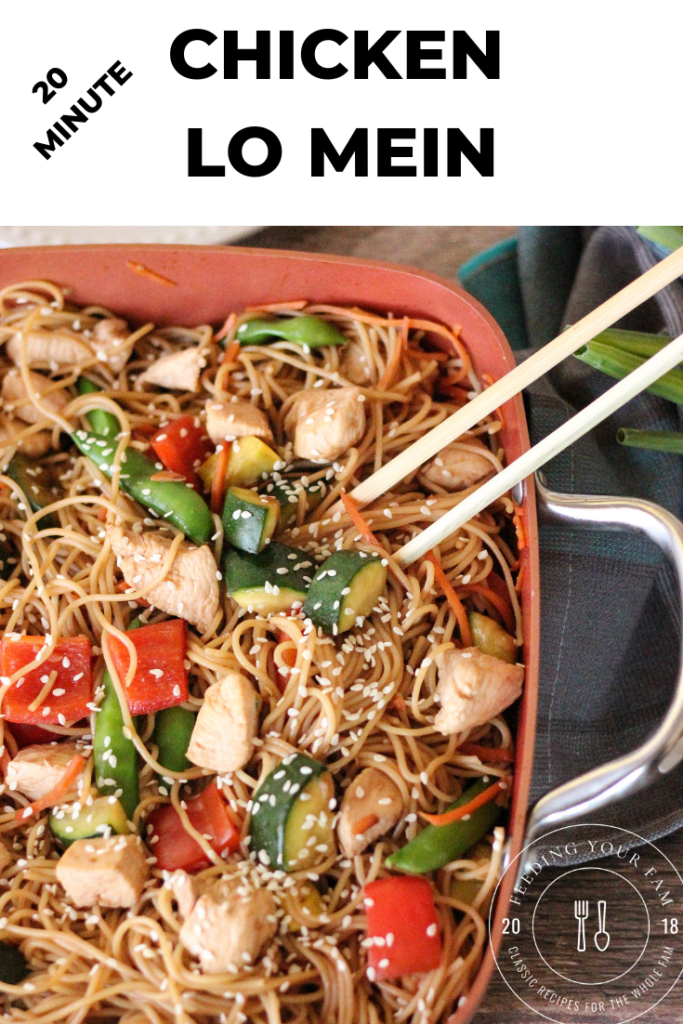 This Chicken Lo Mein is another great recipe to keep in your back pocket when guests show up unannounced!! This chicken lo mein recipe can feed a crowd and you will be surprised at how much this makes and how happy everyone will be!! Simple adjustments can be made with what is in your fridge. Broccoli, cauliflower, peas, peppers can be delicious in this chicken lo mein recipe as well!! Enjoy!
Chicken Lo Mein Recipe
Chicken Lo Mein
This easy Chicken Lo Mein recipe can be ready and on the table in just 20 minutes!! Quicker than take out!!
Ingredients
16

oz

Vermicelli or other pasta

2

chicken breasts, cubed

1

zucchini, diced

1

yellow squash, diced

5

green onion, sliced (just the bottoms, white part)

1/2

cup

shredded carrots

1

red pepper, diced

1/2

cup

sugar snap peas

1

tbsp

olive oil

2

tsp

sesame oil

1/3

cup

soy sauce

1/3

cup

hoisin sauce

1

tsp

hot sauce, sriracha (or more to taste)

1

tbsp

brown sugar

1/2

cup

chicken broth, or water
Instructions
Cook pasta according to package directions.

In a large skillet over medium high heat, heat olive oil. Brown cubed chicken in oil until cooked through, no longer pink inside. Remove cooked chicken from pan.

To hot skillet add one teaspoon sesame oil and saute green onions, peppers, carrots, yellow squash and zucchini until just tender. Add in sugar snap peas and heat through.

Add chicken back to skillet with vegetables. Mix in cooked pasta with the chicken and vegetables.

Combine other teaspoon of sesame oil, soy sauce, hoisin sauce, chicken broth, sriracha and sugar.

Add the cooked pasta to the pan with the chicken and vegetables, pour the sauce over the top and toss to coat.

Garnish with sesame seeds. 
Nutrition
Calories:
353
kcal
|
Carbohydrates:
58
g
|
Protein:
17
g
|
Fat:
5
g
|
Saturated Fat:
1
g
|
Cholesterol:
37
mg
|
Sodium:
975
mg
|
Potassium:
483
mg
|
Fiber:
3
g
|
Sugar:
7
g
|
Vitamin A:
1825
IU
|
Vitamin C:
35
mg
|
Calcium:
37
mg
|
Iron:
2
mg