Air Fried Ravioli
As an Amazon Associate and member of other affiliate programs, I earn from qualifying purchases.
You won't miss out on all that grease when you bite into one of these Air Fried Raviolis!! Crunchy, perfectly seasoned pasta covered melty cheese!! SO GOOD!!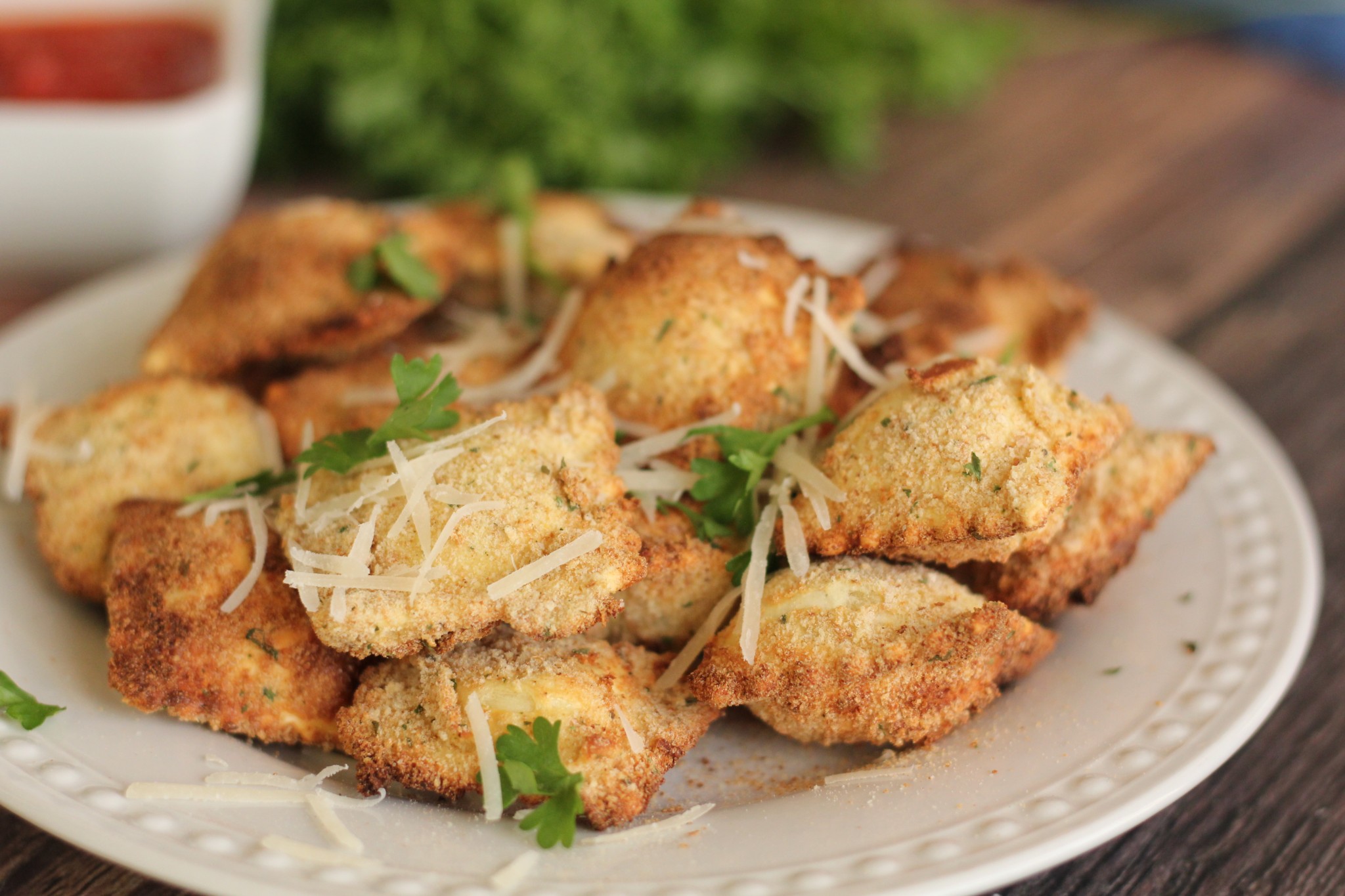 Air Fryer Breaded Ravioli
If you like fried ravioli, then you are going to love their lower fat version, air fried ravioli. These are seriously so simple to make and no need to stress about working with hot oil, or what to do with all that oil when you are done!! (I hate that part of frying!)
This recipe can be done with frozen or fresh ravioli. The ravioli I used was not frozen, just refrigerated.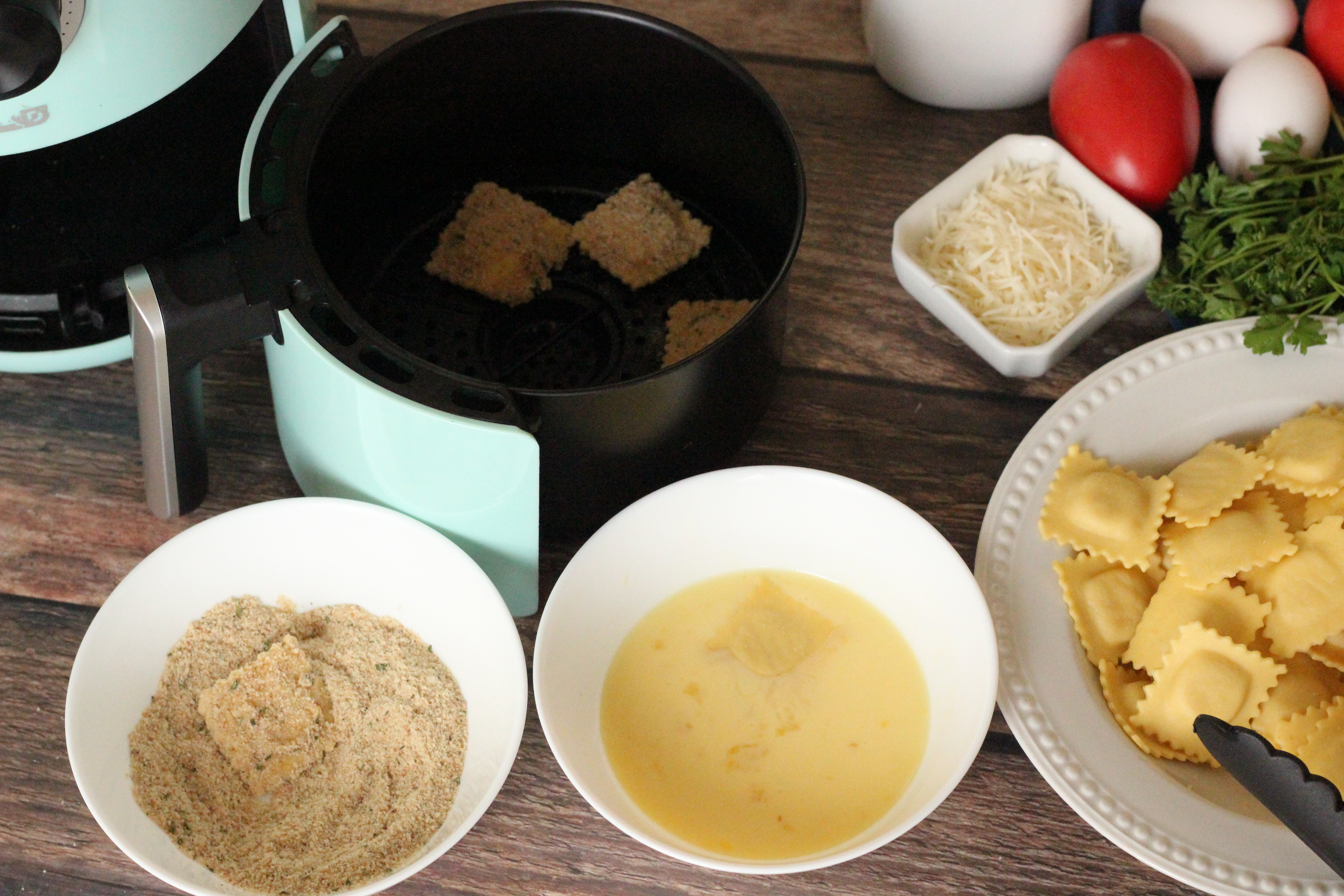 How to Make Fried Ravioli in an Air Fryer?
The process is so simple, you can throw these together in a SNAP!! Start by making a dipping line up. In the first bowl, you can keep the raviolis, the second bowl is a simple egg mixture of eggs and buttermilk (or milk) and lastly a bowl of Italian breadcrumbs.
Layer the ravioli in a single layer in the fry basket of your air fryer.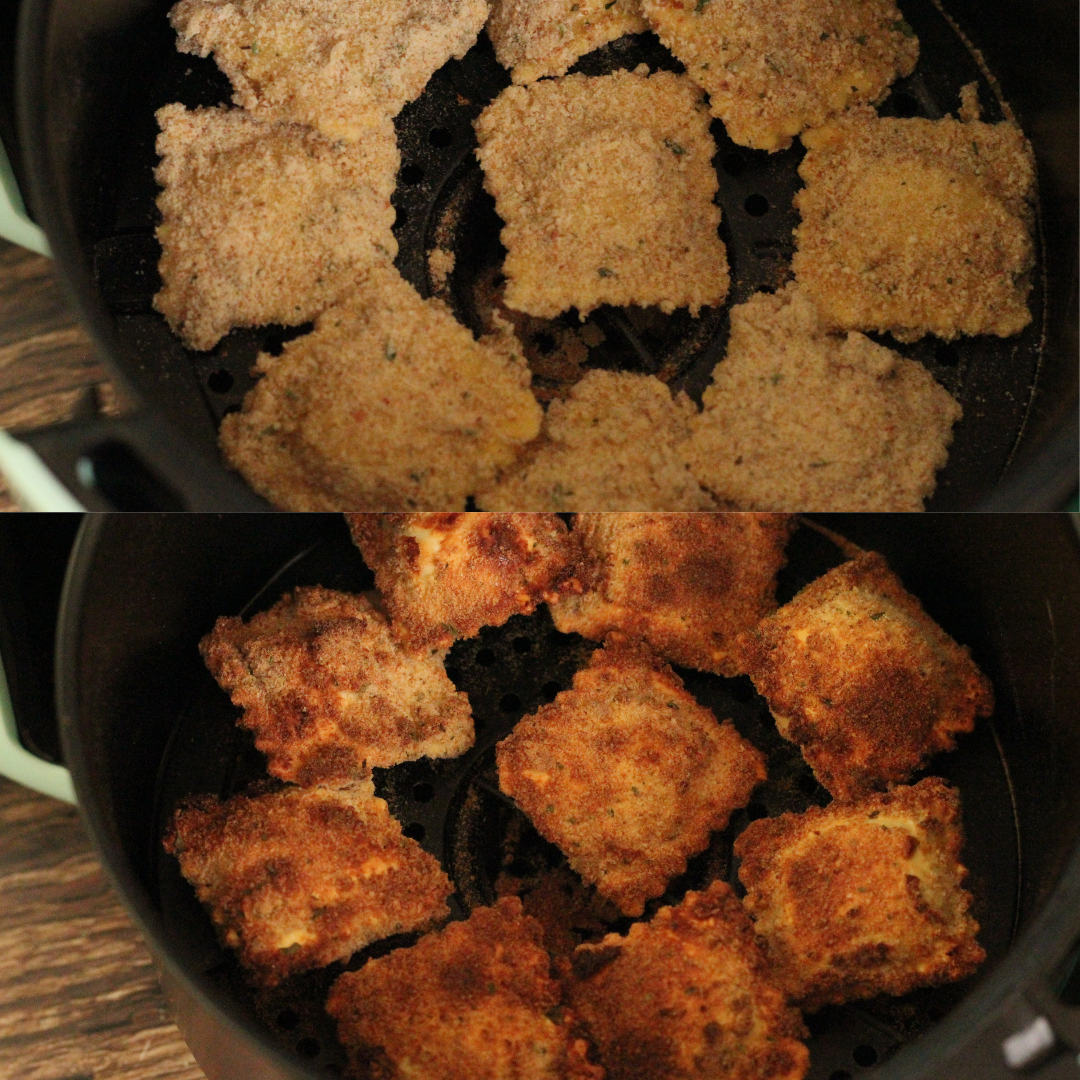 Cooking Fried Ravioli in an Air Fryer
The raviolis cook quickly in the air fryer. These raviolis were not frozen, so I set my air fryer to 400ºF and 8 minutes on the timer. After 4 minutes, I opened the fryer basket and flipped all of the raviolis over and continued to cook for another 4 minutes.
If you are cooking frozen ravioli, dredge the frozen ravioli in the egg and bread mixture and cook for 20 minutes, turning after 10 minutes.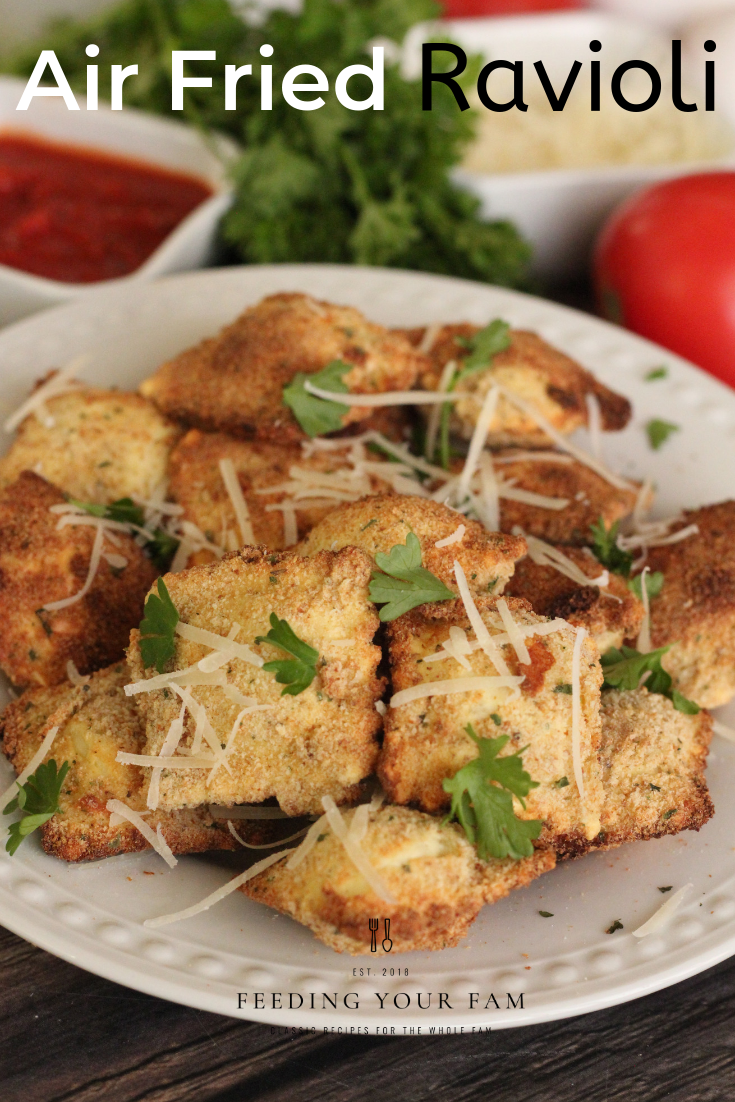 How to Make Crispy Ravioli?
Well, I'm so glad you asked!! Follow the recipe ingredients and steps below for perfectly golden, crispy, gooey melty cheese in the middle ravioli every time!! Dip in your favorite marinara or alfredo sauce.
Let me know if you try this recipe, I would love to know how it turned out for you!!
Air Fried Ravioli
Air Fried Ravioli are perfectly golden, crispy and delicious!! Dip in your favorite marinara or alfredo sauce for a simple meal or easy appetizer.
Ingredients
30

Ravioli

2

eggs

1/2

cup

buttermilk (or milk)

1

cup

Italian style breadcrumbs

1/4

cup

shredded Parmesan Cheese
Instructions
In a shallow bowl, combine the eggs and buttermilk and whisk to combine.

In a separate bowl, pour in seasoned breadcrumbs. (You can make homemade breadcrumbs by processing 2 slices of stale bread with 1 tablespoon Italian seasoning if you do not have pre-made breadcrumbs.)

Dip each ravioli in the egg mixture first, then into the breadcrumb mixture. Layer the covered ravioli in a single layer in the fry basket of an air fryer.

At 400ºF cook the ravioli for 10 minutes, stopping half way to turn the ravioli. Remove the cooked ravioli with a fork or tongs, they will be hot. Serve with marinara or alfredo for dipping.
Nutrition
Serving:
0
g
|
Carbohydrates:
0
g
|
Protein:
0
g
|
Fat:
0
g
|
Saturated Fat:
0
g
|
Polyunsaturated Fat:
0
g
|
Monounsaturated Fat:
0
g
|
Trans Fat:
0
g
|
Cholesterol:
0
mg
|
Sodium:
0
mg
|
Potassium:
0
mg
|
Fiber:
0
g
|
Sugar:
0
g
|
Vitamin A:
0
IU
|
Vitamin C:
0
mg
|
Calcium:
0
mg
|
Iron:
0
mg
Other Air Fryer Recipes