Cooking Frozen Chicken
As an Amazon Associate and member of other affiliate programs, I earn from qualifying purchases.
Cooking Frozen Chicken is so easy and really does not take as long as you might think. This simple method for cooking chicken from frozen has saved me so many times when I have forgotten to let the chicken thaw in the refrigerator.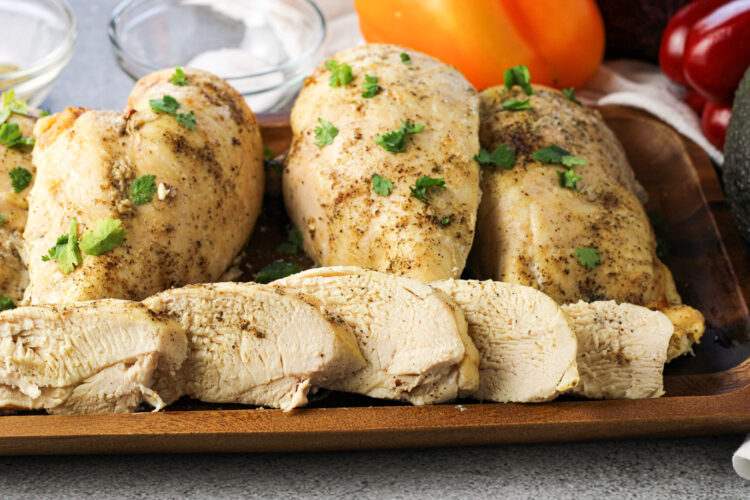 This is the best and easiest way to cook chicken from frozen. The chicken always comes out juicy, tender and flavorful. Perfect for slicing up and eating on its own, or adding it to a simple salad, asiago chicken alfredo, enchiladas, making chicken salad sandwiches, nachos and so much more.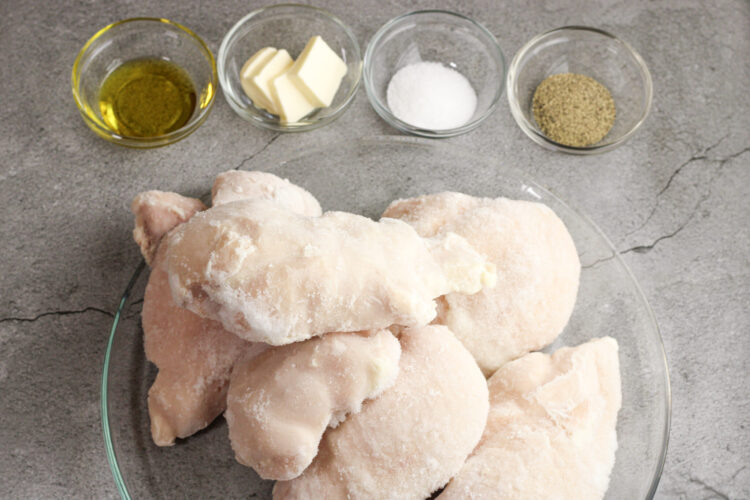 What Ingredients are Needed for Cooking Frozen Chicken Breasts?
Get those frozen chicken breasts out of the freezer and grab the rest of these simple ingredients to get cooking!!
frozen chicken breasts
olive oil
butter
salt
pepper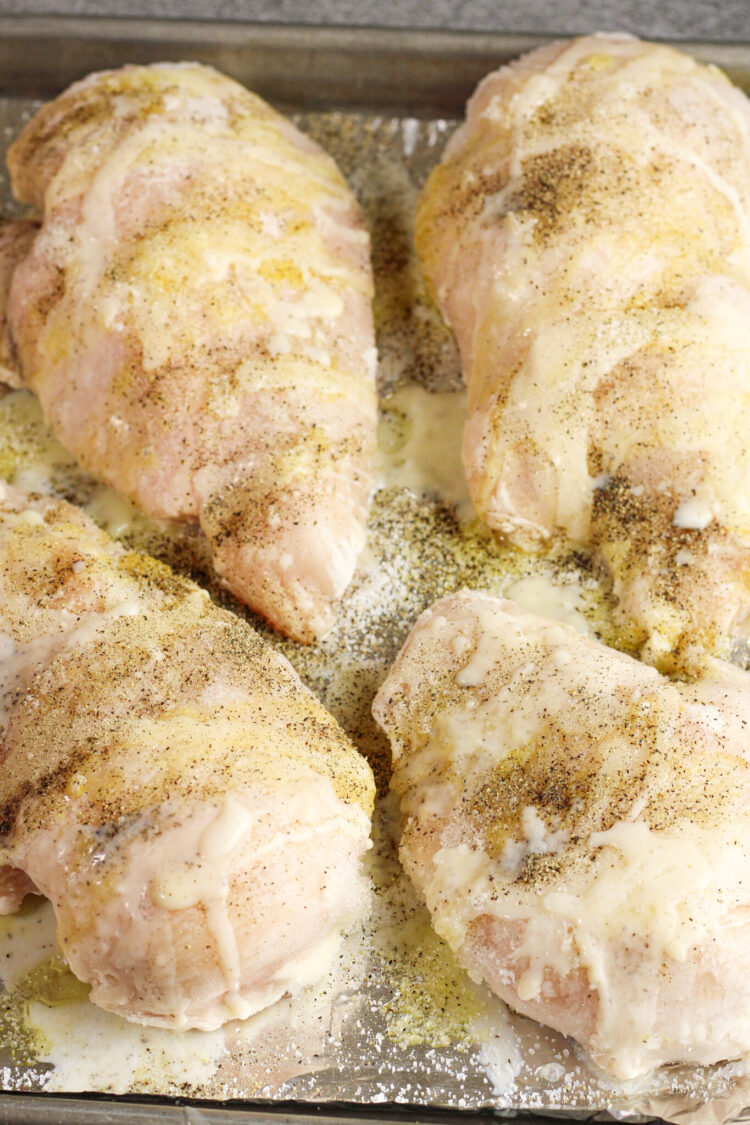 How to Cook Frozen Chicken
The first step to cooking frozen chicken is to take those frozen solid chicken breasts and place them on a baking sheet that has been lined with foil. Drizzle or spray olive oil or cooking spray on the foil. I prefer to line my pan with oil because it helps with clean up after these are done cooking and keeps my pan looking nice.
Place the frozen chicken breasts onto the pan, making sure there is about 1/2 to 1 inch between each piece.
Drizzle the chicken breasts with olive oil and melted butter. Season liberally with salt and pepper. That is it! You are ready to throw put the chicken in the oven!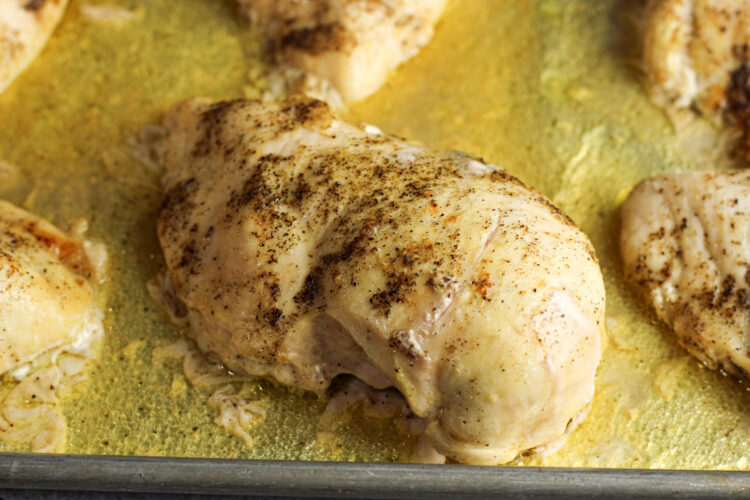 How long to cook Frozen Chicken?
Place your prepared chicken breasts into a 425º F oven. Set your timer initially for 30 minutes. The thickness of your chicken will really determine how long you will need to cook these frozen chicken breasts.
Whenever I make this recipe, I start with a timer of 30 minutes and then check the internal temperature of the chicken using an instant read thermometer. The chicken is fully cooked when it reaches an internal temperature of 165ºF. I highly recommend investing in an instant read thermometer to cook chicken correctly. It helps so you don't undercook the chicken and make people sick, or even over cook the chicken and dry it out.
After 30 minutes, see what temperature your chicken has reached. If you still need to cook the chicken longer, set your timer for another 5-10 minutes and check the temperature again.
For this recipe I had pretty thick chicken breasts, these took about 45 minutes to cook all the way through.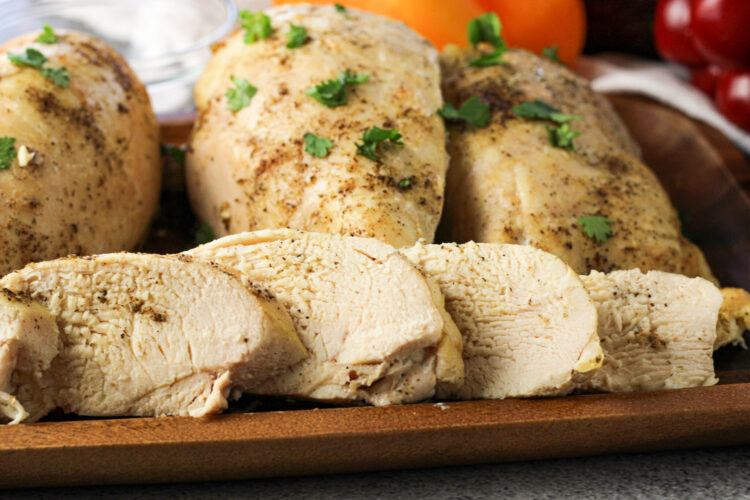 Can I refreeze chicken after it is cooked?
If you are cooking a lot of chicken that you know you won't be using soon, you can refreeze the chicken after it has been cooked.
You can keep cooked chicken in the refrigerator in an air tight container for 3-4 days or in the freezer for up to 4 months. Be sure to tightly wrap the chicken before refreezing to prevent freezer burn.
Cooking Frozen Chicken
Cooking Frozen Chicken is a lot easier than you might thick. Cooked in the oven makes it tender and juicy. Perfect for meal planning or a simple dinner.
Ingredients
6

chicken breasts, frozen

2

tbsp

olive oil

2

tbsp

butter, melted

2

tbsp

salt

1

tbsp

black pepper
Instructions
Preheat oven to 425ºF. Prepare baking sheet by lining with foil and greasing with olive oil or cooking spray.

Place chicken on baking sheet and drizzle with olive oil and melted butter.

Season chicken with salt and pepper

Bake chicken for 30-50 minutes depending on thickness. Chicken is done when internal temperature reads 165º F
Nutrition
Calories:
335
kcal
|
Carbohydrates:
1
g
|
Protein:
48
g
|
Fat:
14
g
|
Saturated Fat:
4
g
|
Cholesterol:
155
mg
|
Sodium:
2622
mg
|
Potassium:
849
mg
|
Fiber:
1
g
|
Sugar:
1
g
|
Vitamin A:
186
IU
|
Vitamin C:
3
mg
|
Calcium:
16
mg
|
Iron:
1
mg
What to serve with Chicken?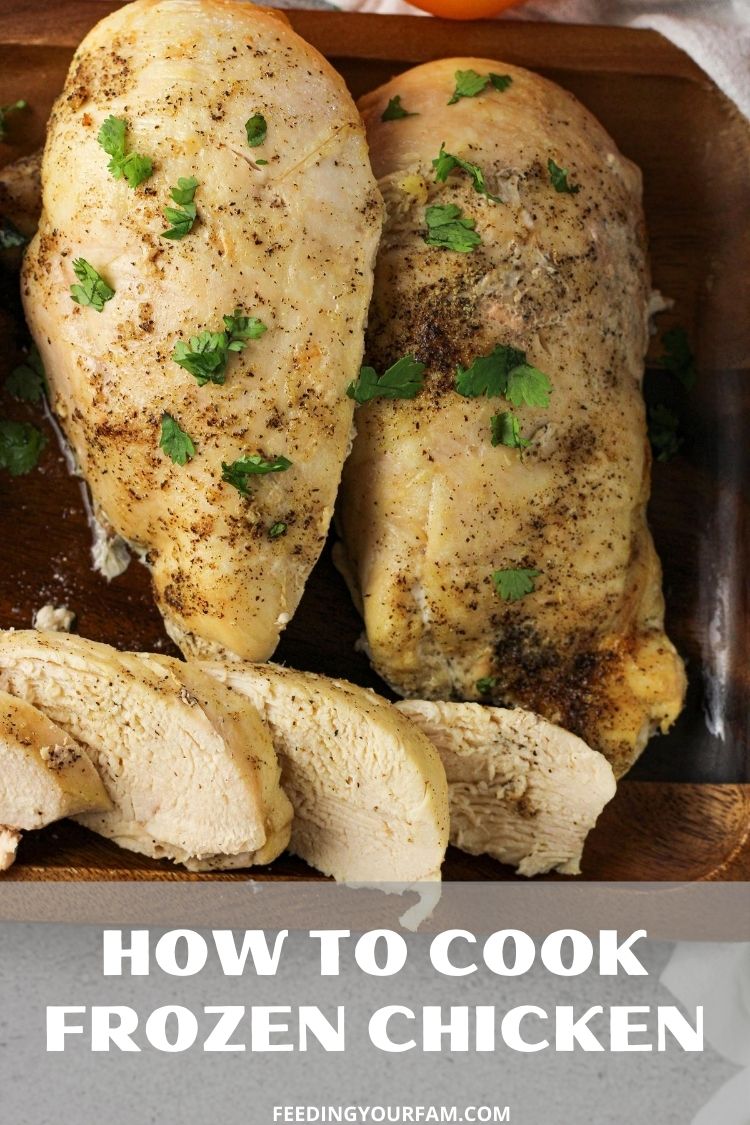 Cooking Frozen Chicken is a lot easier than you might thick. Cooked in the oven makes it tender and juicy. Perfect for meal planning or a simple dinner.