Fresh Spring Rolls with Peanut Dipping Sauce
As an Amazon Associate and member of other affiliate programs, I earn from qualifying purchases.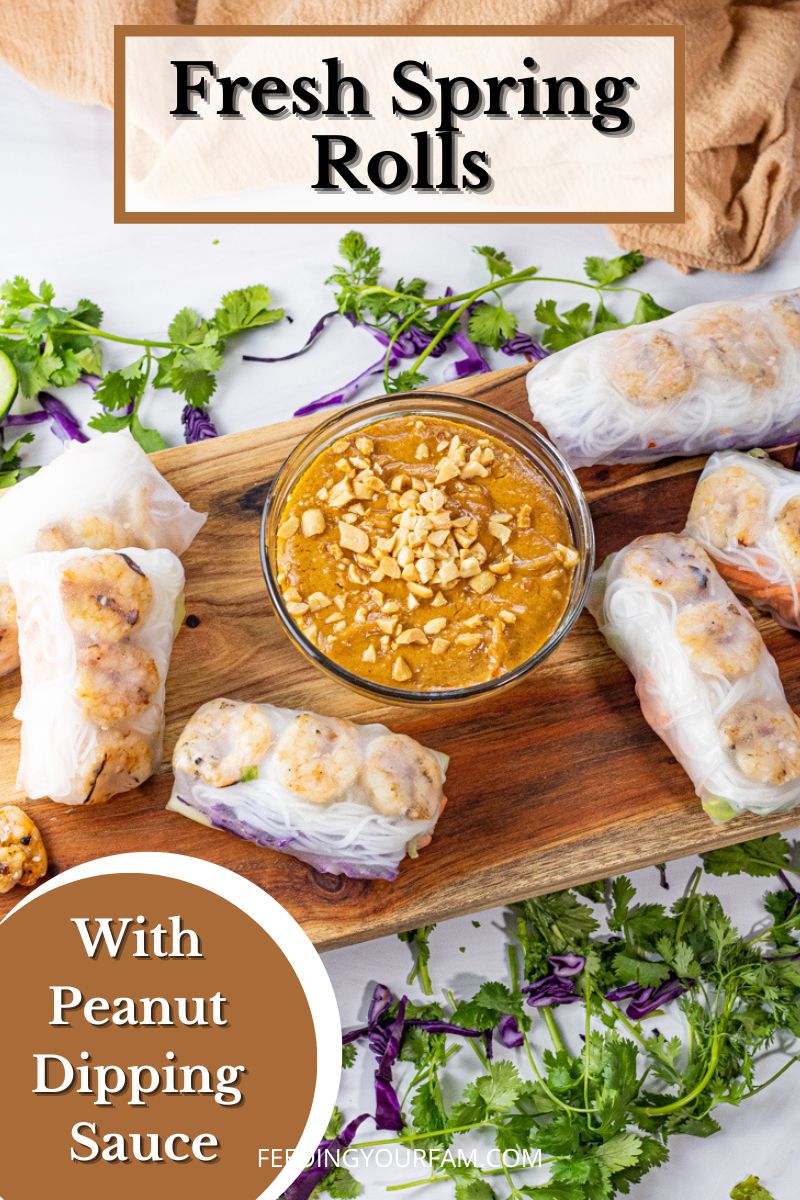 Fresh Spring Rolls with easy peanut dipping sauce are loaded with shrimp, vegetables and rice noodles for a delicious and refreshing appetizer or serve as the main dish. Dip in the smooth peanut sauce for a kick of amazing flavor and a little spice with every bite.
Looking for other simple dinner ideas? Check out my recipes for Honey Garlic Chicken, Lemon Garlic Shrimp Pasta or Chicken Stir Fry.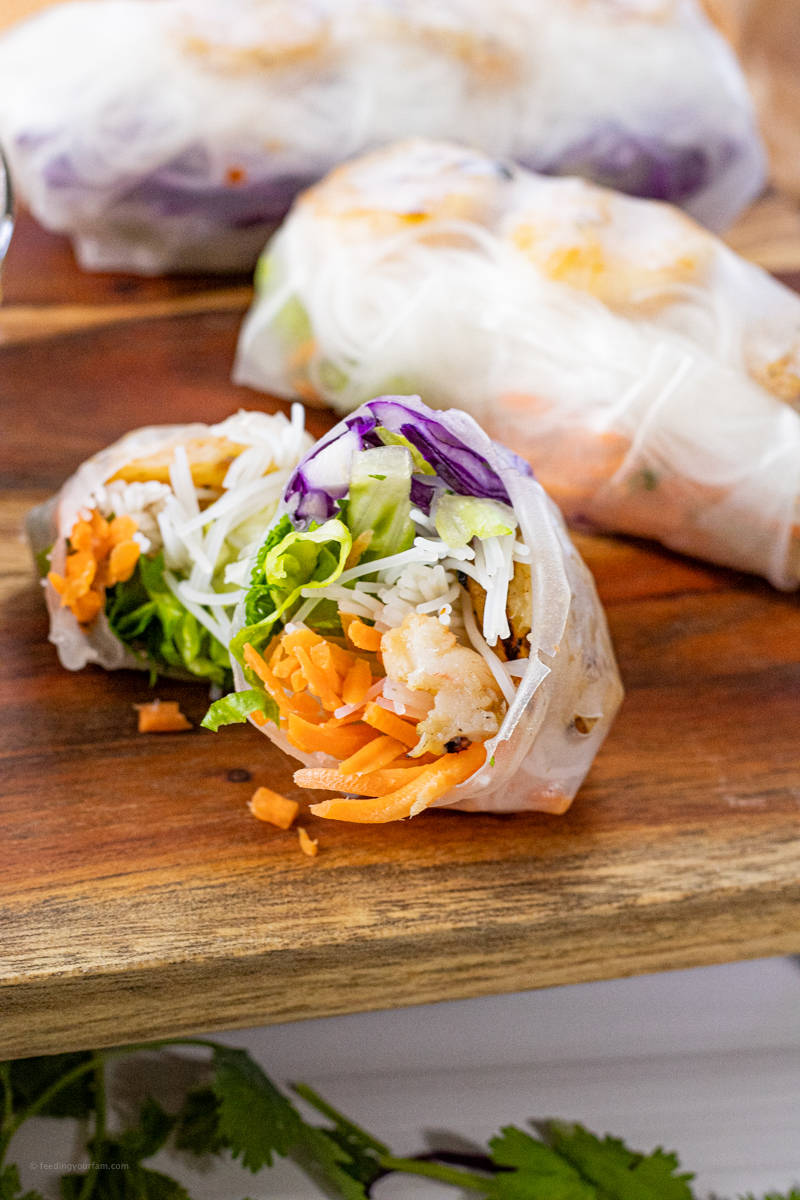 Perfect Spring Rolls
I am obsessed with fresh spring rolls, they are one of my favorite things, and I'm not ashamed to admit it! I just love the rice paper wrapper and all the filling ingredients you can load into a spring roll. The protein can be anything like, shrimp, chicken, pork or even beef, or the meat can be left out all together to make it more like salad rolls, loaded with vegetables.
Dip these spring rolls into some homemade peanut sauce with a little spice and, to me, that is a perfect meal or even appetizer.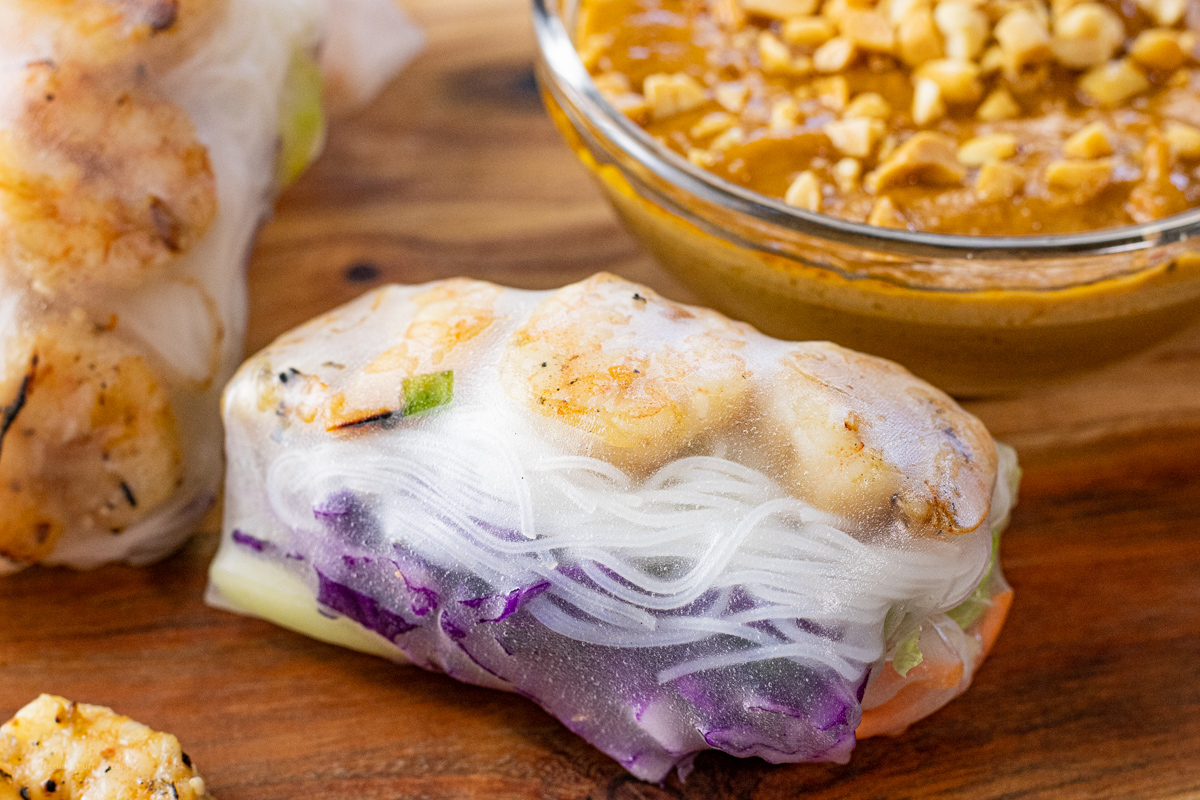 What is in Spring Rolls
Let's talk about the ingredients, as well as the variations of ingredients that can go into spring rolls. There can really be a variety of things that you can add to fresh springs rolls, so let's start with what I used to make this recipe.
What goes into fresh spring rolls:
Spring Roll Rice Paper Wrappers– individual rice paper sheets that are used to wrap spring rolls
Vermicelli Rice Noodles– find these in the Asian isle of your grocery store. They will often be labeled thin rice noodles/sticks.
Red cabbage– sliced into thin strips
Carrots– sliced into matchstick sized pieces
Cucumbers– thinly sliced
Romaine lettuce– shredded or thinly sliced
Fresh Cilantro
Cooked Shrimp– if you are using large shrimp, slice the shrimp in half to make shrimp halves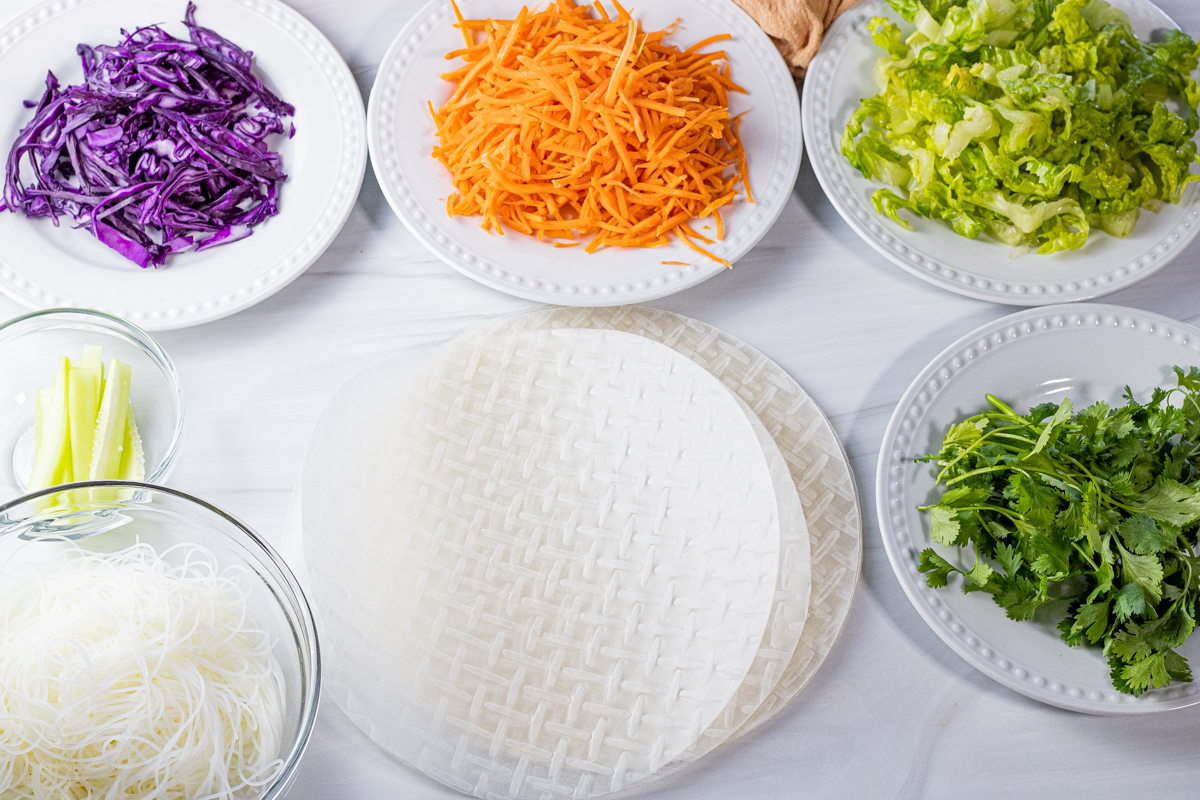 Other Spring Roll Filling Variations
There really are so many options for different types of spring rolls fillings, I'll just give you a few of the other things we like to add into ours:
Fresh Veggies

bell peppers
green onions
zucchini
green cabbage
radishes
bean sprouts
cauliflower rice
fresh mint leaves
fresh basil
parsley
or you can even try fruit, like mangoes or pineapple
All of the exact ingredient amounts can be found down below in the recipe card.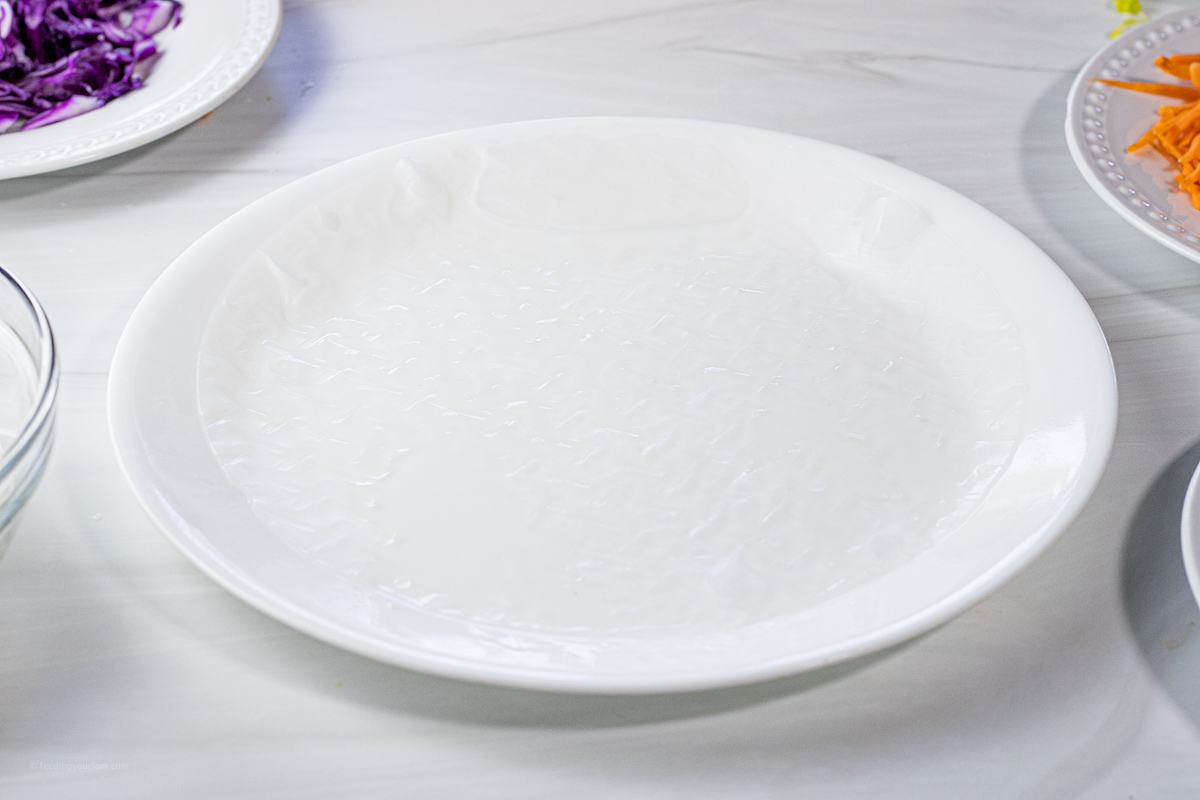 How to make Spring Rolls
Let's walk through a few tips and tricks to getting perfectly wrapped homemade spring rolls. Working with the rice wrappers can be a bit tricky the first few times, here is the best way that works really well for me, even my kids can wrap their own spring rolls now.
Start with a plate or pie plate that is a little bigger than the rice wrapper. Fill the plate with warm water. Carefully dip the rice paper on one side into the water, then quickly flip it over to the other side to cover both sides with water. While the paper is still a little firm, transfer to a flat surface like a plastic cutting board, clean counter or other work surface, the paper will continue to absorb the water at this time.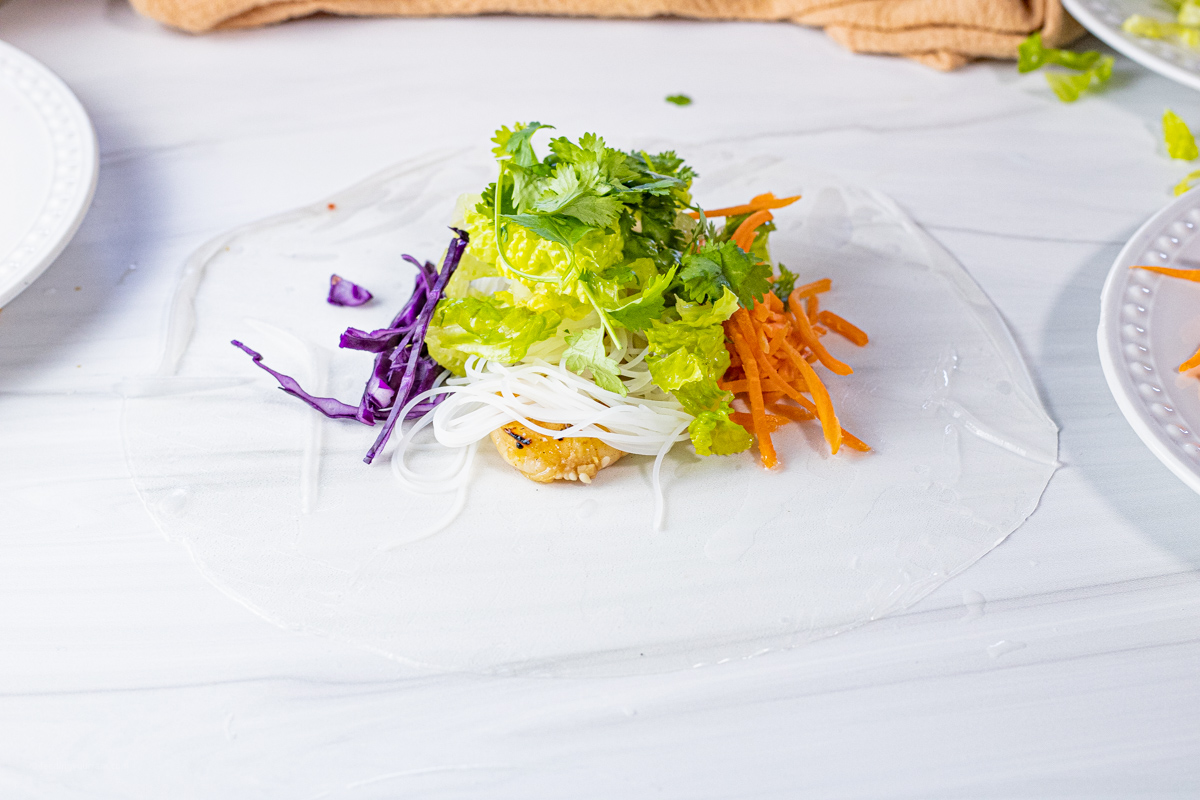 Place all of your favorite ingredients into the center of the rice paper. I like to layer them in this order, first the protein, then the vermicelli noodles, then layer on the vegetables and fresh herbs.
Once everything is loaded into the rice paper, carefully pull up both the top and bottom edges and bring them as far into the center as you can.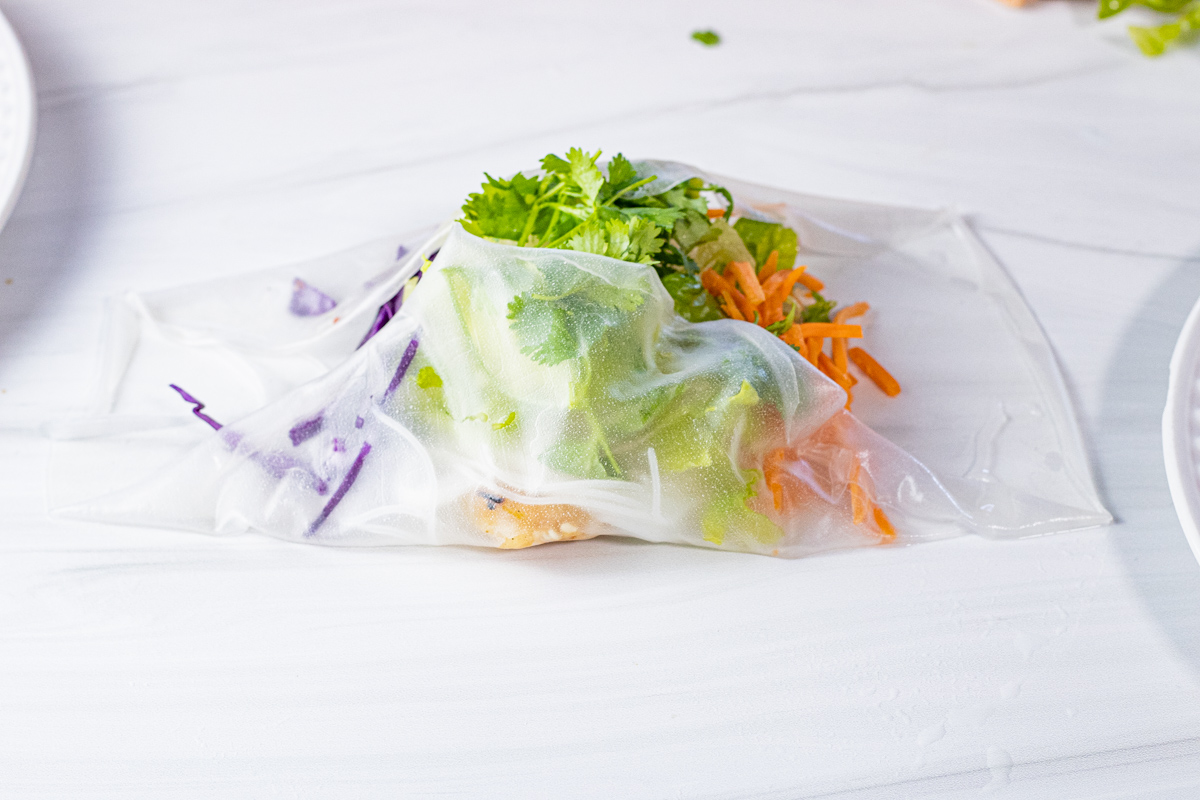 Next, start with one side and bring it towards the center, over the filling ingredients. Pull the ingredients toward the side you are pulling up as you place that edge tightly down over the center and then roll the spring roll towards the other edge.
Be careful as you work with the rice paper, it can tear easily. Try to work quickly while it is still wet and easy to work with.
Check each sheet for holes or tears before you get them wet.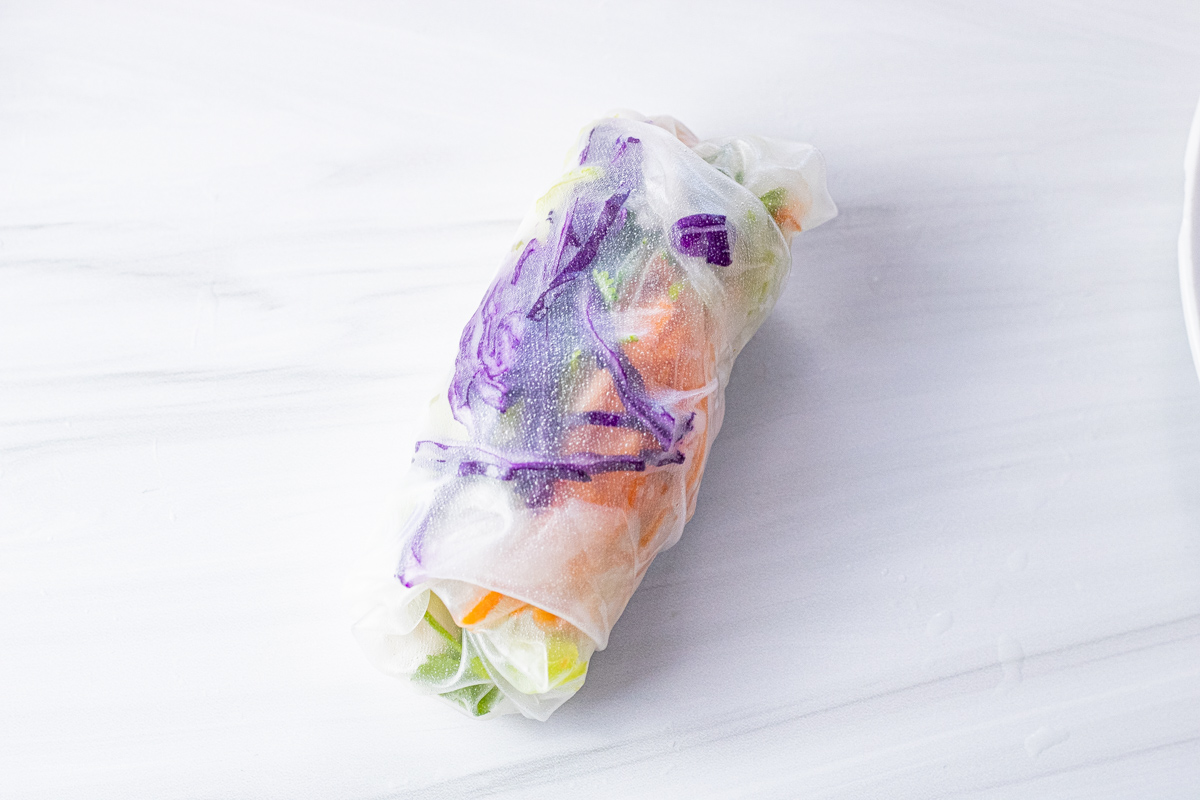 Making Ahead and Storing Spring Rolls
These spring rolls can be made ahead to pack in lunches or if you have leftovers. To store fresh spring rolls, wrap them tightly in plastic wrap and place in an airtight container.
These will really only keep for about 2-3 days. If the rice paper is exposed to air, it will become hard and crunchy.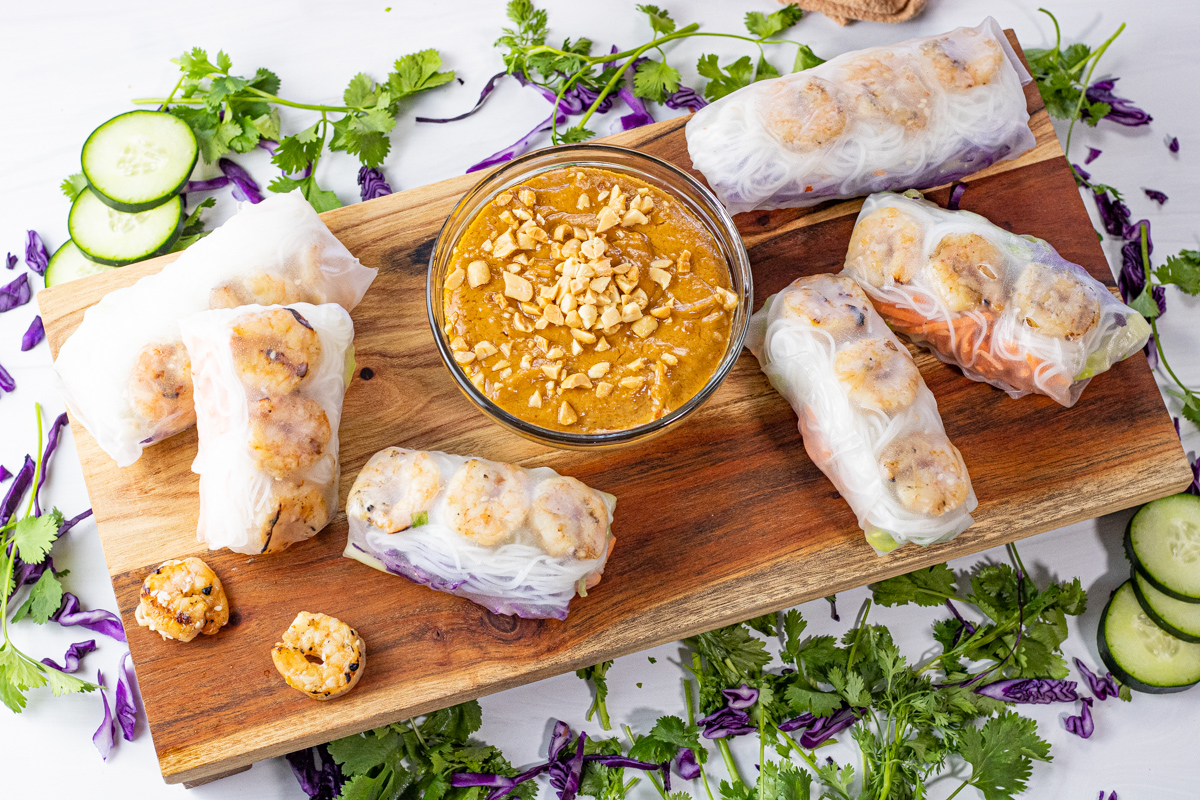 Peanut Dipping Sauce
Don't forget the peanut dipping sauce when making this fresh spring rolls, this adds so much flavor!! To make the simple peanut sauce, in a small bowl, combine together room temperature, smooth peanut butter, warm water, soy sauce, chili sauce, brown sugar, garlic powder, rice vinegar and a little ground ginger.
This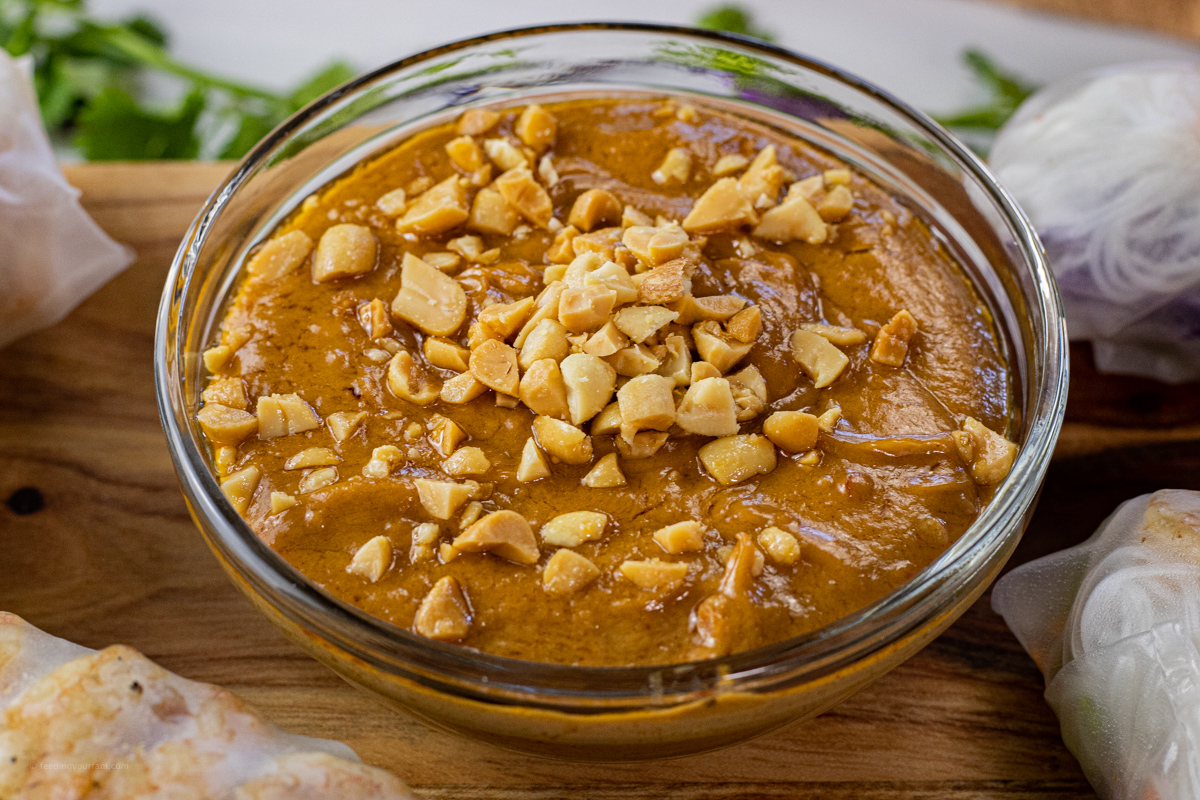 Blend together until the sauce is smooth and start dipping! Store any extra in the refrigerator in an air tight container and reheat in the microwave just until smooth when ready to use again. This will last up to 2 weeks in the refrigerator.
Fresh Spring Rolls with Peanut Dipping Sauce Recipe
If you are looking for other Family Friendly meals or desserts follow along with me on YouTube or Facebook where I share simple recipes to help you with Feeding Your Fam! Make sure to subscribe so you will be notified each time I post a new video!
⭐️ ⭐️⭐️⭐️⭐️Tried it and just loved it? Leave me a rating! I would love to hear how it turned out for you! Or even snap a photo and tag me on Instagram @feedingyourfam or #feedingyourfam so I can see what you made!
Fresh Spring Rolls with Peanut Dipping Sauce
Fresh Spring Rolls with a super easy peanut sauce are loaded with shrimp, vegetables and rice noodles for a delicious and refreshing appetizer or serve as the main dish.
Ingredients
3

ounces

rice sticks/vermicelli rice noodles

6

spring roll wrappers

18-20

cooked shrimp

2

cups

red cabbage

thinly sliced

1

cup

carrots

matchstick sliced

2

cups

romaine lettuce

thinly sliced

1

cup

cilantro
Peanut Dipping Sauce
1/2

cup

peanut butter

smooth

1/4

cup

warm water

2

tablespoons

soy sauce

2

teaspoons

chili sauce

1

tablespoon

brown sugar

1/2

teaspoon

garlic powder

1

teaspoon

rice vinegar

1/4

teaspoon

ground ginger
Instructions
Cook rice sticks according to package instructions.

Assemble filling ingredients in separate bowls or plates

Pour warm water onto a plate and place rice paper into the water, flip to cover other side with water and remove to a clean plastic cutting board or countertop.

Quickly place fillings into the center of the rice paper. I like to go in this order: shrimp, rice sticks, lettuce, cilantro. Then a little cabbage and carrots on both sides.

Fold the top and bottom edges in toward the center over the fillings.

Roll from one side by picking up the rice paper and folding it tightly over the center, then roll towards the other side.
Peanut Dipping Sauce
Combine the peanut butter and warm water until smooth.

Add in the soy sauce, chili sauce, brown sugar, garlic powder, rice vinegar and ground ginger. Stir until well combined.

Add additional water if needed to get to desired consistency.
Notes
Calories is just an estimate and takes the total of the dipping sauce into the calculation.
The peanut dipping sauce is a little spicy from the chili sauce, if you don't like it spicy, start with just one teaspoon of the chili sauce and add more if desired.
Nutrition
Calories:
273
kcal
|
Carbohydrates:
35
g
|
Protein:
9
g
|
Fat:
12
g
|
Saturated Fat:
2
g
|
Polyunsaturated Fat:
3
g
|
Monounsaturated Fat:
6
g
|
Cholesterol:
5
mg
|
Sodium:
628
mg
|
Potassium:
363
mg
|
Fiber:
3
g
|
Sugar:
7
g
|
Vitamin A:
5459
IU
|
Vitamin C:
20
mg
|
Calcium:
55
mg
|
Iron:
2
mg
Fresh Spring Rolls with a super easy peanut sauce are loaded with shrimp, vegetables and rice noodles for a delicious and refreshing appetizer or serve as the main dish.